For Rebecca Caldwell, a commercial real estate broker, and Will Sharp, entrepreneur and owner of DC restaurant-and-retail staple Maketto, it took a trip to the West Coast to find love. Rebecca and Will were both invited to a mutual friend's Chateau Marmont birthday celebration on Sunset Boulevard in Los Angeles. At the party, Rebecca and Will's conversation flowed over spaghetti bolognese and bubbly, but the night was far from over.
After dinner, Rebecca and Will continued mingling at Chateau Marmont's elegant cocktail bar just downstairs. To their surprise, who should they encounter but Mick Jagger. The Rolling Stones' frontman was enjoying the bar's intimate ambience and old-Hollywood glamour vibes. Will, an avid fan, was head-over-heels at the chance meeting, but at end of the night, Rebecca was still the only one on his mind. Rebecca felt the same way: besides being tall, dark, and handsome, she could not get over Will's "effortlessly confident demeanor and refreshingly down-to-earth personality."
Some time later, this long-distance spark turned into a real relationship. The pair had been trying to connect, but with Will flying back and forth to DC for work, it was proving difficult. After a few missed chances, Rebecca issued a "now or never" ultimatum. In response, Will told her he'd come meet her "anytime, anywhere." So when she asked him to come over and hang one night after going out dancing, Will put aside his fatigue after the long day. Driving across town (no small feat with LA traffic), he was determined to make it work. Once at Rebecca's apartment, they passed the evening in deep conversation. At five in the morning, Will left Rebecca's apartment, but not without sharing their first kiss— leaving Rebecca with butterflies.
For three years, the couple was inseparable. Traveling to Washington DC, attending Paris fashion week, and accompanying each-other to their friends' weddings, Rebecca and Will were in it for the long run and loving every moment. This was just the start of their bicoastal relationship.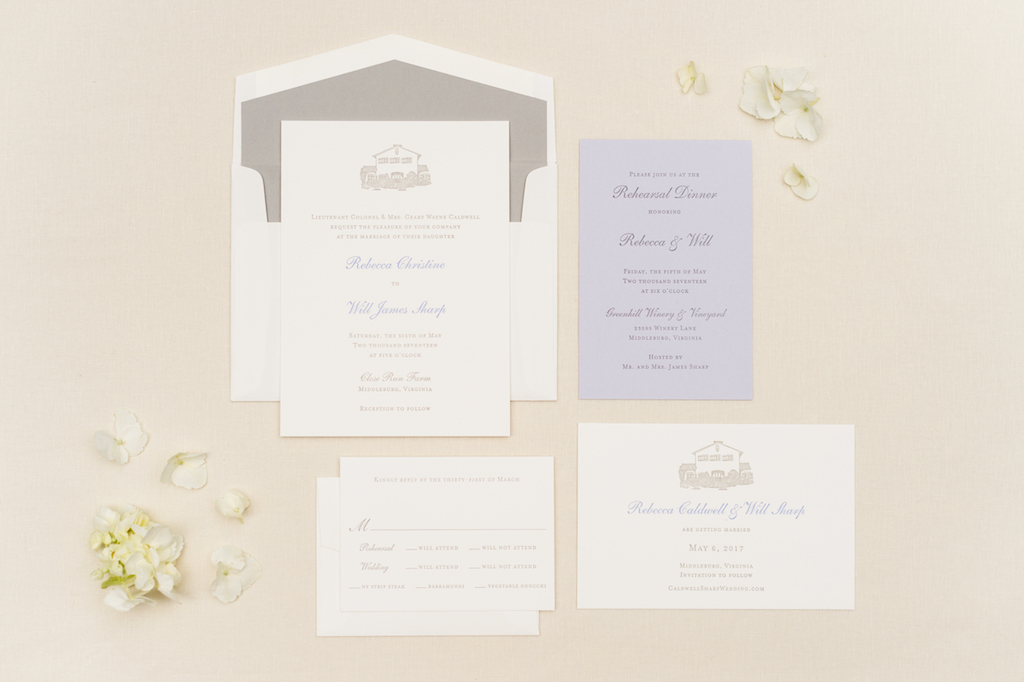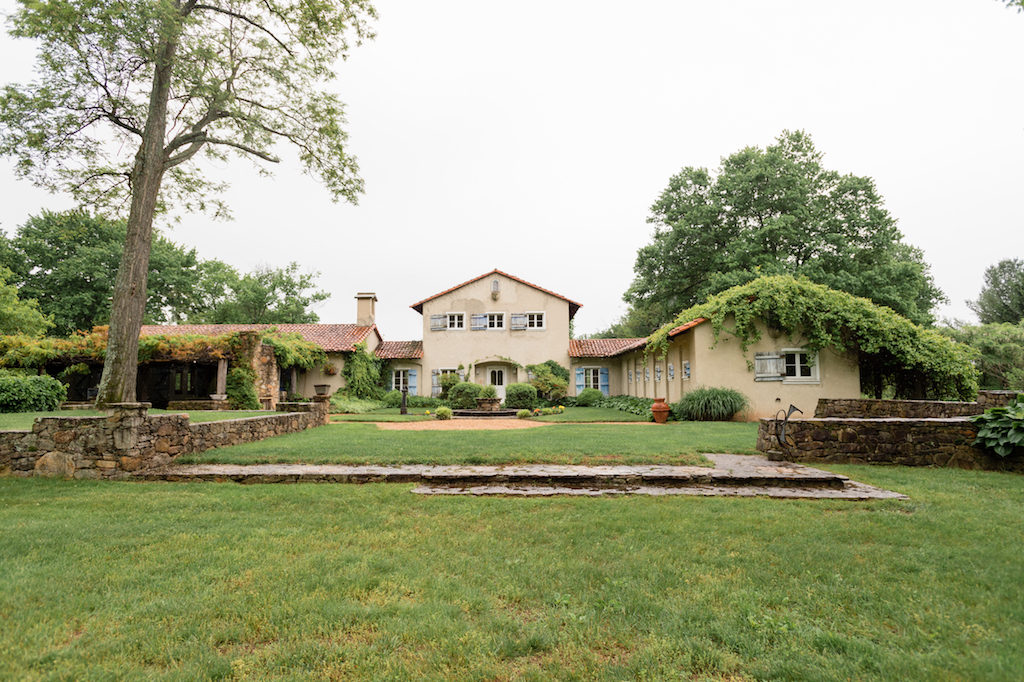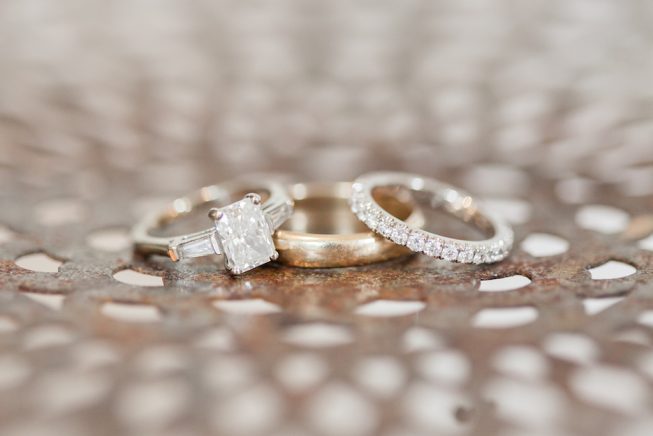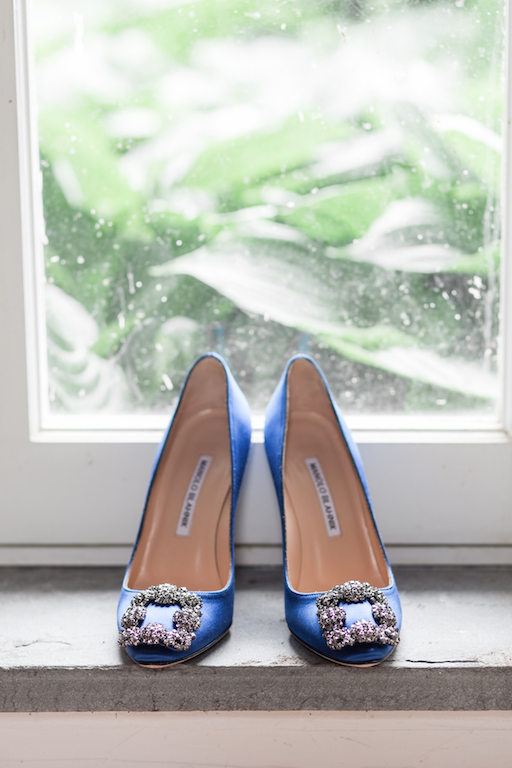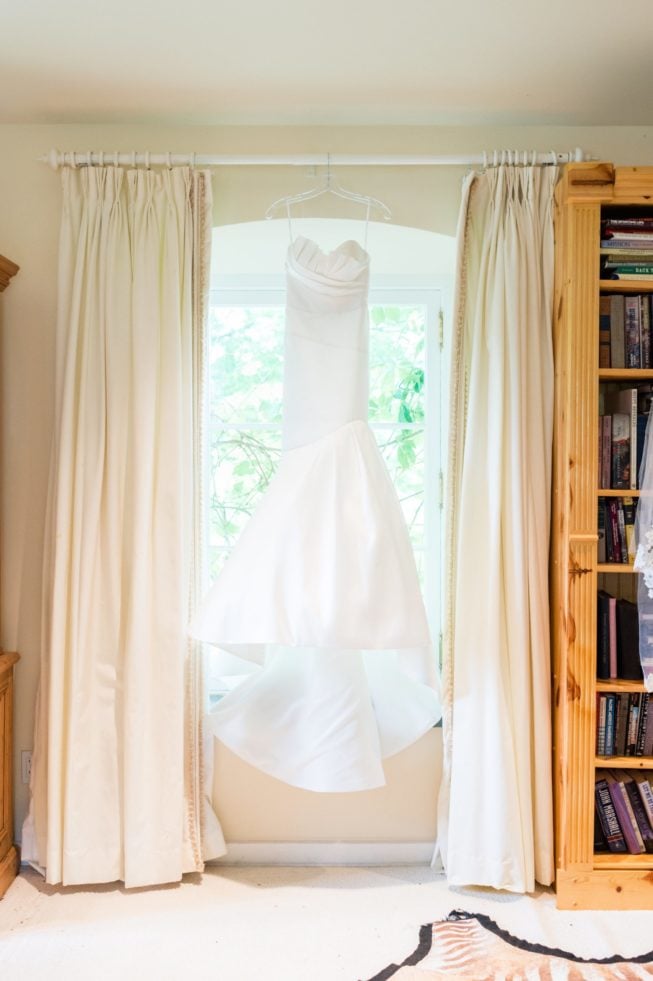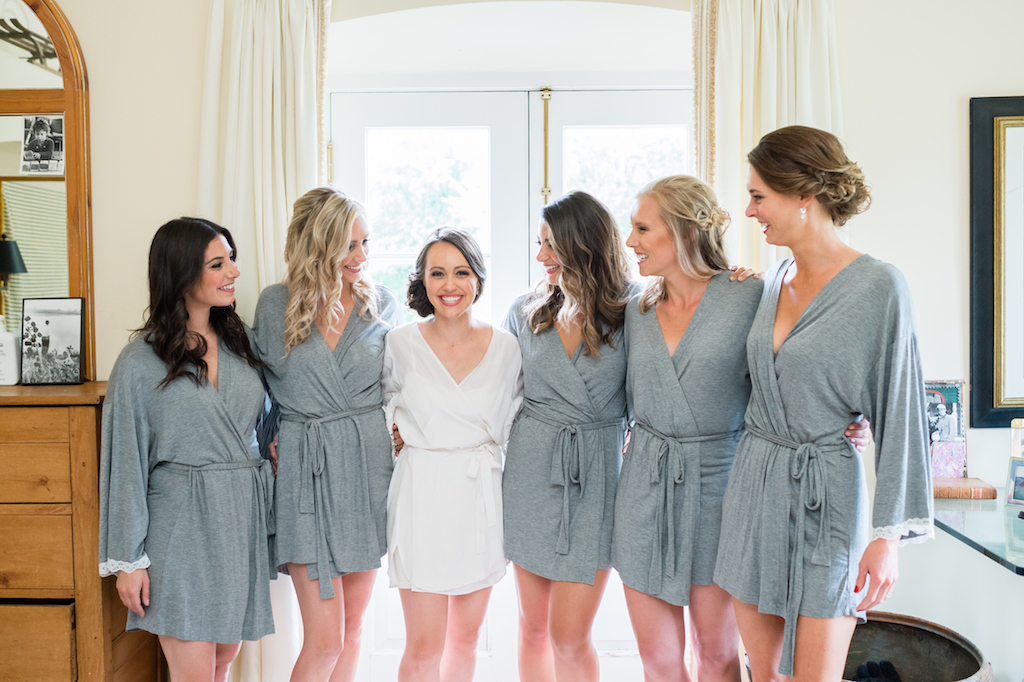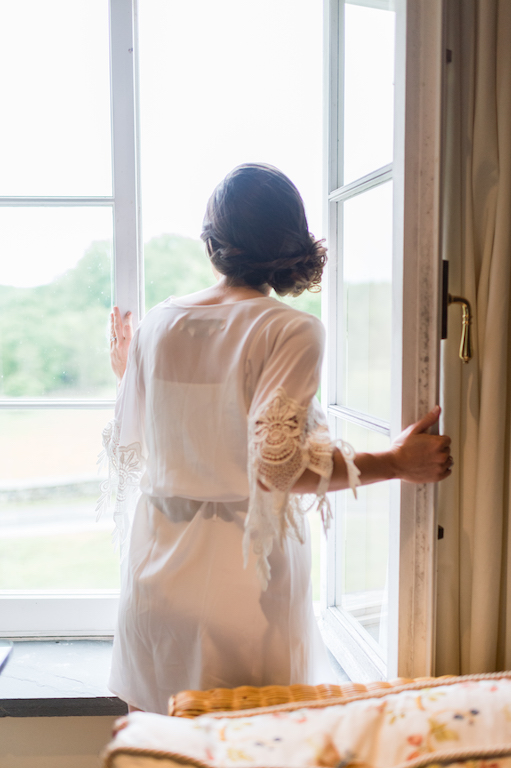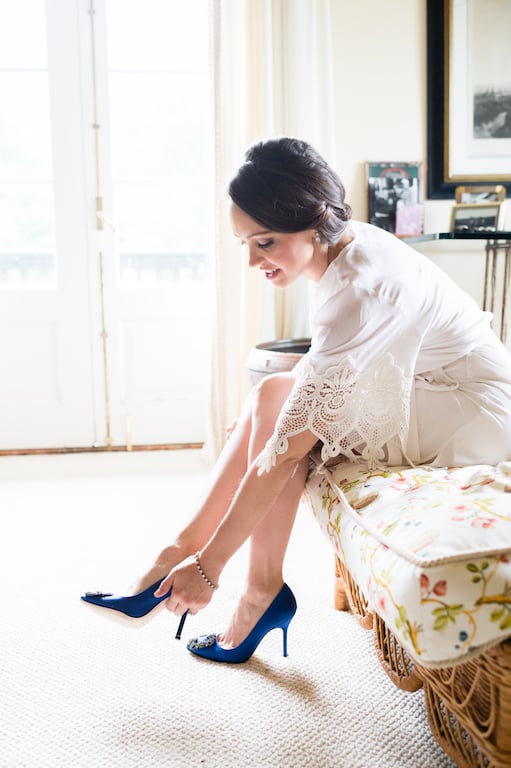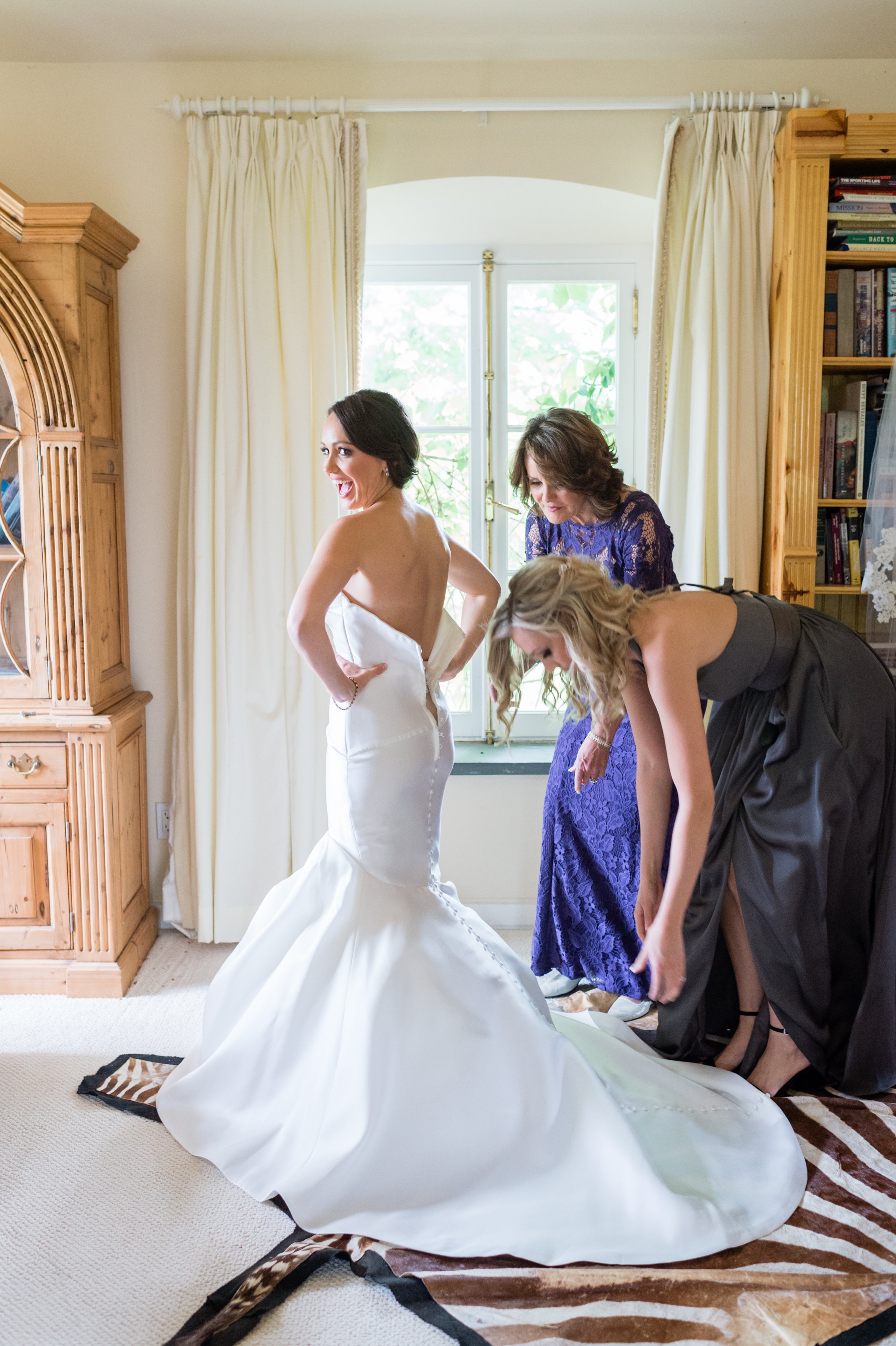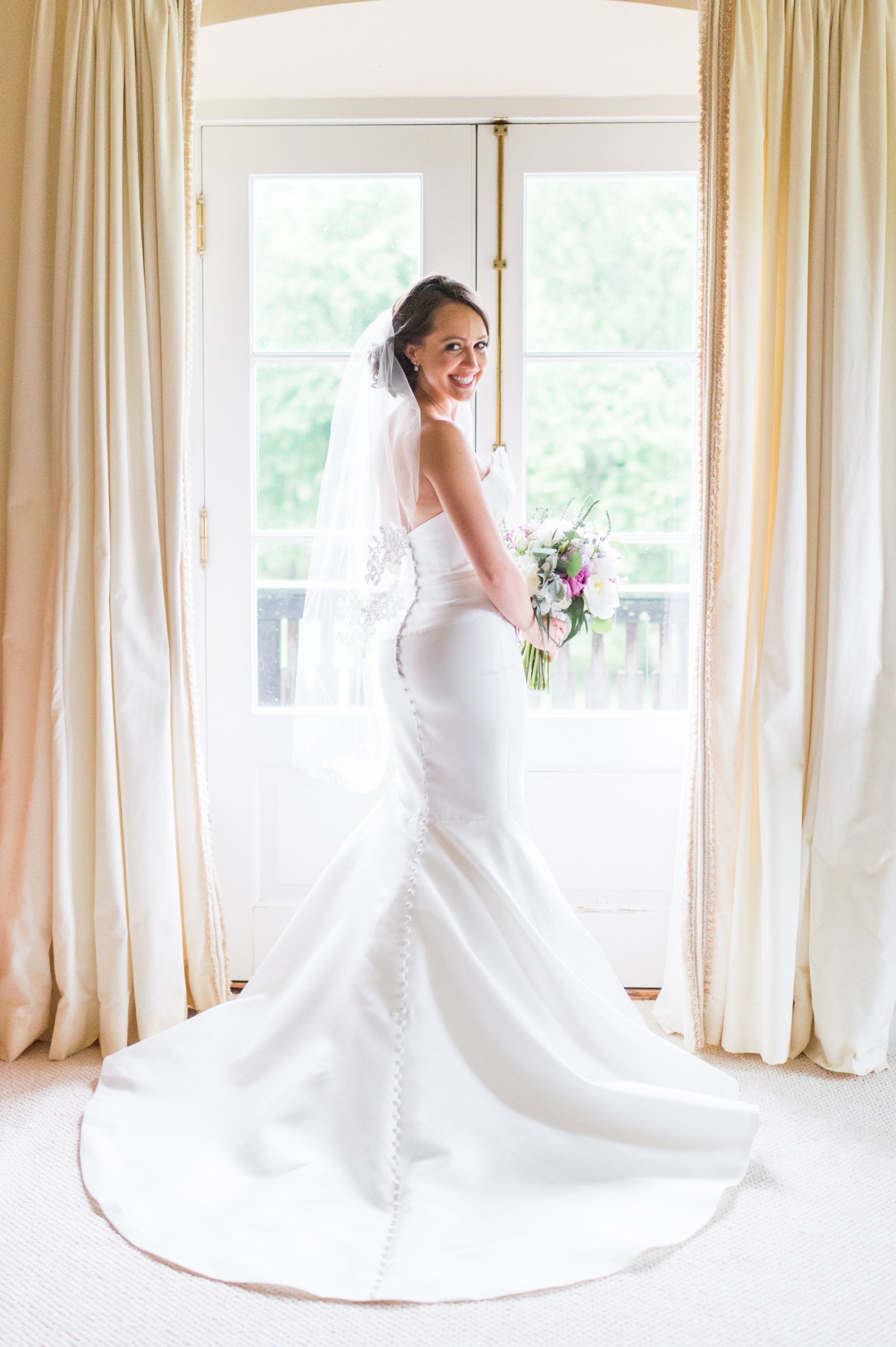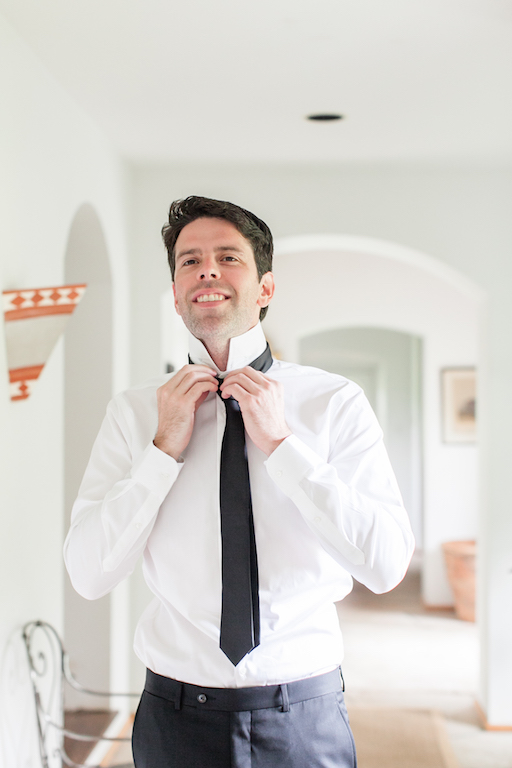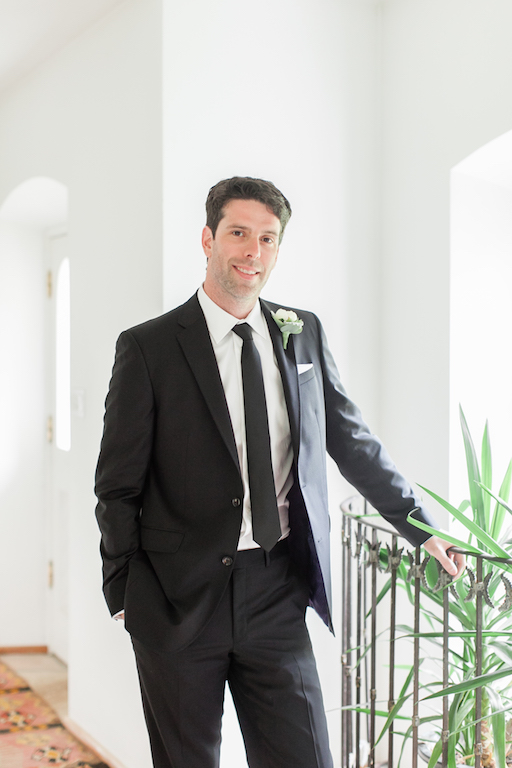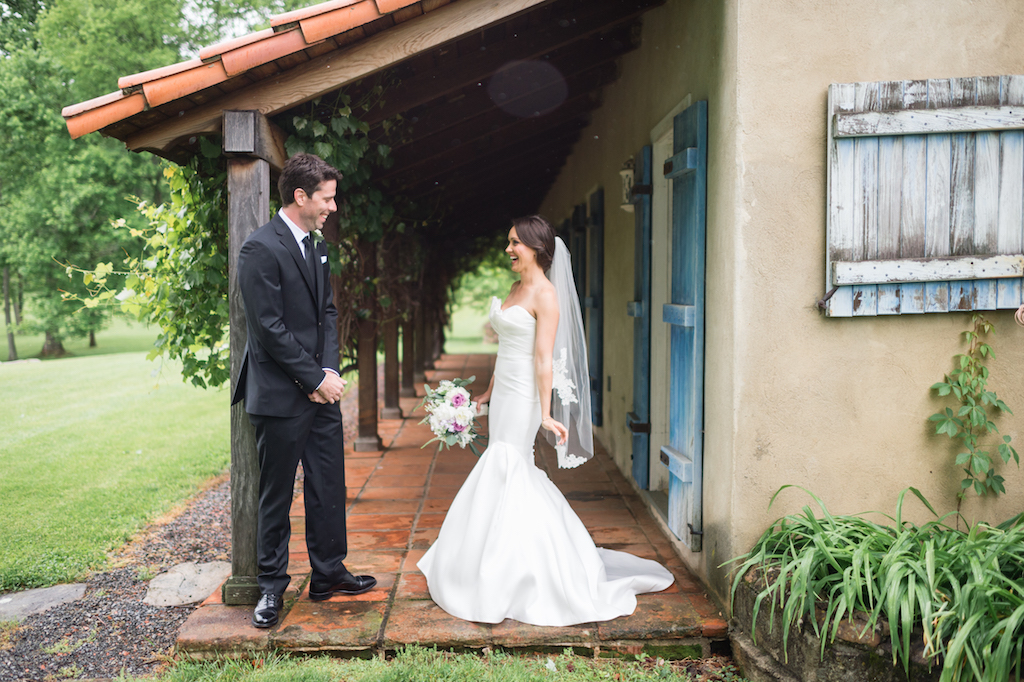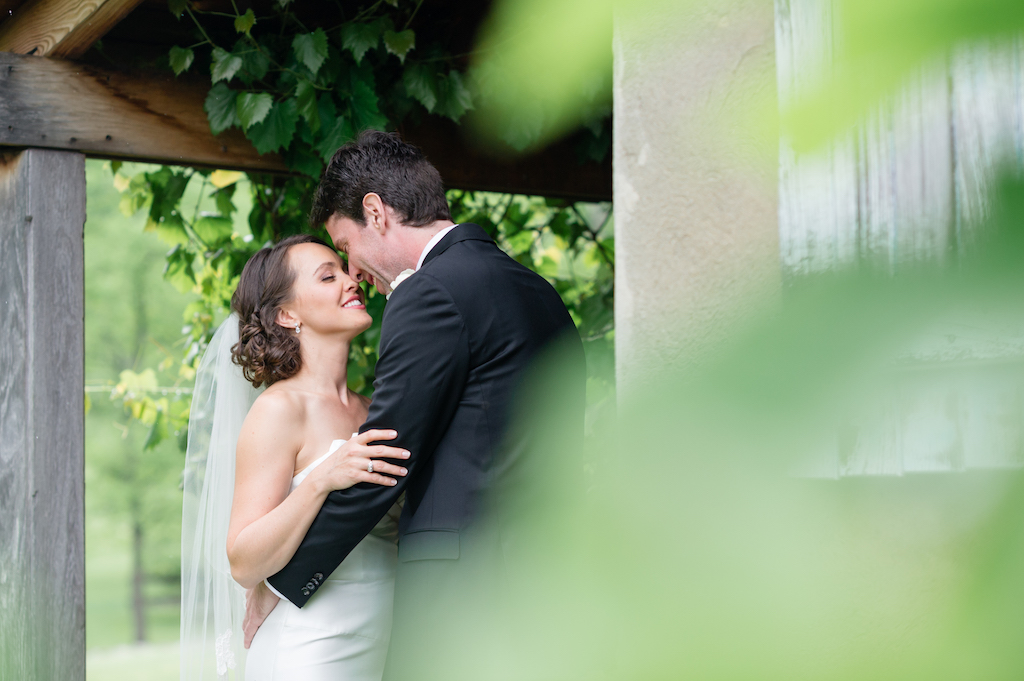 Now that they finally had a somewhat stable home-base (LA), Rebecca knew that a proposal was in their near future, but wasn't sure when it would go down. Coming home from work with a full bag of fresh laundry in one hand, work bag in the other, and walking their dog, Theo, Rebecca was pleasantly surprised when she opened the front door and found that the condo was perfectly clean. Will called-out from their bedroom. Adorned with lit candles and flowers, their bedroom had been transformed into the setting of a romance movie; to top it off, Will, styling a dapper suit, was on one knee. Without a doubt in her mind, Rebecca instantly said yes! Of course, it would only be appropriate that the newly-engaged couple had a celebratory dinner at Chateau Marmont with rosé and bolognese—a nod to that night when they first met.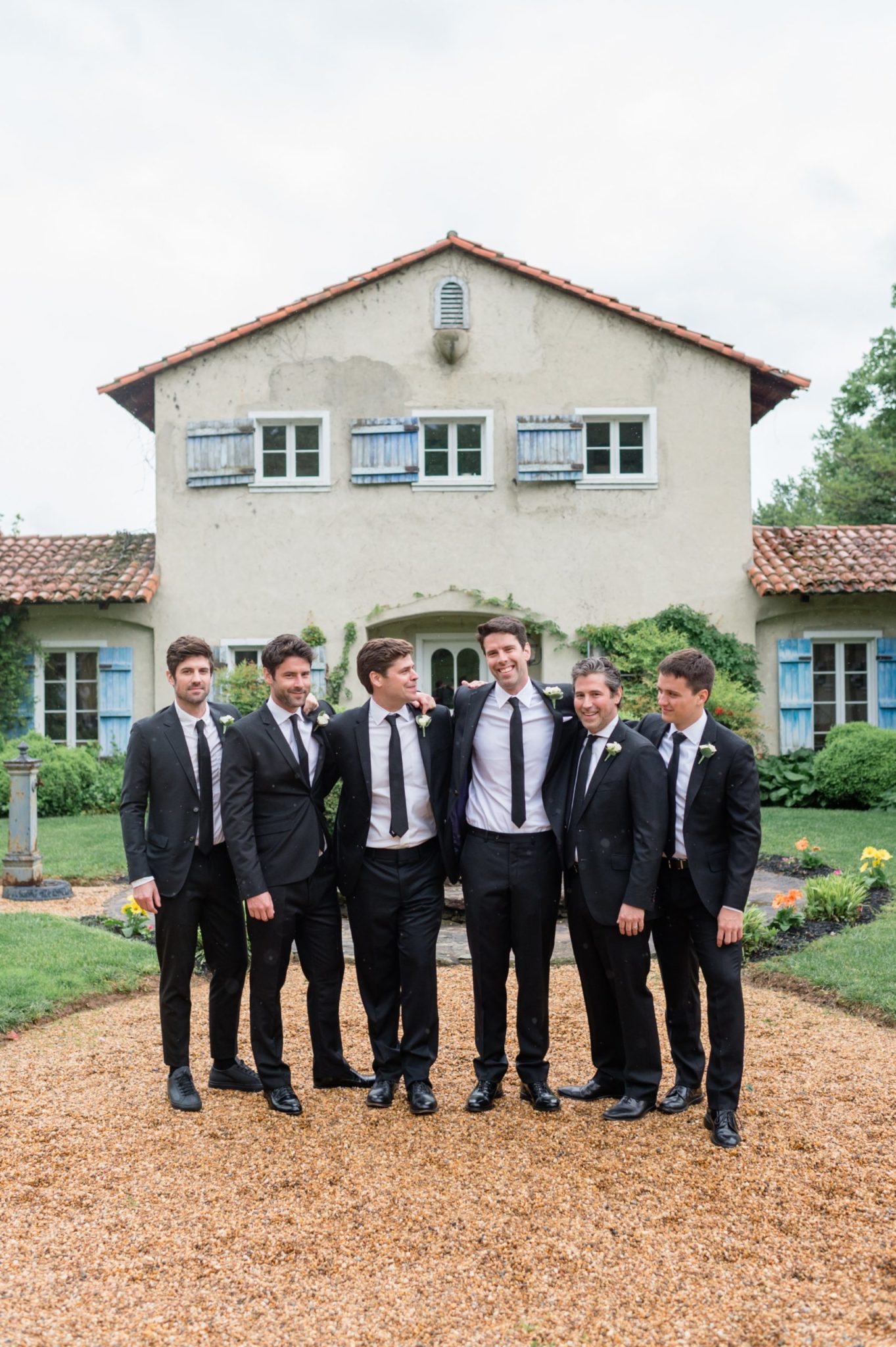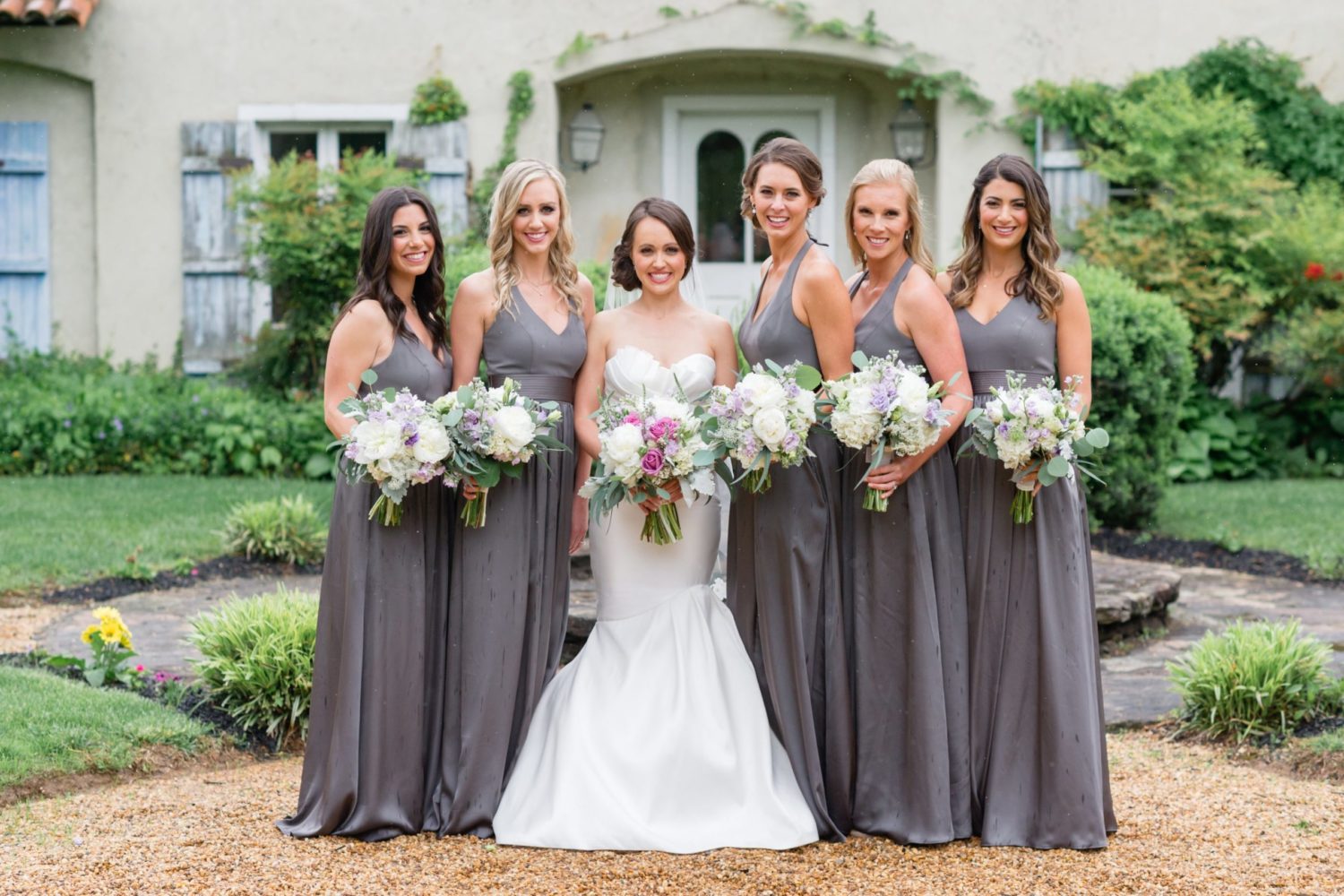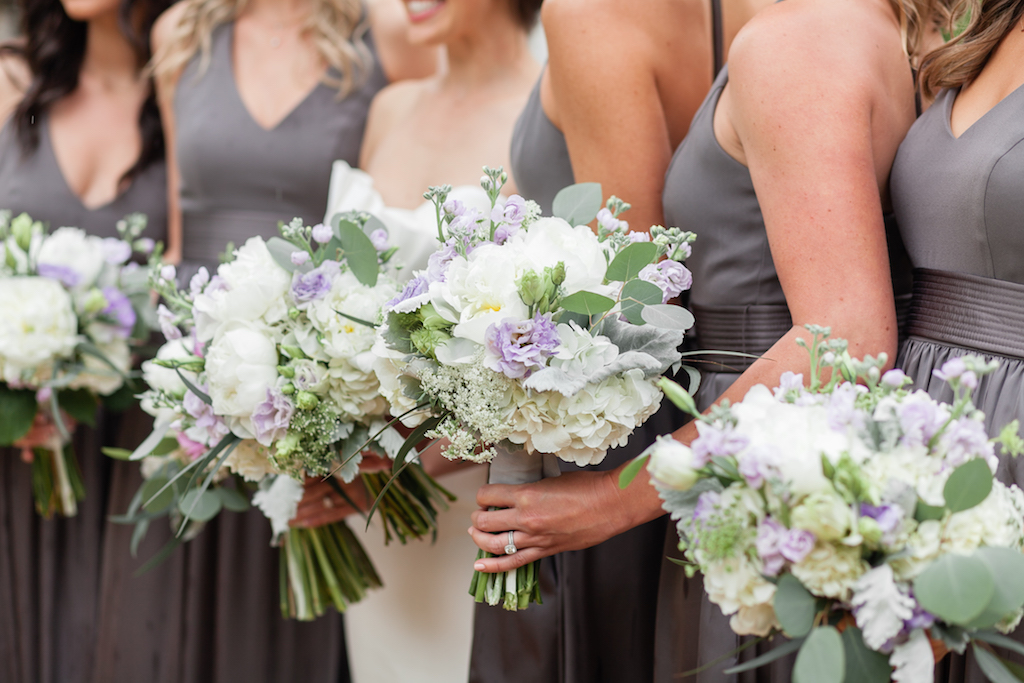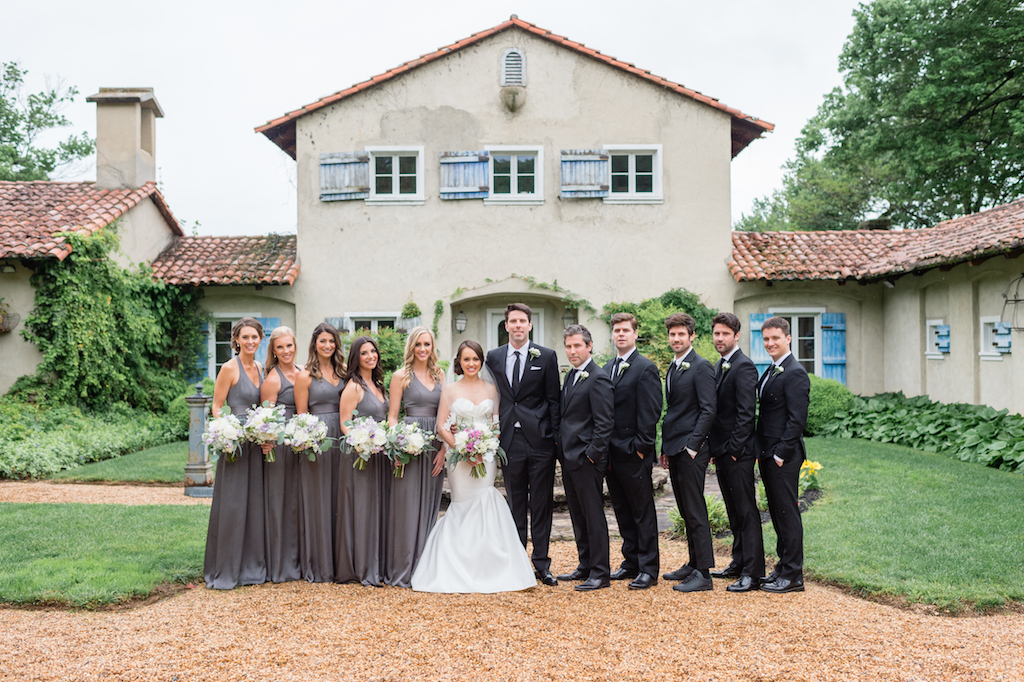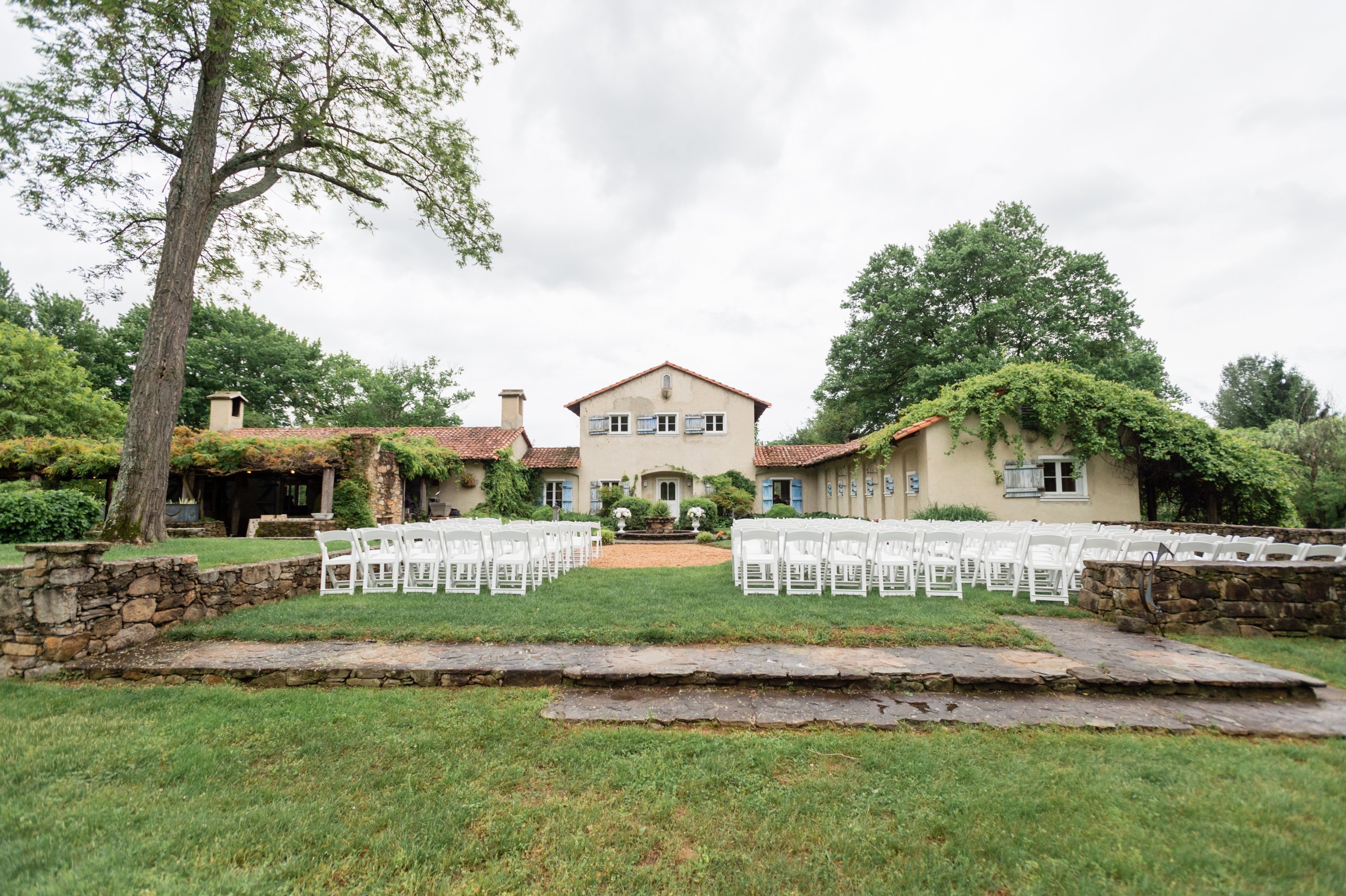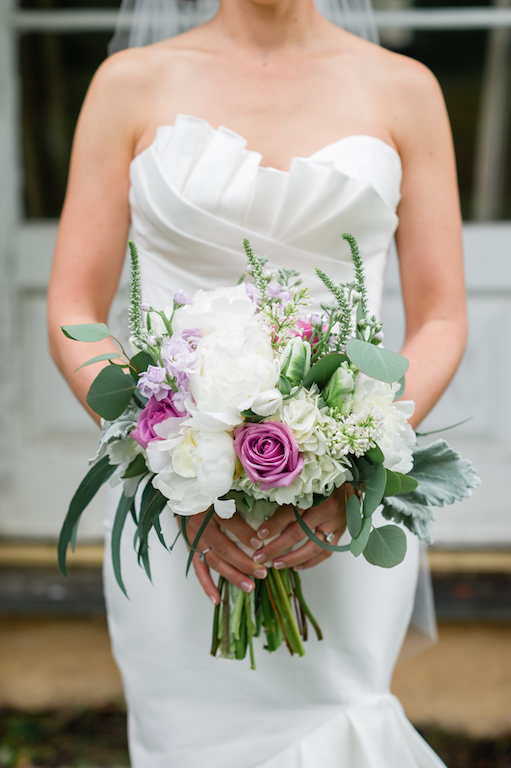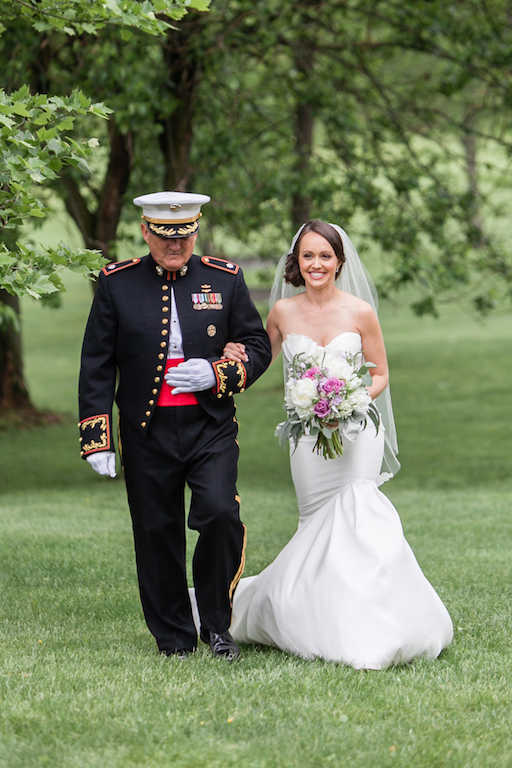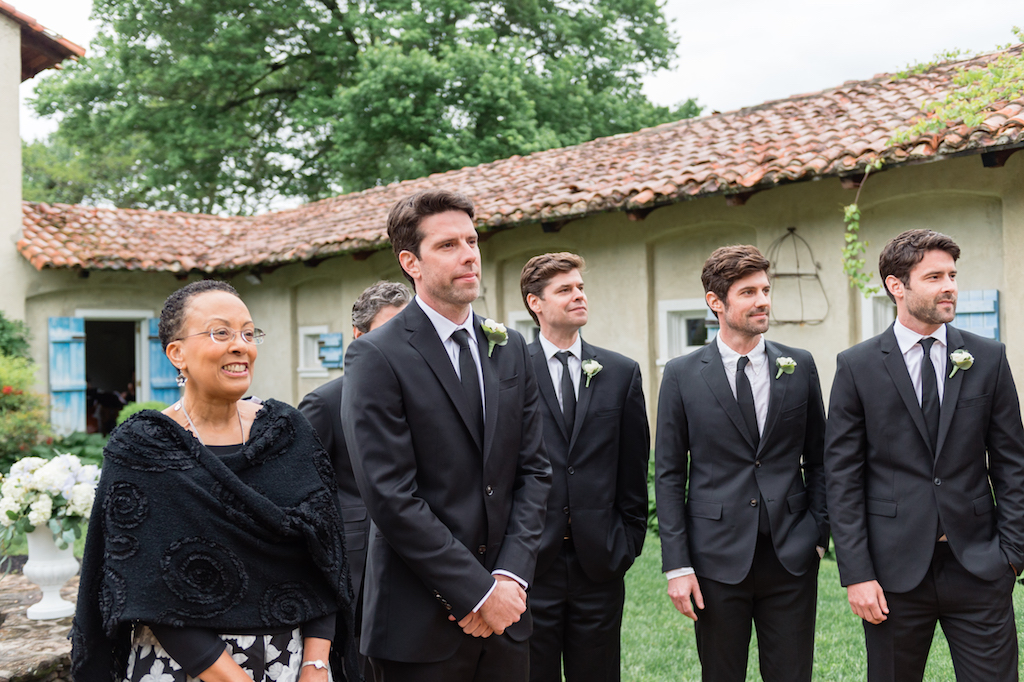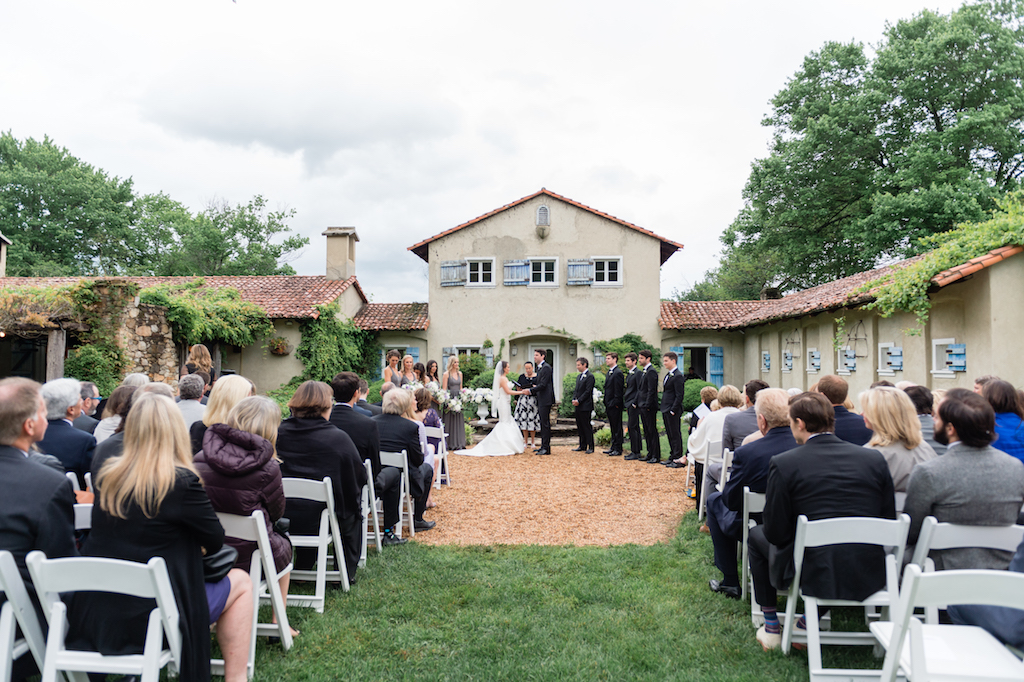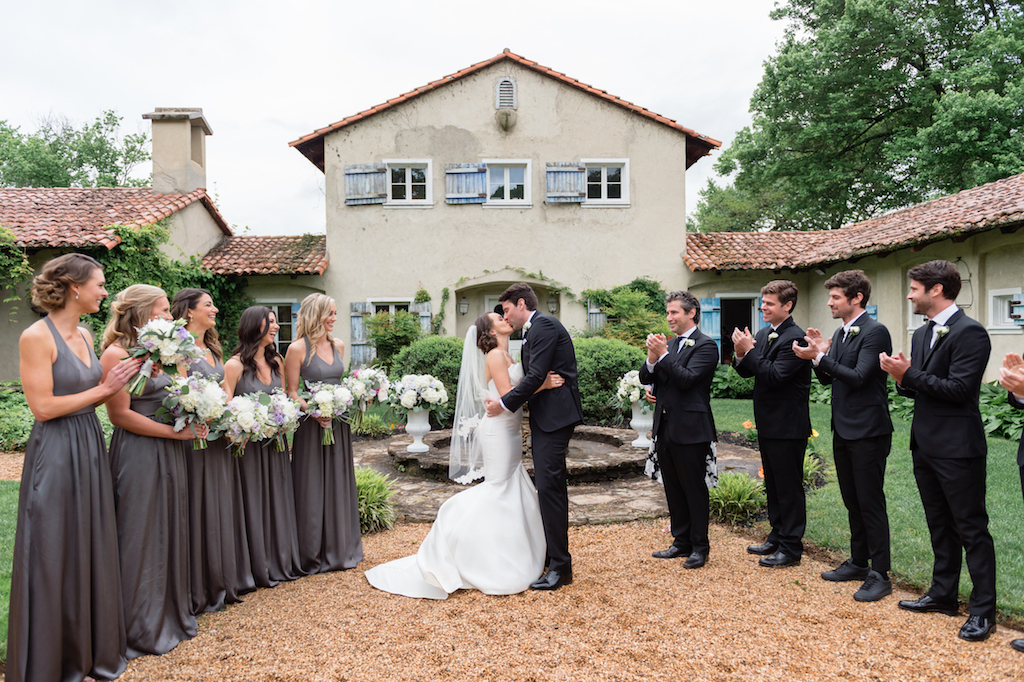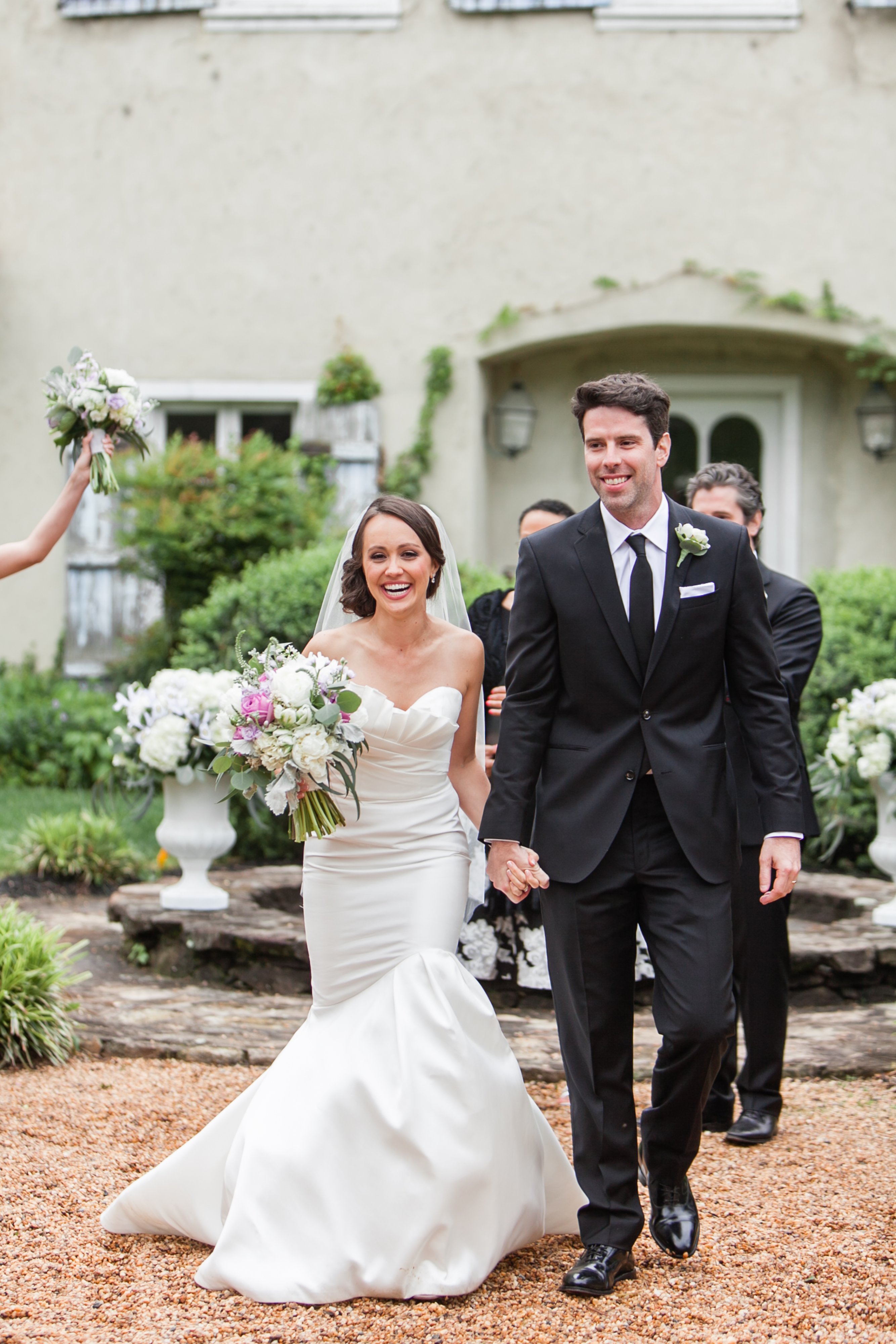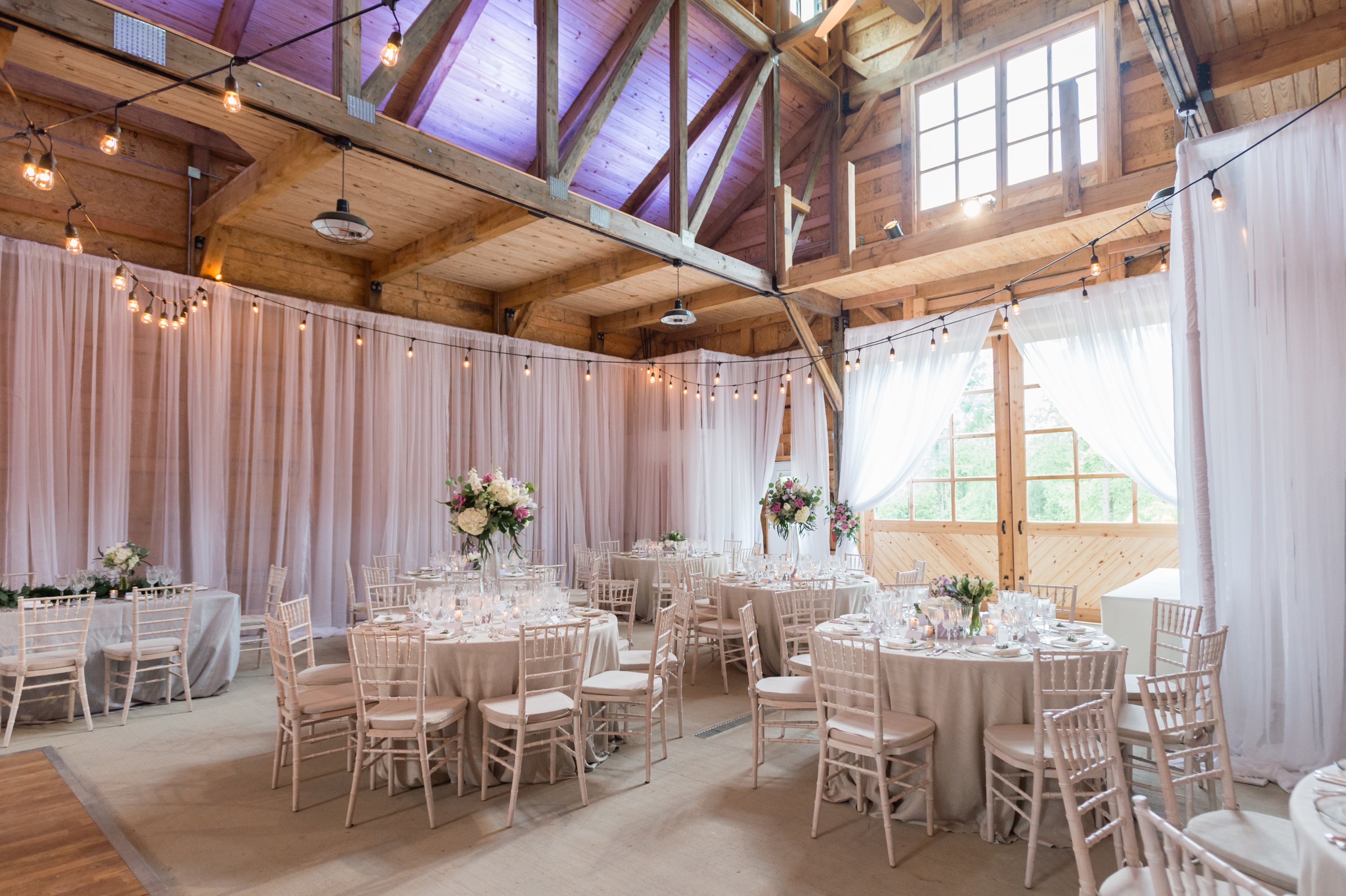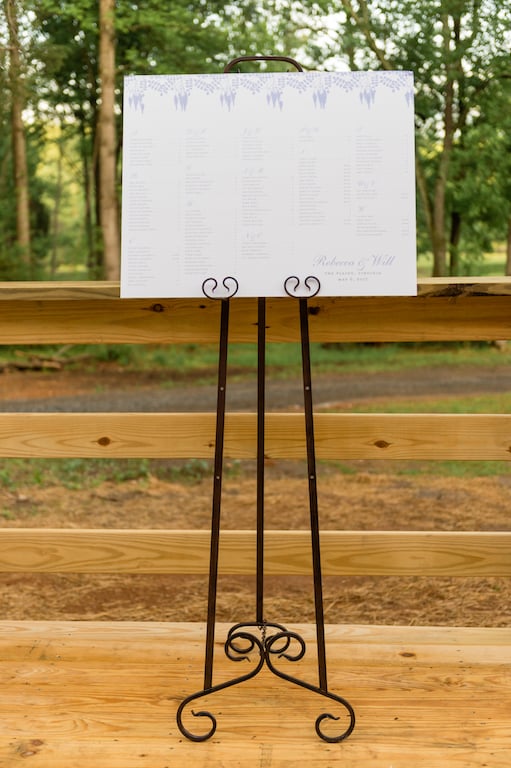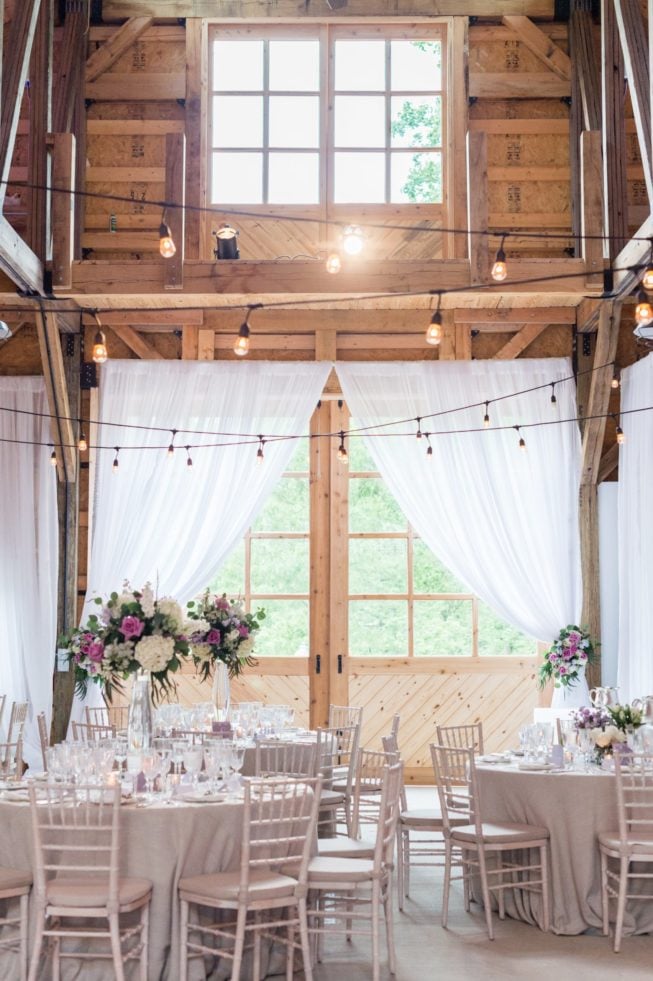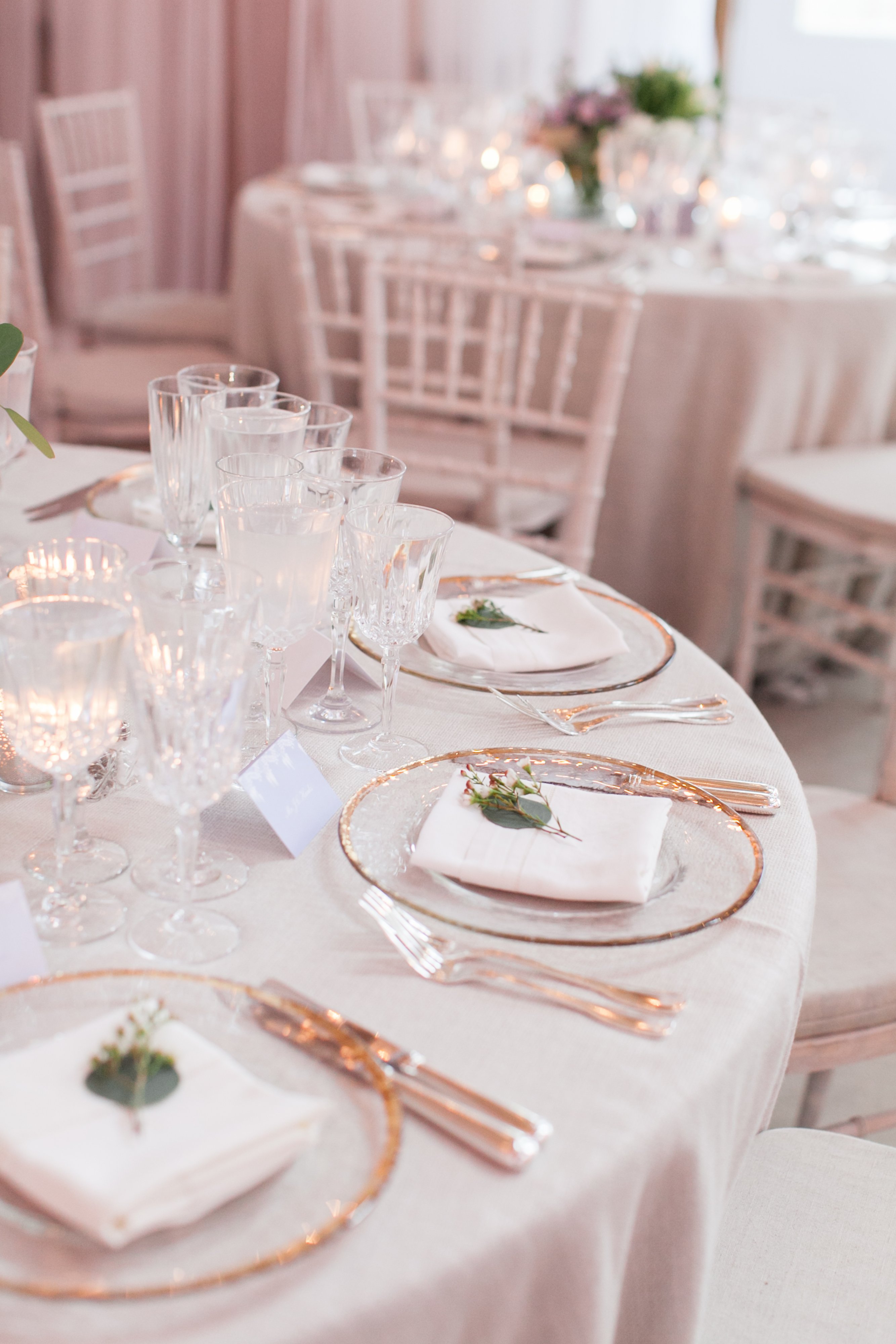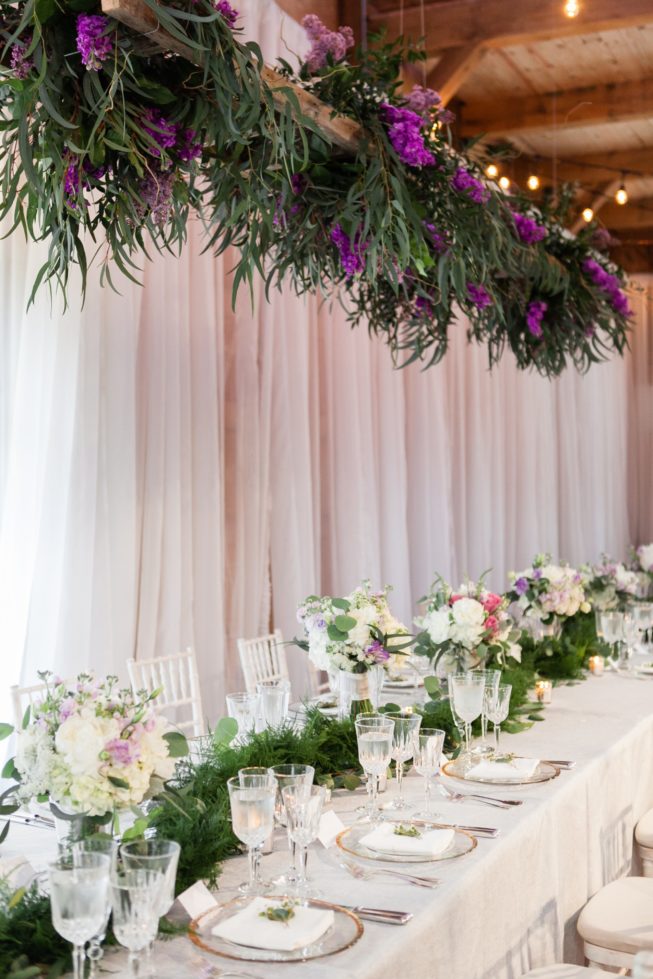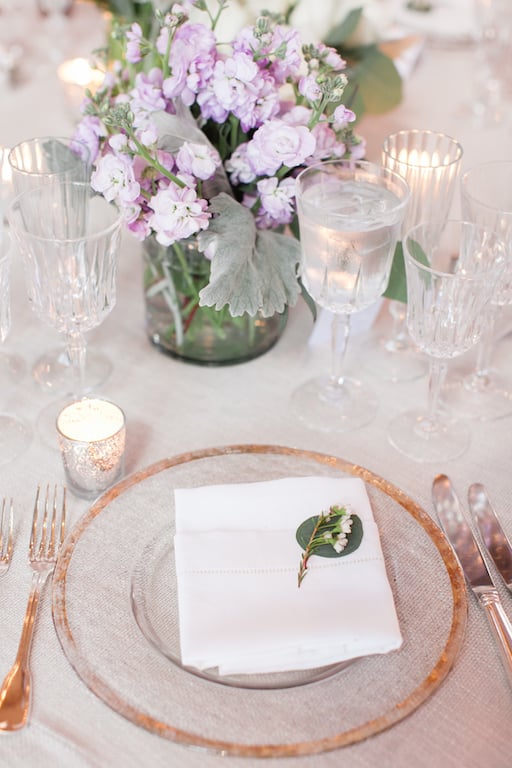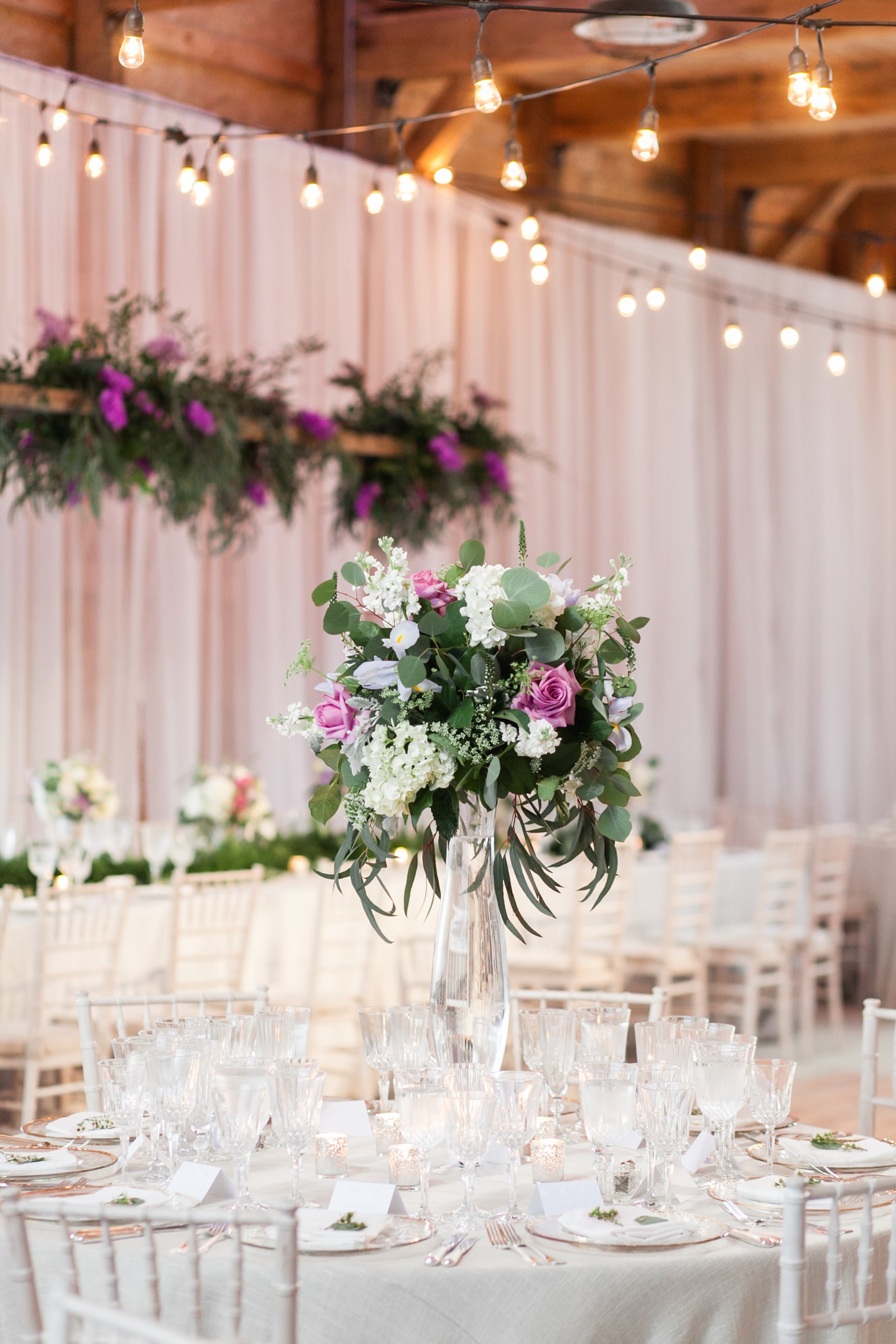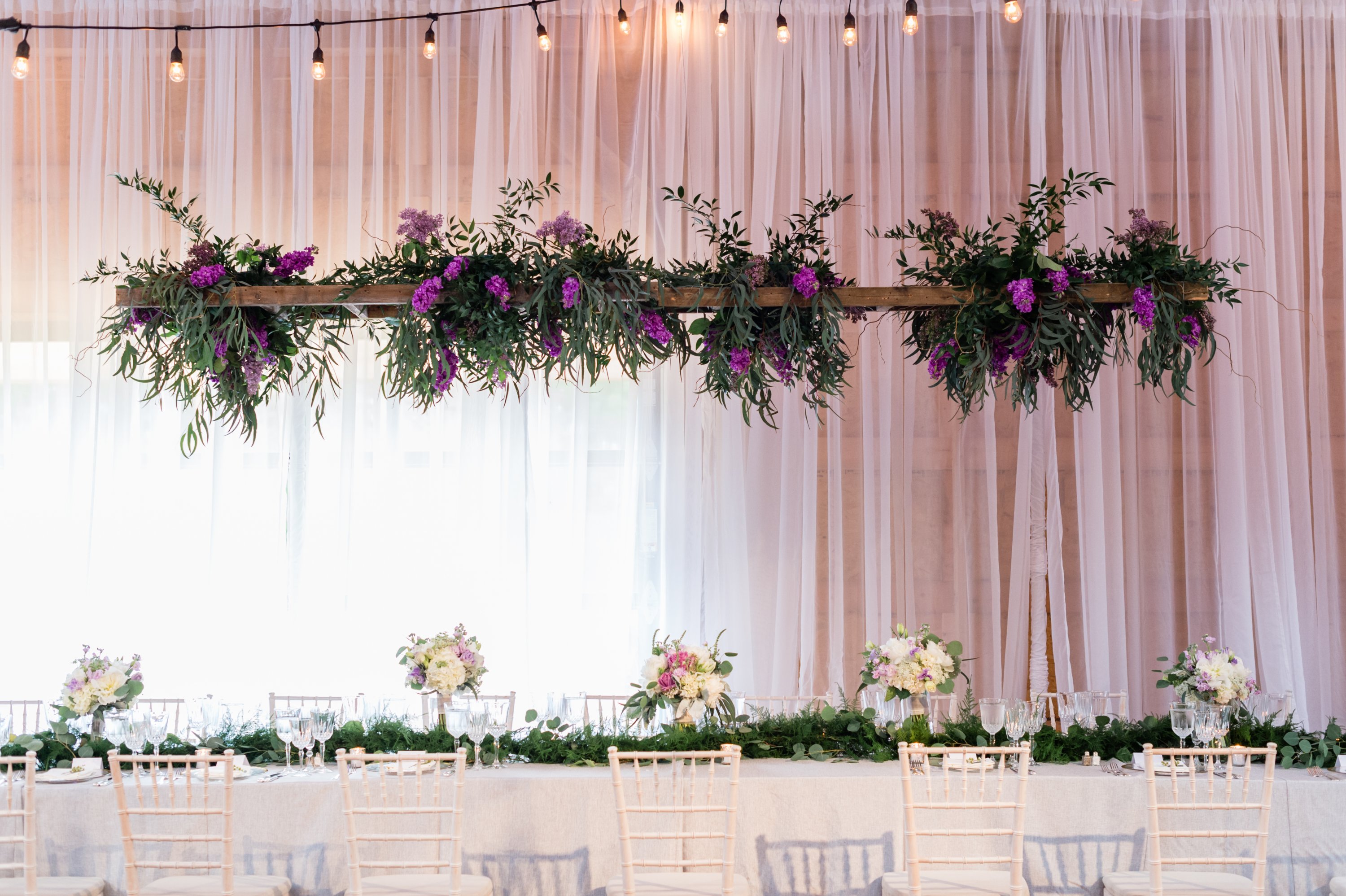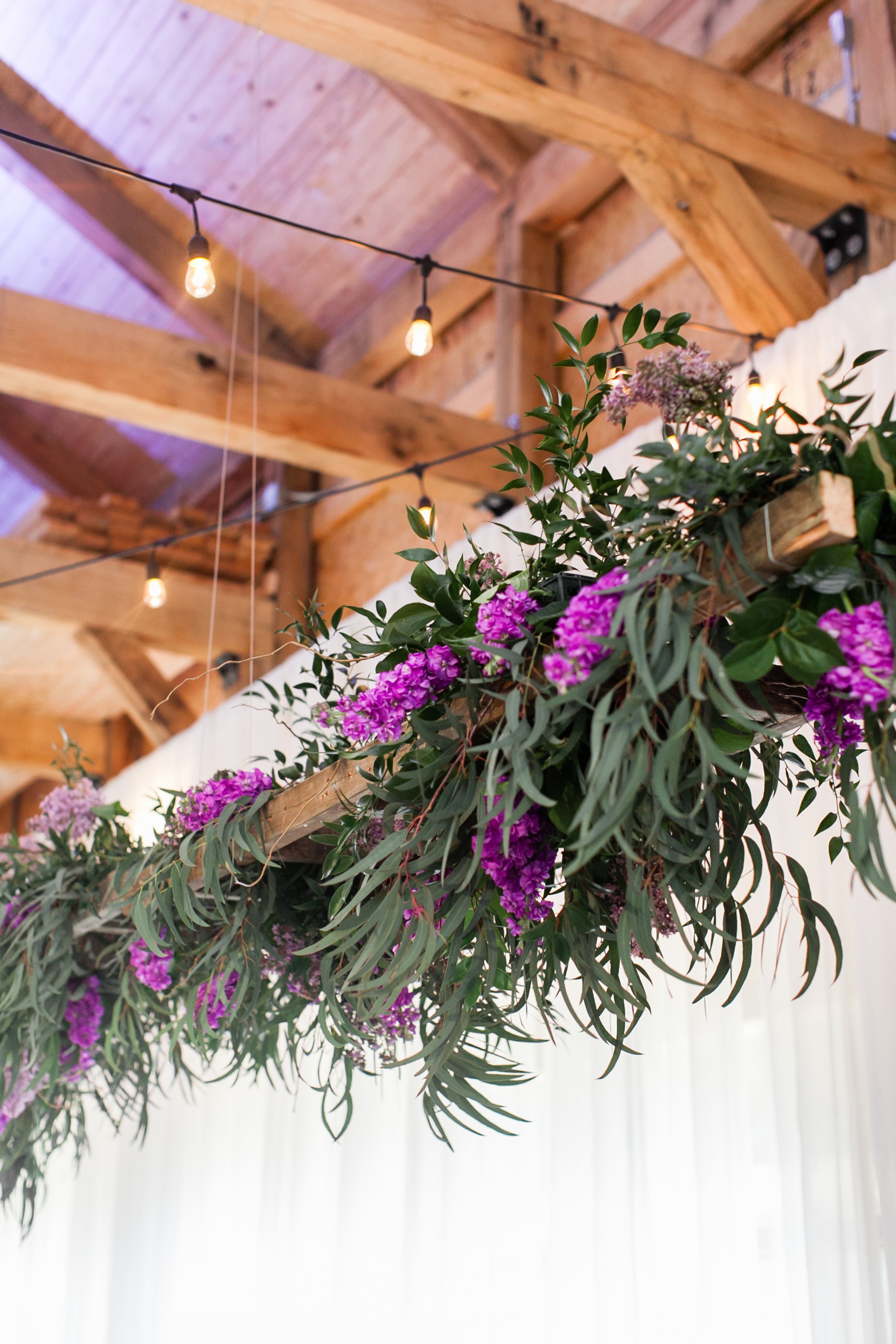 Ten months later, it was time to get married. Rebecca and Will's classic countryside estate wedding was inspired by the rustic woods and the wisteria that grew around the farm. Vintage wood ladders repurposed as floating lattices embellished with garden roses, peonies, wisteria, parrot tulips and hydrangeas hung over the head table during the reception.
Incorporating the couples colliding East Coast/West Coast style, they served surf n' turf along with fresh fruit, veggies, and avocados (a Californian must!). When it was time for cake, an indulgent chocolate cake with chocolate-raspberry ganache and fresh raspberries was cut. Complementing the chocolate dessert, guests sipped on French Crémant throughout the night.
The night of dancing, eating, drinking, and laughing, this chic yet classic farm wedding finally brought two coasts together.
A honeymoon in Athens and Santorini, Greece is next on the agenda—an intimate trip of Mediterranean sea sunsets, slow-strolling along medieval cobblestone paths, and sultry kisses on the beach.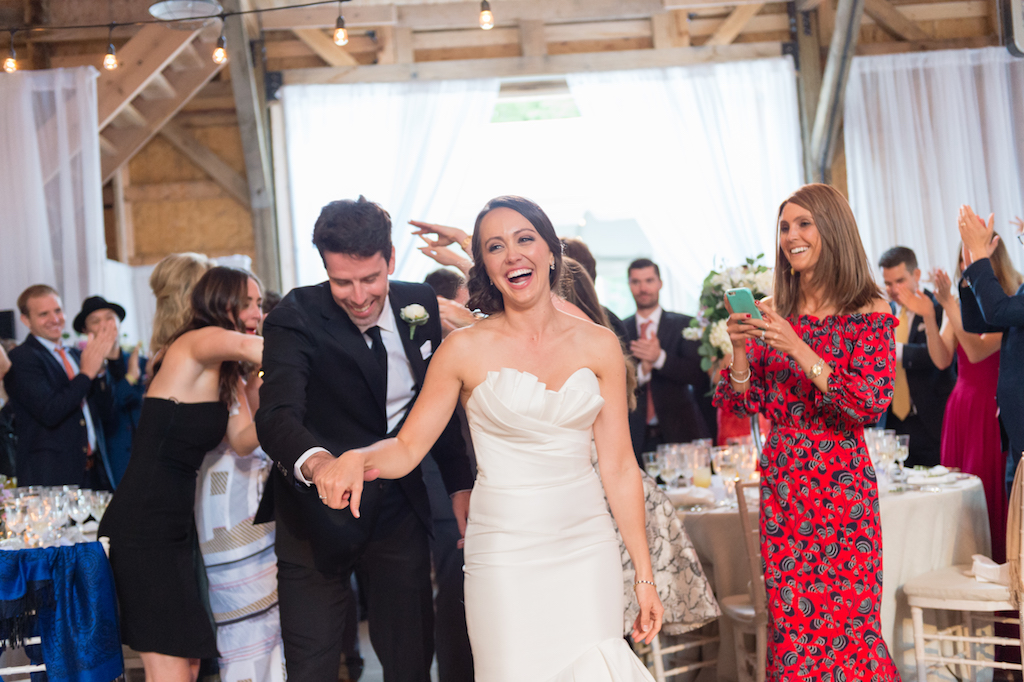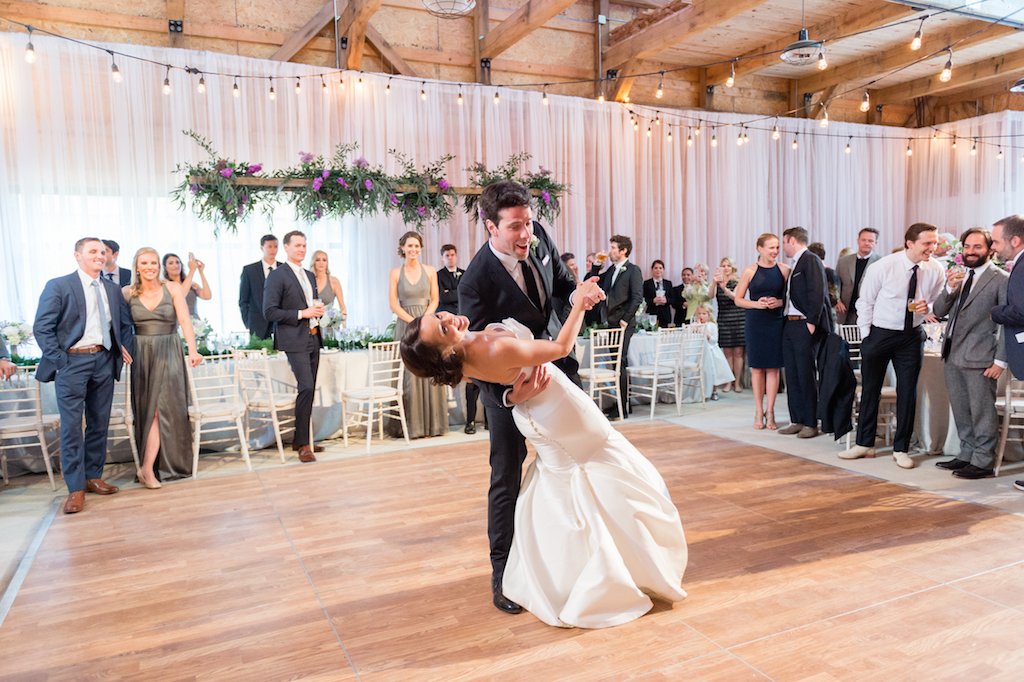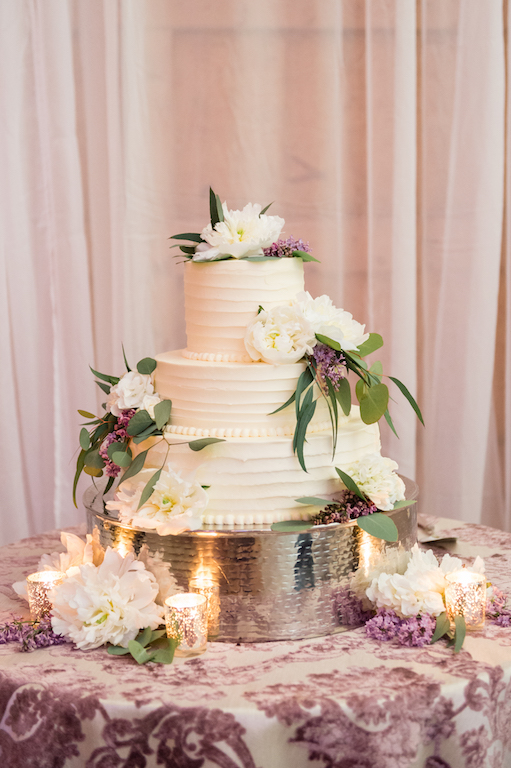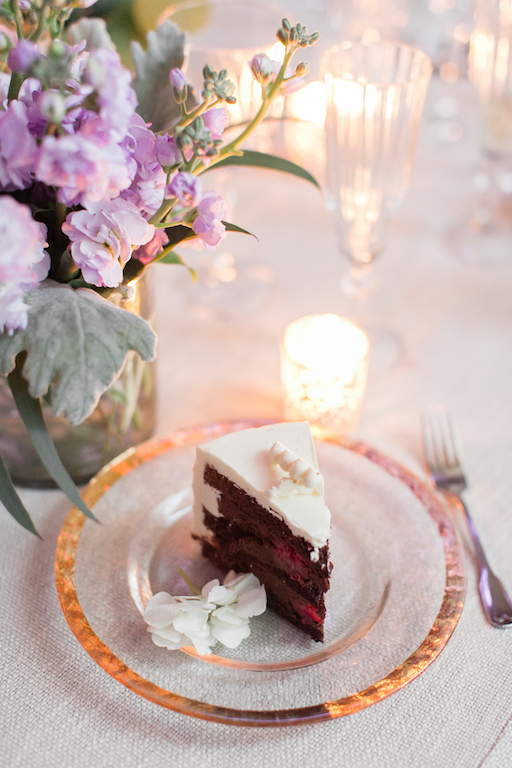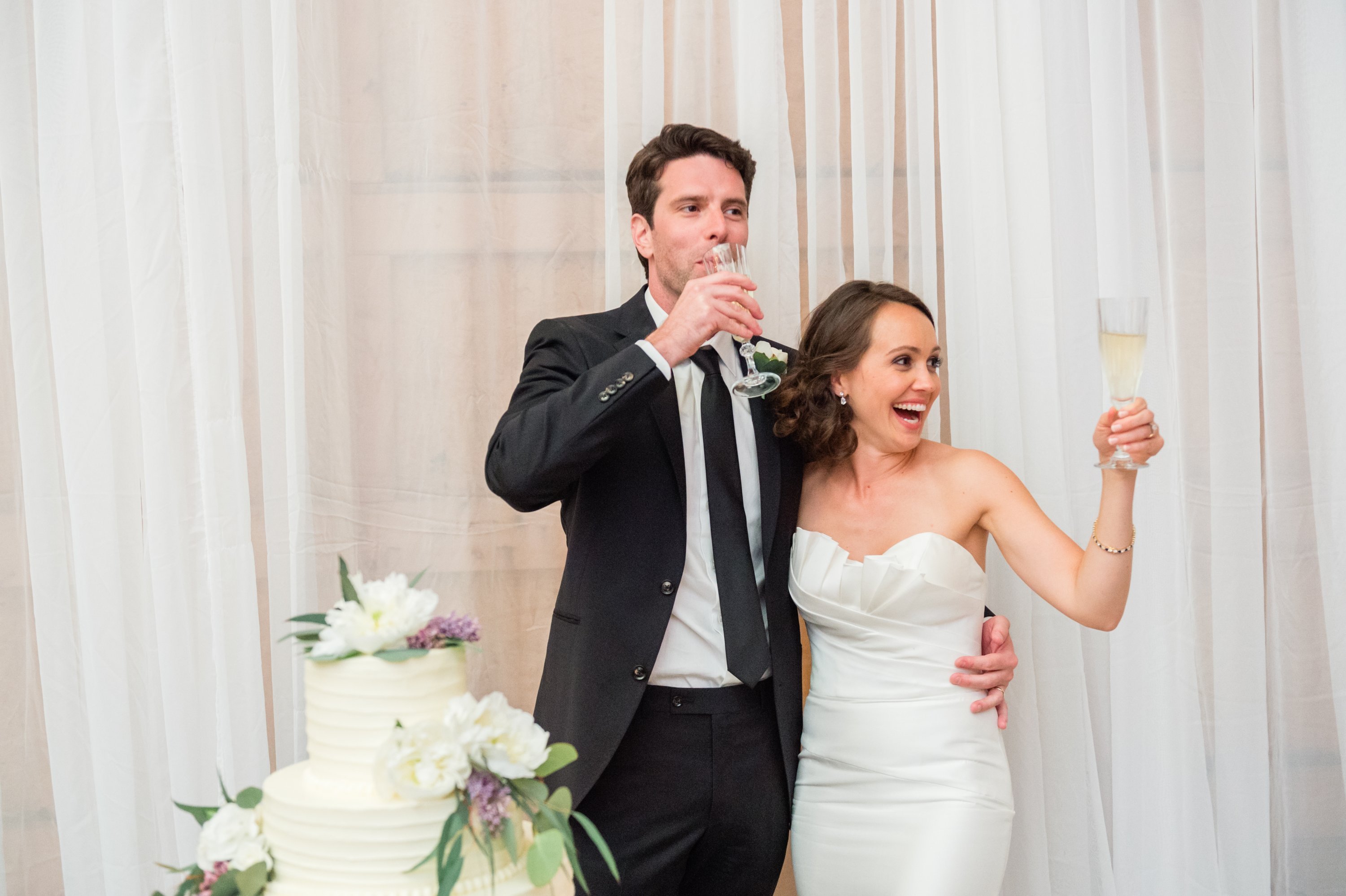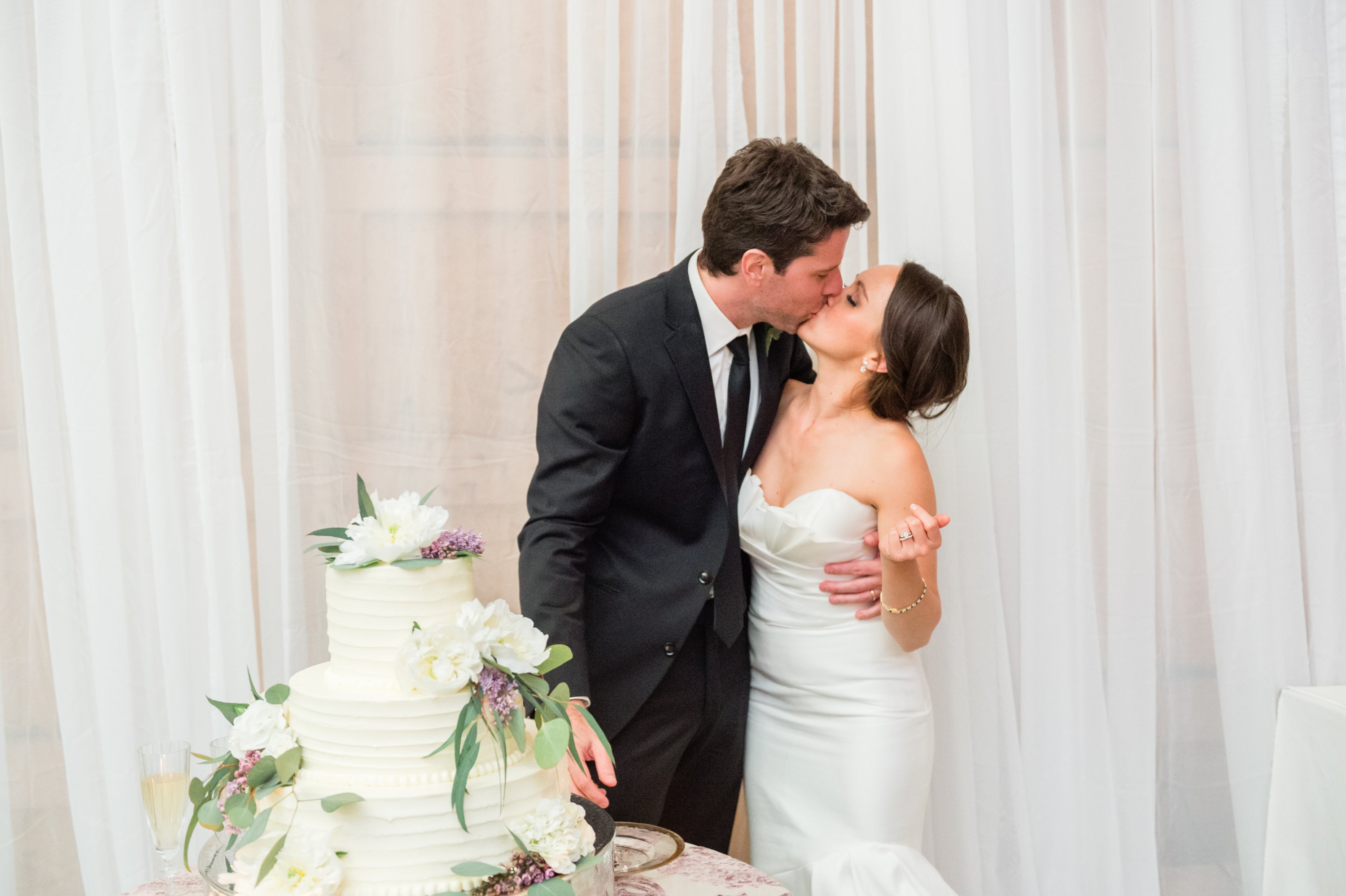 The Details
Photographer: Lisa Boggs | Venue: Family Estate, Close Run Farm | Event Coordinator: Janice Carnevale, Bellwether Events | Florist: Mary Wall, The Pink Poppy | Invitations: Jonathan Wright, Jonathan Write & Company | Caterers: Design Cuisine | Cake: Design Cuisine | Hair Dresser: Jewel Hair | Makeup Artist: CarleyLu | Bride's Attire: Martina Liana, Lovella Bridal | Groom's Attire: Ted Baker, Nordstrom | Music: String Trio (ceremony), Musical Dj's (reception) | Bridal Party Attire: Vera Wang White Collection | Graphic Designer: Taryn Nakashima | Additional Print: Claudia Smith, Fig2Designs | Officiant: Leora Wills, With this Ring I Thee Wedd