For 37 years, Washingtonian has partnered with the local chapter of the American Institute of Architects to recognize the area's best-looking residences. To ensure that the process is unbiased, submissions are kept anonymous and none of the jurors—architects from around the country—are local. Of this year's 108 submissions, these 12 rose to the top.
---
Into the Fold
David Jameson, Ron Southwick, Frank Curtis, and Oscar Maradiaga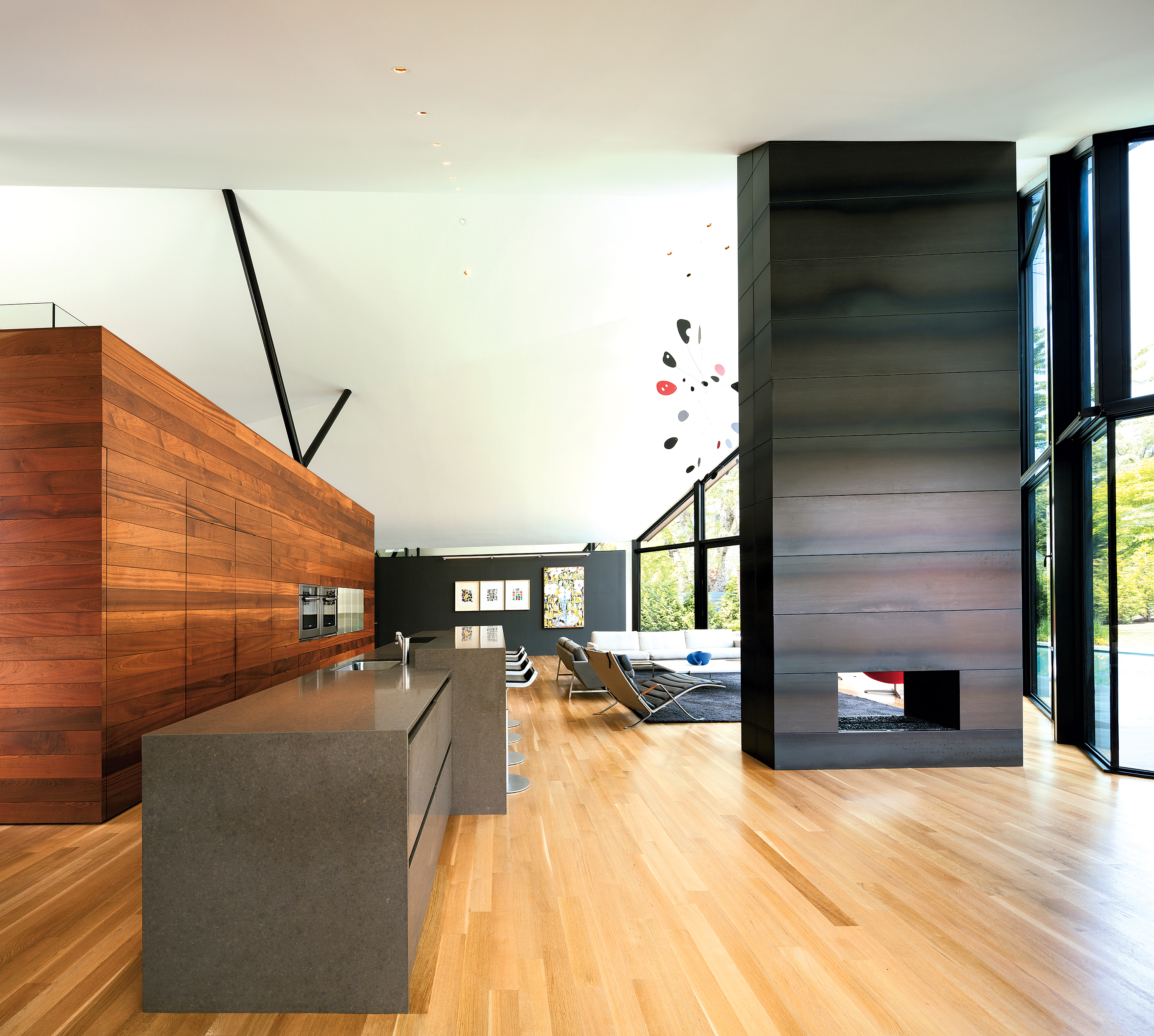 For this project, built on the cusp of a historic district in Alexandria, David Jameson wanted to play off the area's ubiquitous, traditional gabled roofs. "The house starts at the street as three gabled roofs, and within feet they start morphing into this origami roof," he explains. "From the back, the house basically looks like the folded components of a piece of origami paper."
With its owners approaching retirement age, Jameson designed the residence to be one level so they could enjoy it for years to come.
---
Light Box
Eric Colbert
Eric Colbert designed many of the mixed-use apartment buildings that have sprung up in recent years in places such as Logan Circle. While those must appeal to the masses, renovating his own 1940 Colonial in Chevy Chase DC was an entirely different kind of challenge. "Every morning, I would wake up and have a different idea of what I wanted to do to the house," he says.
Ultimately, Colbert settled on a contemporary kitchen addition that appears distinct from the original building: "Construction should be reflective of the time it's done and not try to reproduce something historic." He created an illusion of open space separating old from new, with a glass floor, floor-to-ceiling windows, and a skylight that ring the section where the addition meets the original brick.
---
Black Mirror
David Jameson and Patrick McGowan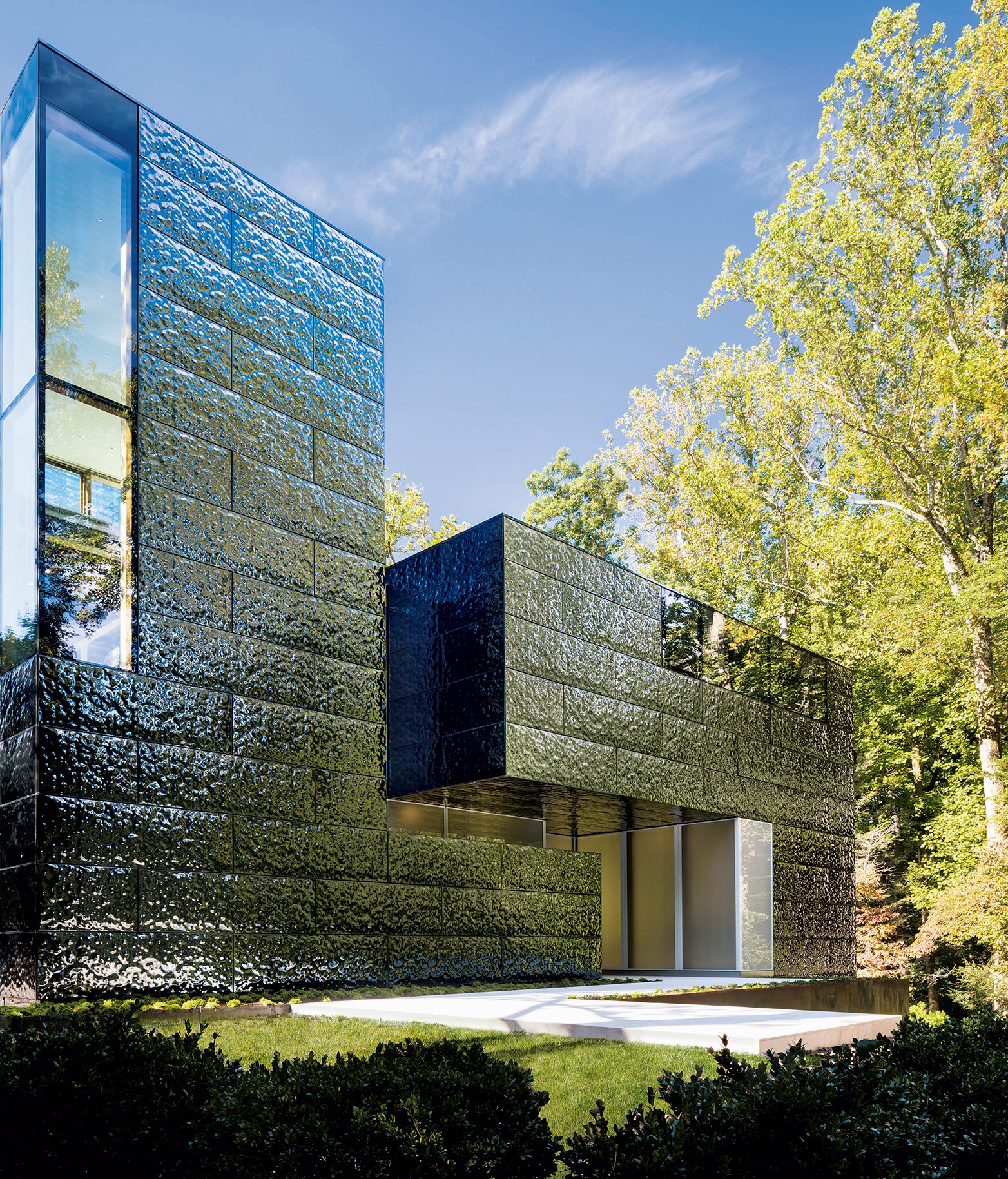 On first glance, the house's exterior appears to be liquid. In fact, its facade is made of mirrored stainless steel that can look black, purple, green, or blue, depending on the time of day. "It has this mirage-like quality," says architect David Jameson. "It's sort of hard to identify what exactly it is."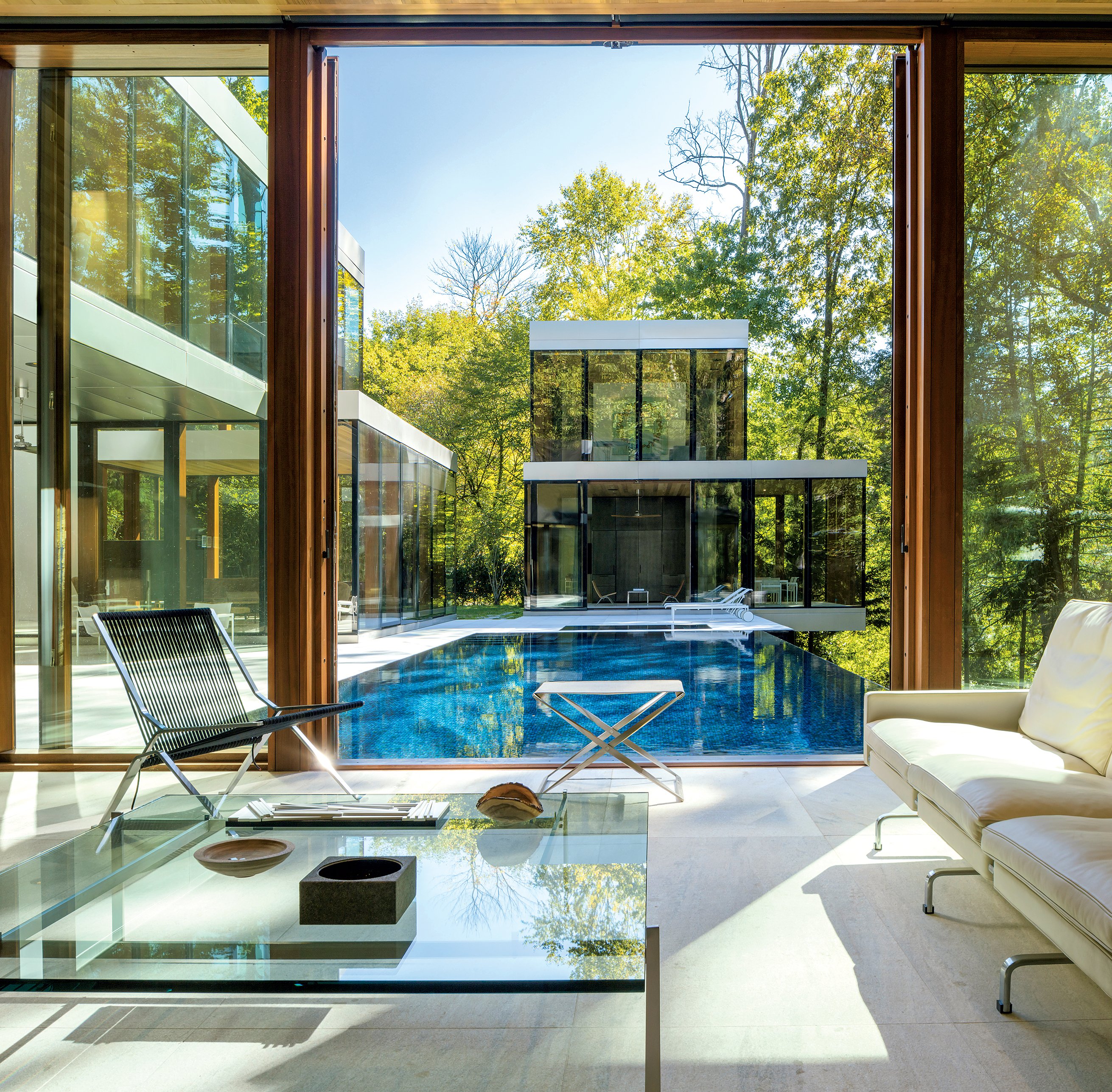 Given the design's fantastical quality, it's maybe not that surprising to learn it originated from Jameson's young daughter, who was crafting an art project of foam wrapped in black-spray-painted aluminum foil. "It became this really beautiful component that started to inform the idea," says her dad.
---
Metal Winner
David Jameson, Oscar Maradiaga, Frank Curtis, and Ron Southwick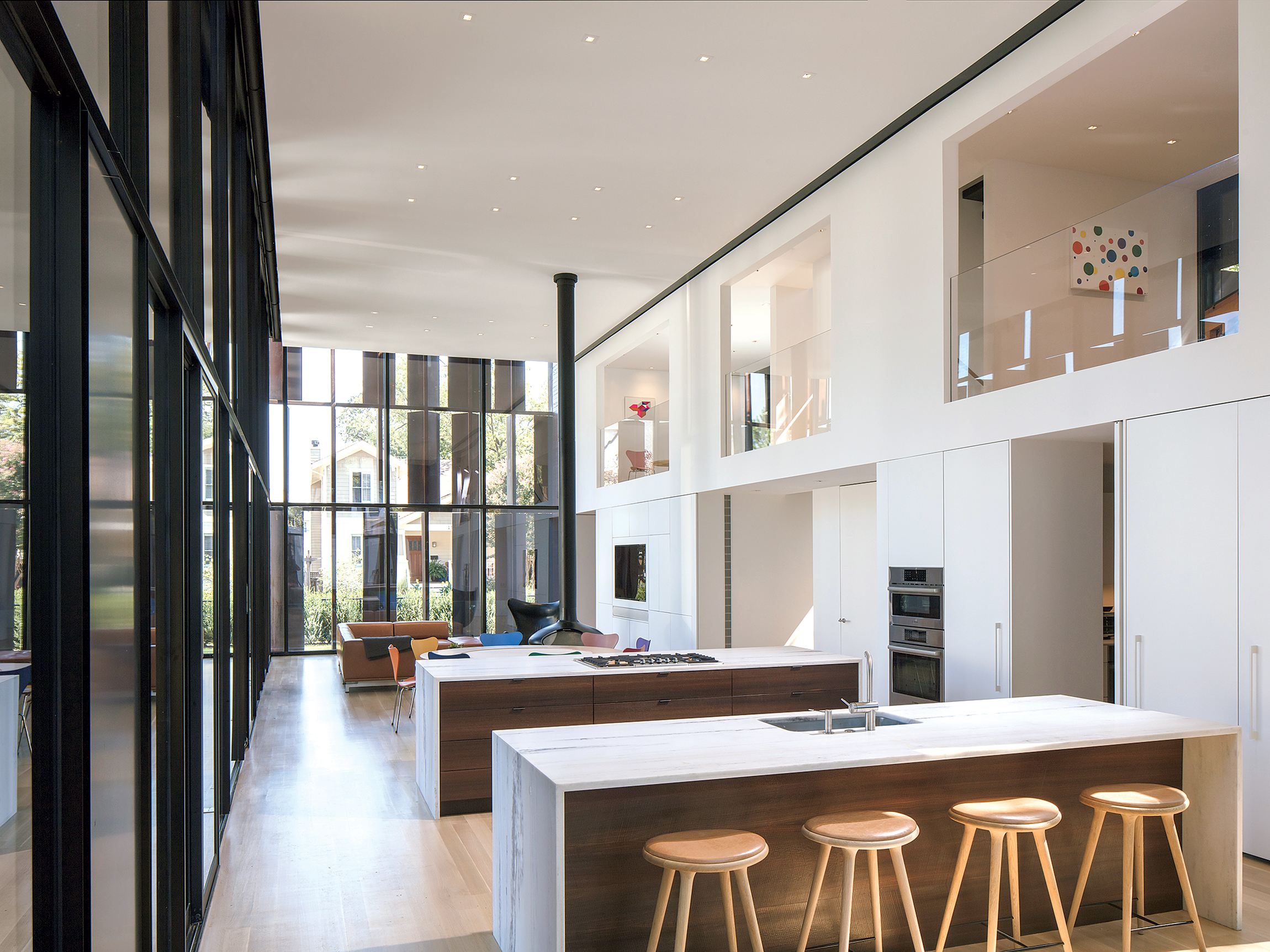 The owner of this traffic-stopping home in Arlington gave David Jameson the directive architects dream of: "He said, 'You know, I just want you to build an interesting house.'" Jameson obliged, starting from the outside with the distinctive steel frame. The actual house, whose walls are almost entirely glass, was built inside the cage-like exterior structure.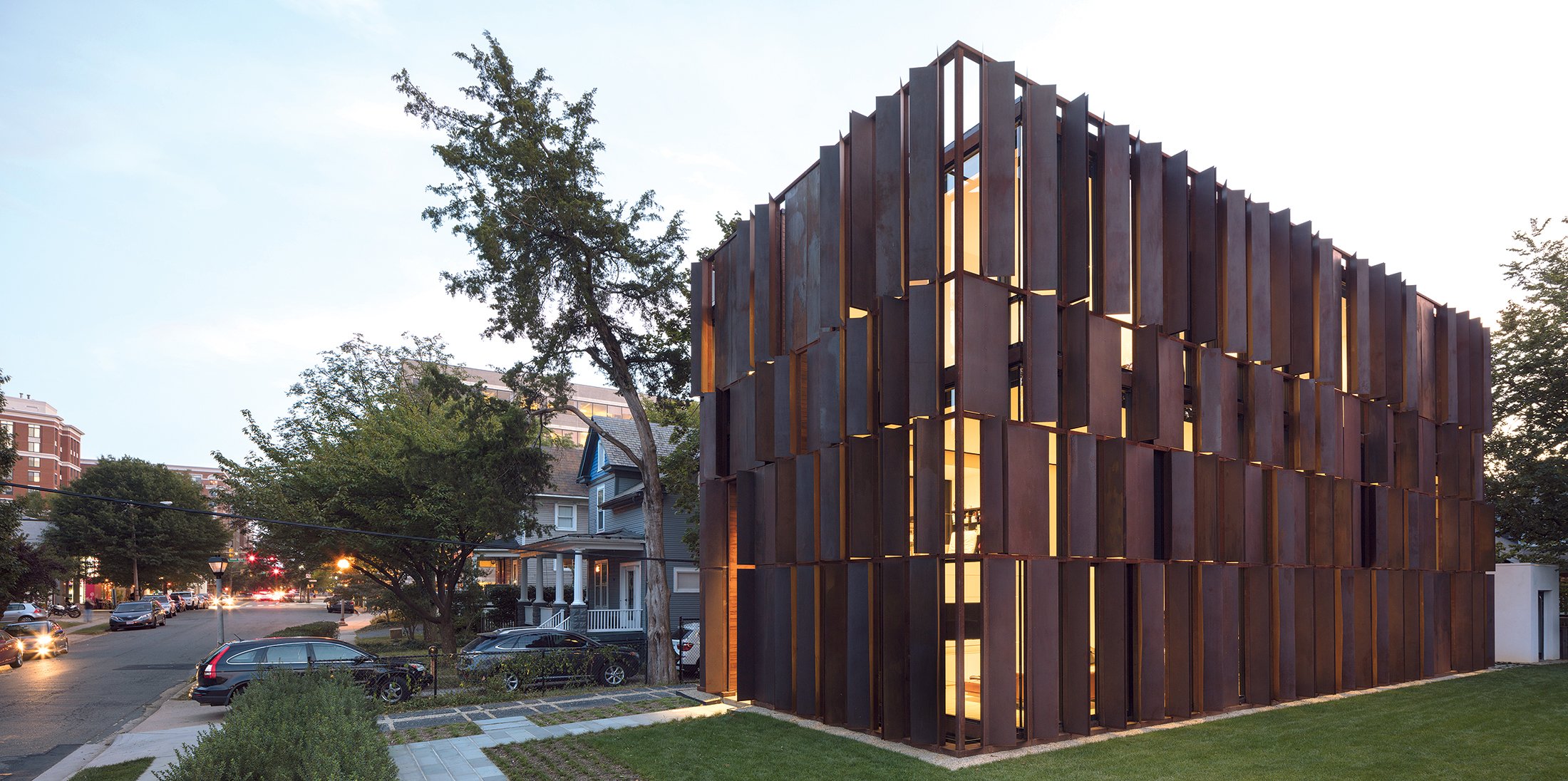 During one of their first meetings, Jameson says, he toured the homeowner's work-shop and saw that it was littered with engine parts for the man's collection of Vespa scooters. That machinery, says the architect, informed his design.
---
Tiny but Mighty
Robert M. Gurney and Sarah Mailhot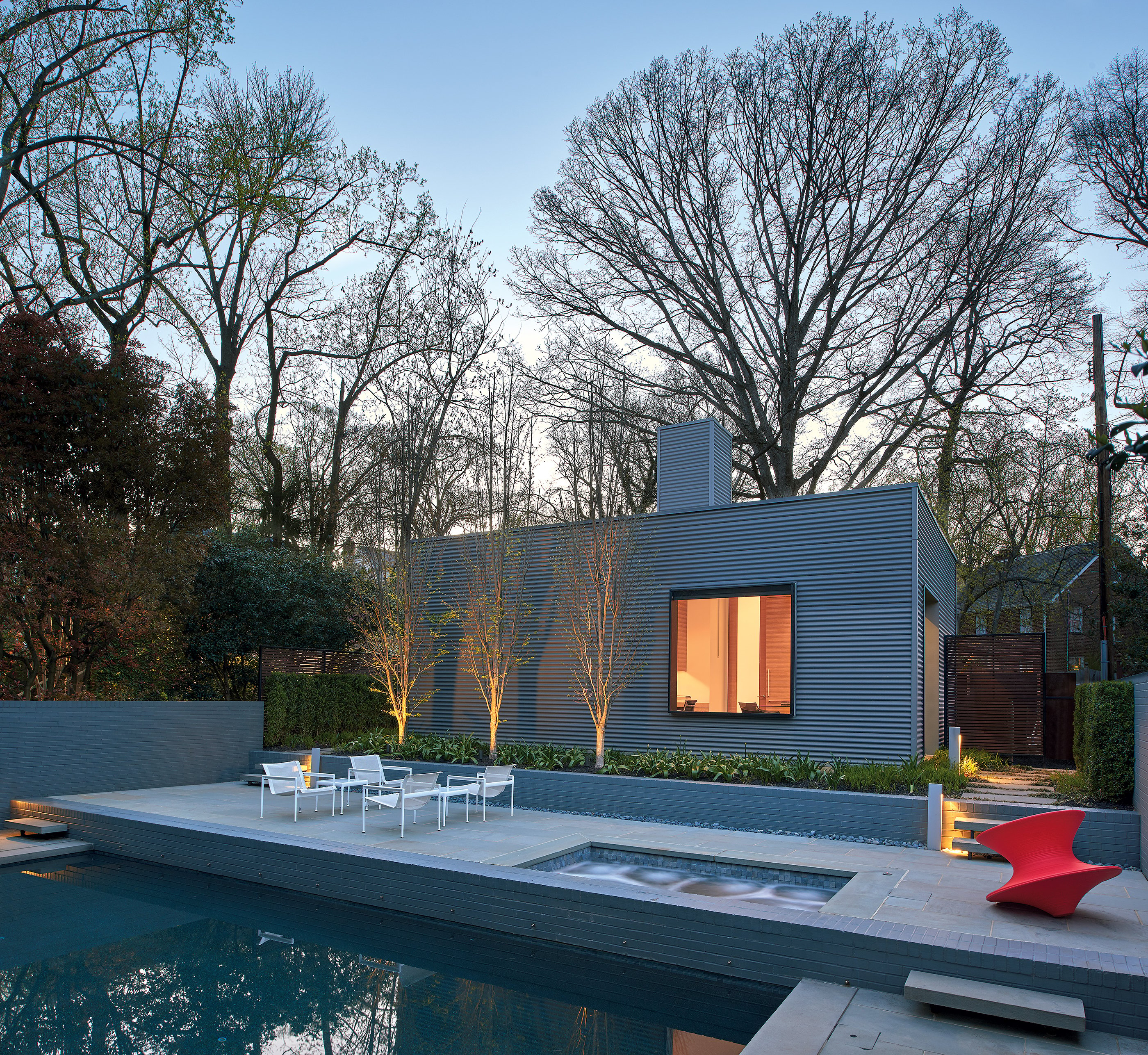 The 560-square-foot structure in Robert M. Gurney's own Barnaby Woods back yard does quadruple duty: Part of it is a studio for his interior-designer wife; another section houses a shower and changing area for the adjacent pool; the garage space originally intended for Gurney's car has evolved into a hangout area for his son; and the whole building serves as a barrier that visually blocks off the alley. What appears to be a chimney atop the structure actually contains all of the roof's infrastructure. The building's corrugated zinc siding should last 100 years. "I knew I wanted to do something really simple," says Gurney. "It's a rectangle, clad in humble but nice material."
---
It's the Small Things
Jurors recognized two projects with "detail" awards.
Wouter Boer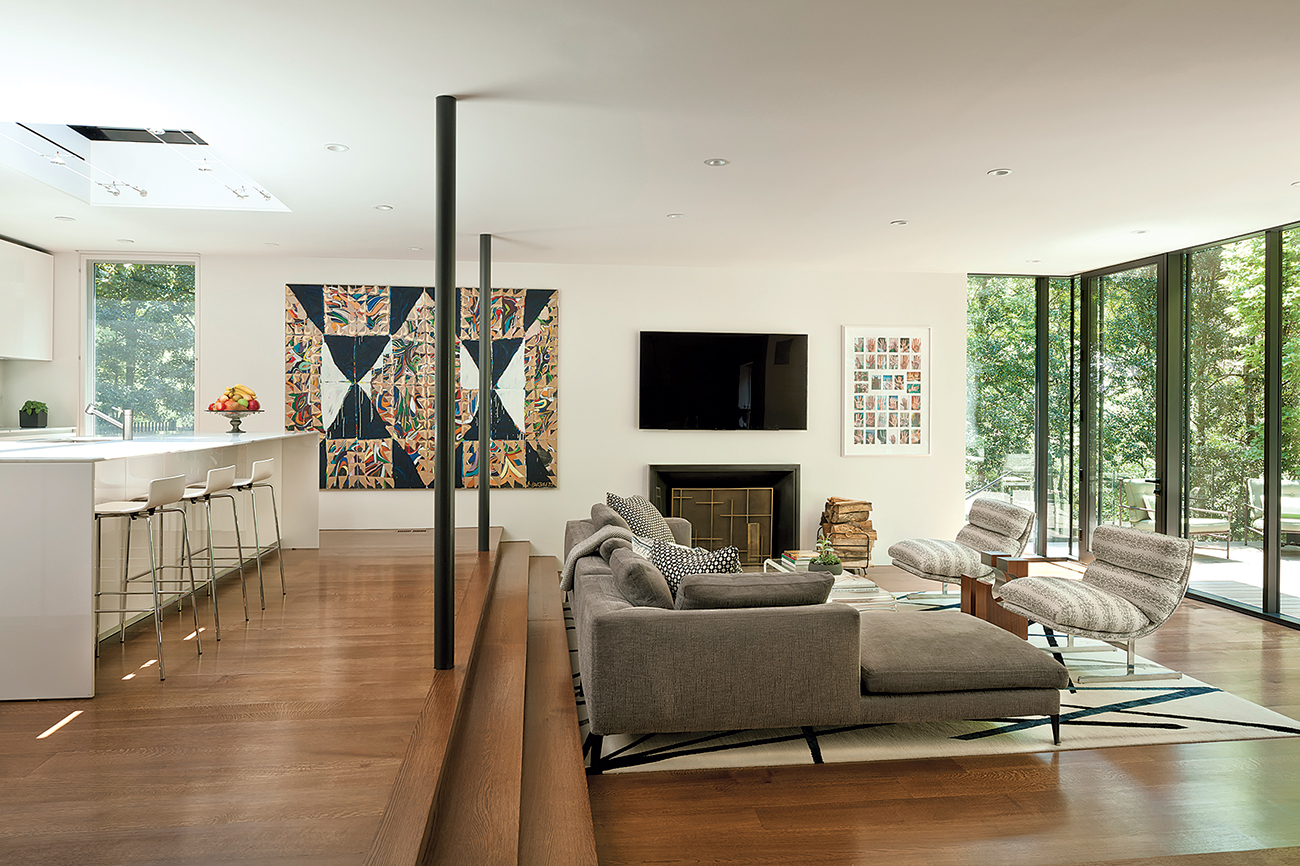 A 1920s Tudor in Wesley Heights got a modern addition that opens to the garden. The architect's use of steel structural elements and ten-foot glass doors caught the jury's eye.
Luis Boza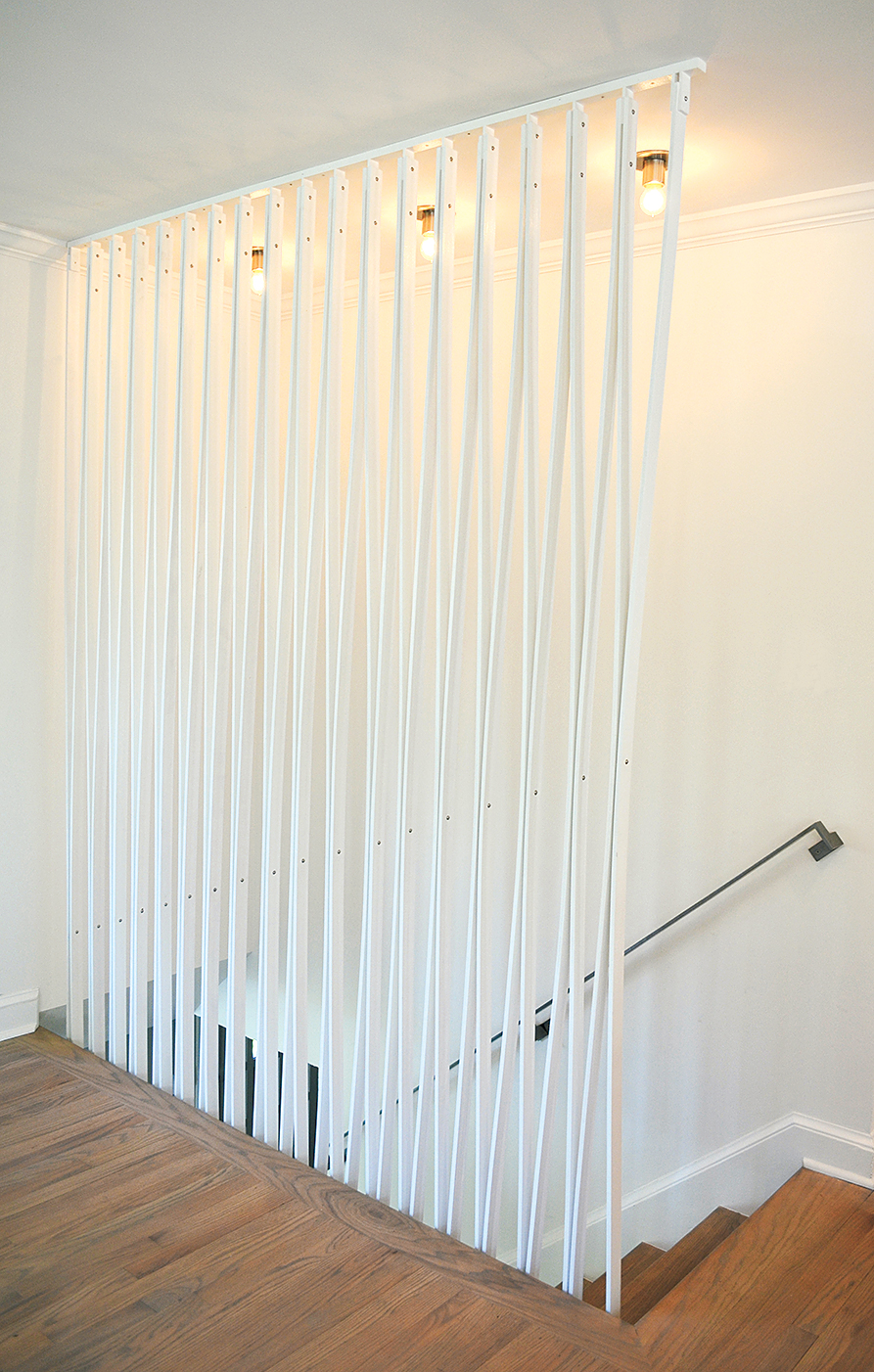 With this Arlington home, Luis Boza demonstrated that a stair rail can be more than just utilitarian. Using strips of inexpensive poplar trim, the architect created a sculptural, two-level screen.
---
Glass Act
The apartments at 880 P Street, Northwest, won the "multifamily" award.
Robert Sponseller and Shalom Baranes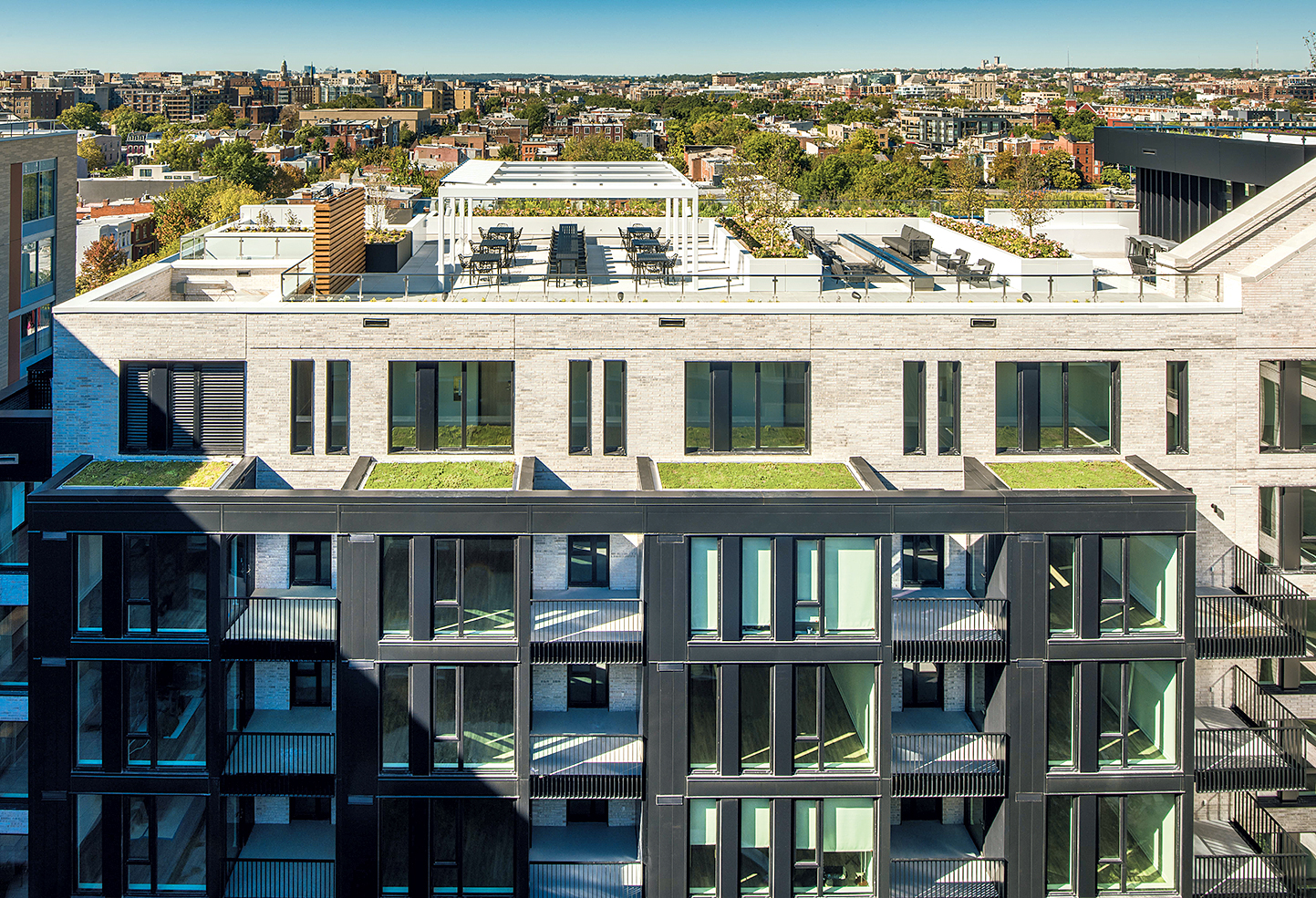 Made of white brick and black framework, the final building of the CityMarket at O development in Shaw includes "fins" that extend from window bays to provide more privacy for residents. Its rooftop was designed with a mix of secluded and social spaces, plus a 16-foot waterfall.
---
Golden State
David Jameson, Alexandra Wojno, and Frank Curtis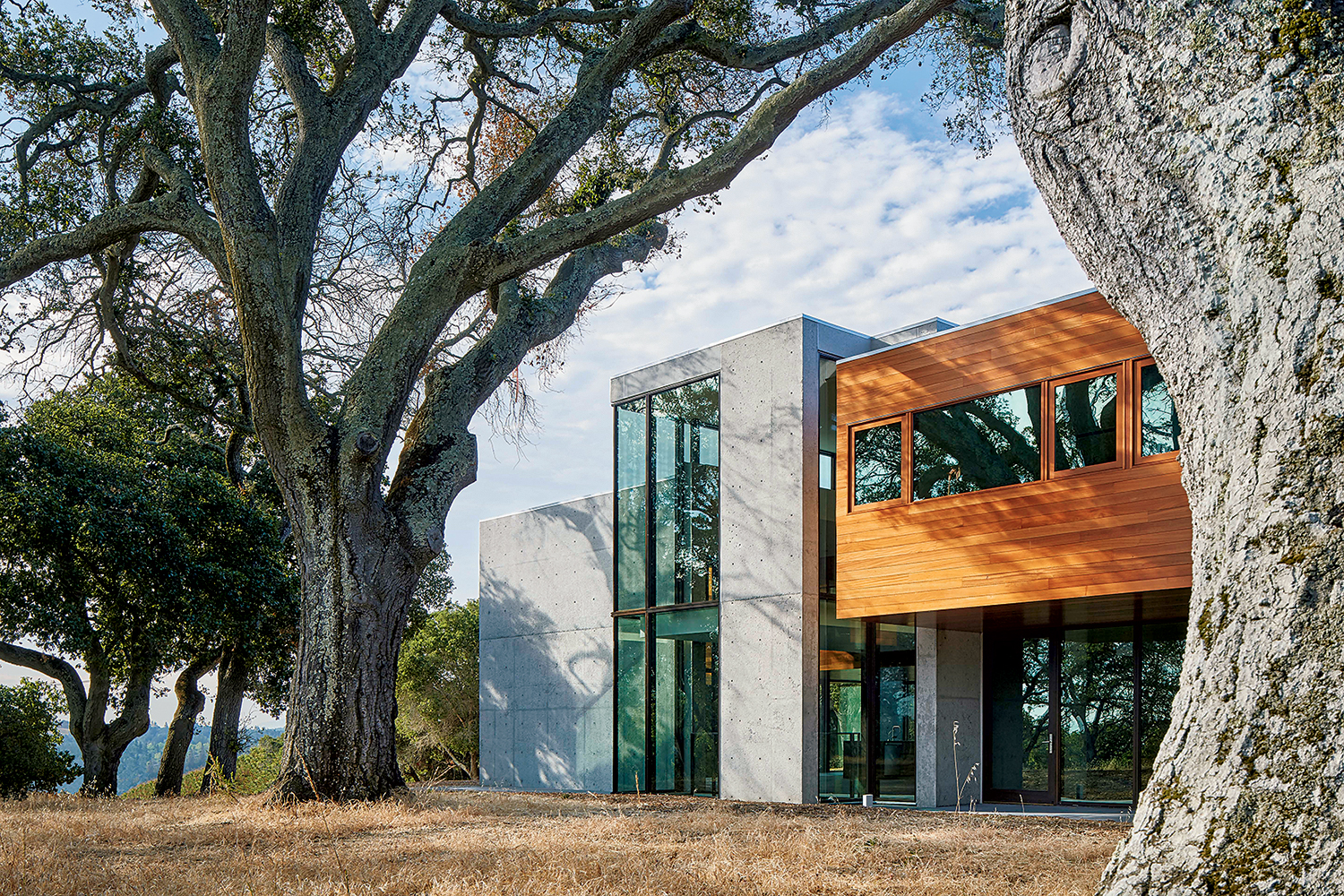 This minimalist escape was built to withstand major earthquakes and brush fires and to take full advantage of 360-degree views of water, woods, and mountains—in other words, it's nowhere near DC. The home, a half mile from the San Andreas Fault in the California town of Woodside, is the second residence of a former tech executive who also lives in Potomac. (Jameson designed the client's Maryland house, too.) The architect created the home out of poured-in-place concrete. Its windows are oriented toward San Francisco Bay, Stanford University, and the Santa Cruz Mountains.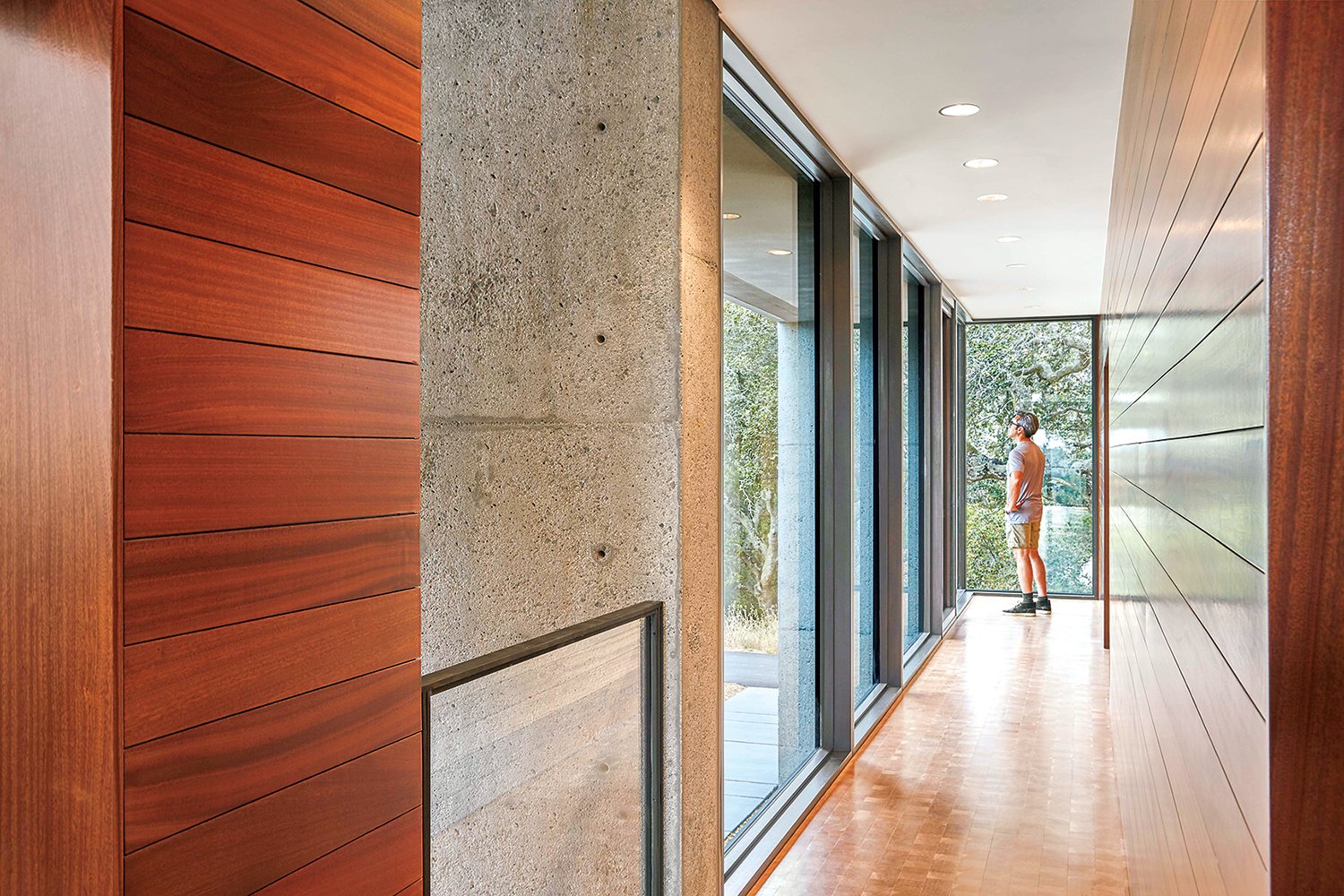 ---
Better Than a Gold Watch
Mark McInturff and Peter Noonan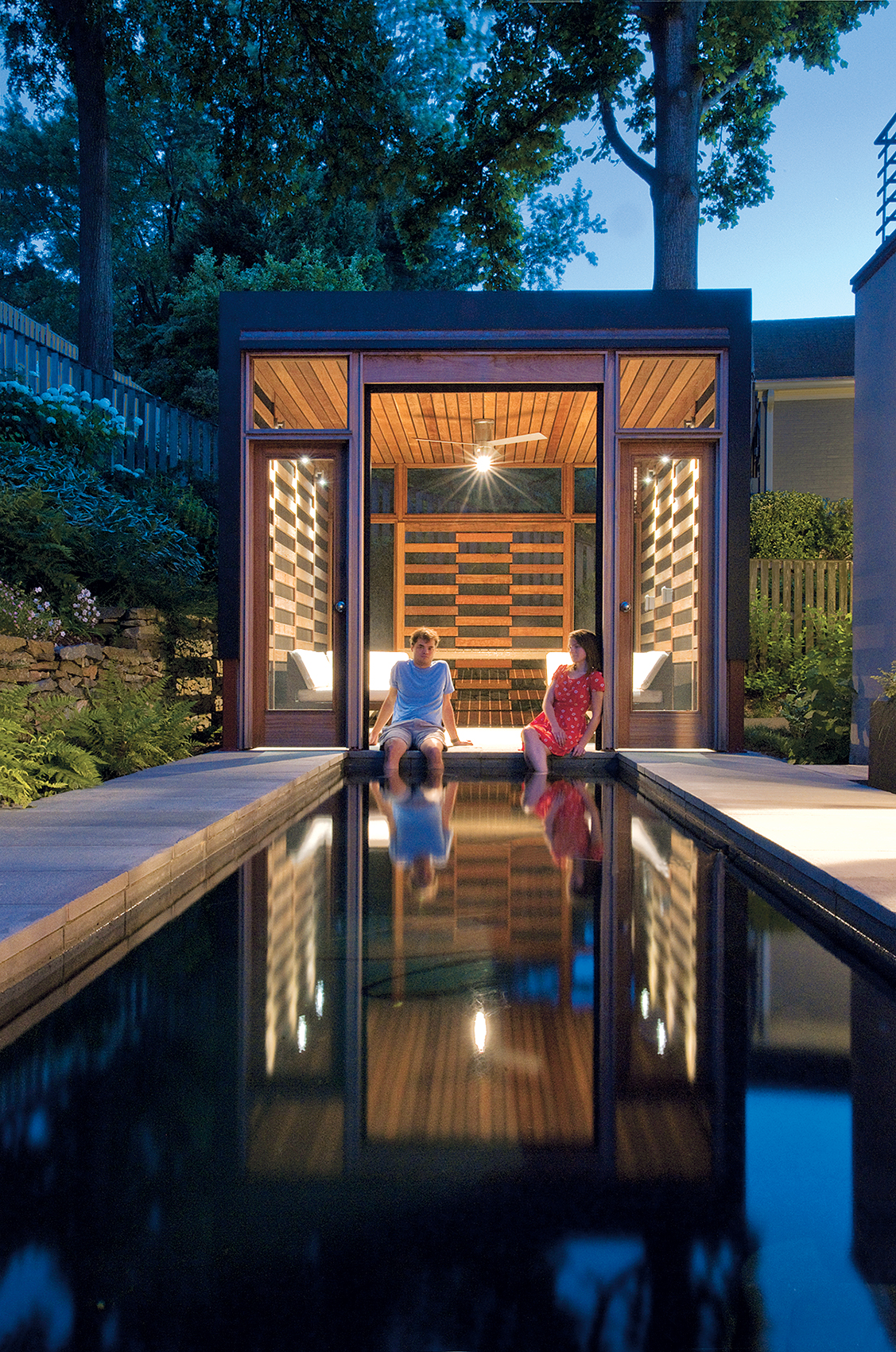 About two decades after Mark McInturff renovated their main house, a Chevy Chase DC couple tapped him for this unique project in its back yard. "It was kind of a labor of love, revisiting old clients," says the architect.
As a retirement gift to herself, the wife wanted a place to enjoy the outdoors. McInturff used ipe wood and steel to create the modern enclosed porch. He designed the structure to be equally pleasing viewed from above, because its roof is visible from the main house's second floor. A retractable screen door, which rolls up with the push of a button, opens directly into the lap pool, also designed by McInturff. The architect credits carpenter Ron Isinghood for helping bring the vision to life.
---
Alley Catch
Ziad Elias Demian, Juan Morales, Milagros Sifon, and Jonathan Fitzpatrick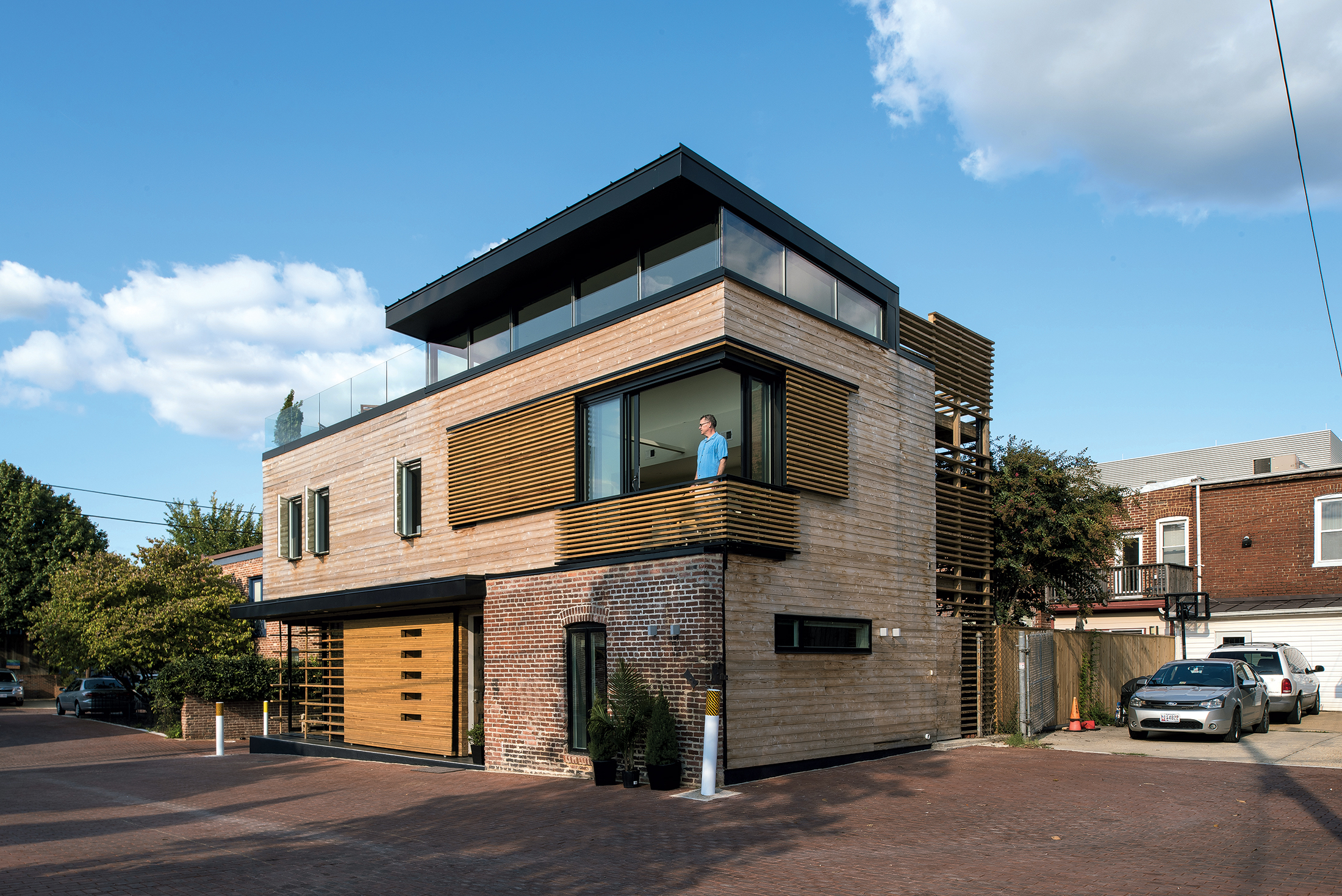 When a carriage house in the alley behind their home came up for sale, a Capitol Hill family saw an opportunity to get the extra guest space they needed. They called Ziad Demian, who transformed the rundown building into a modern dwelling with two separate apartments. "Capitol Hill and a lot of other neighborhoods have places like this," says the architect. "If they can be captured, it creates a wonderful secondary layer of urban spaces."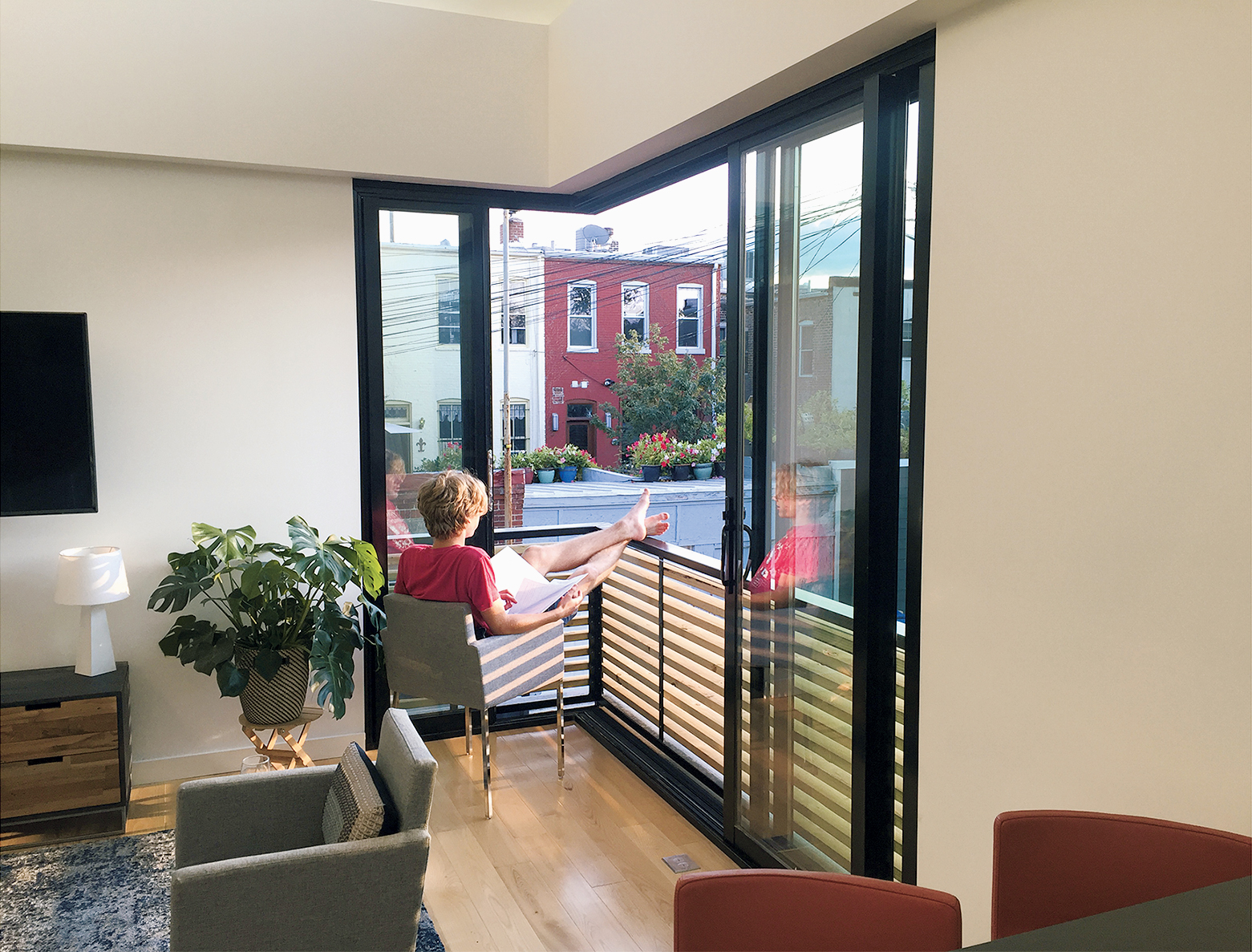 Demian relied on simple materials—wood, brick, metal—that would look appropriate in an alley. To address privacy, he designed screens that slide over the windows in varying degrees of opaqueness. Though much of the building is new, the historic brick parts of the facade nod to its past.
---
Back to Nature
Zach Gasper and Mark Turner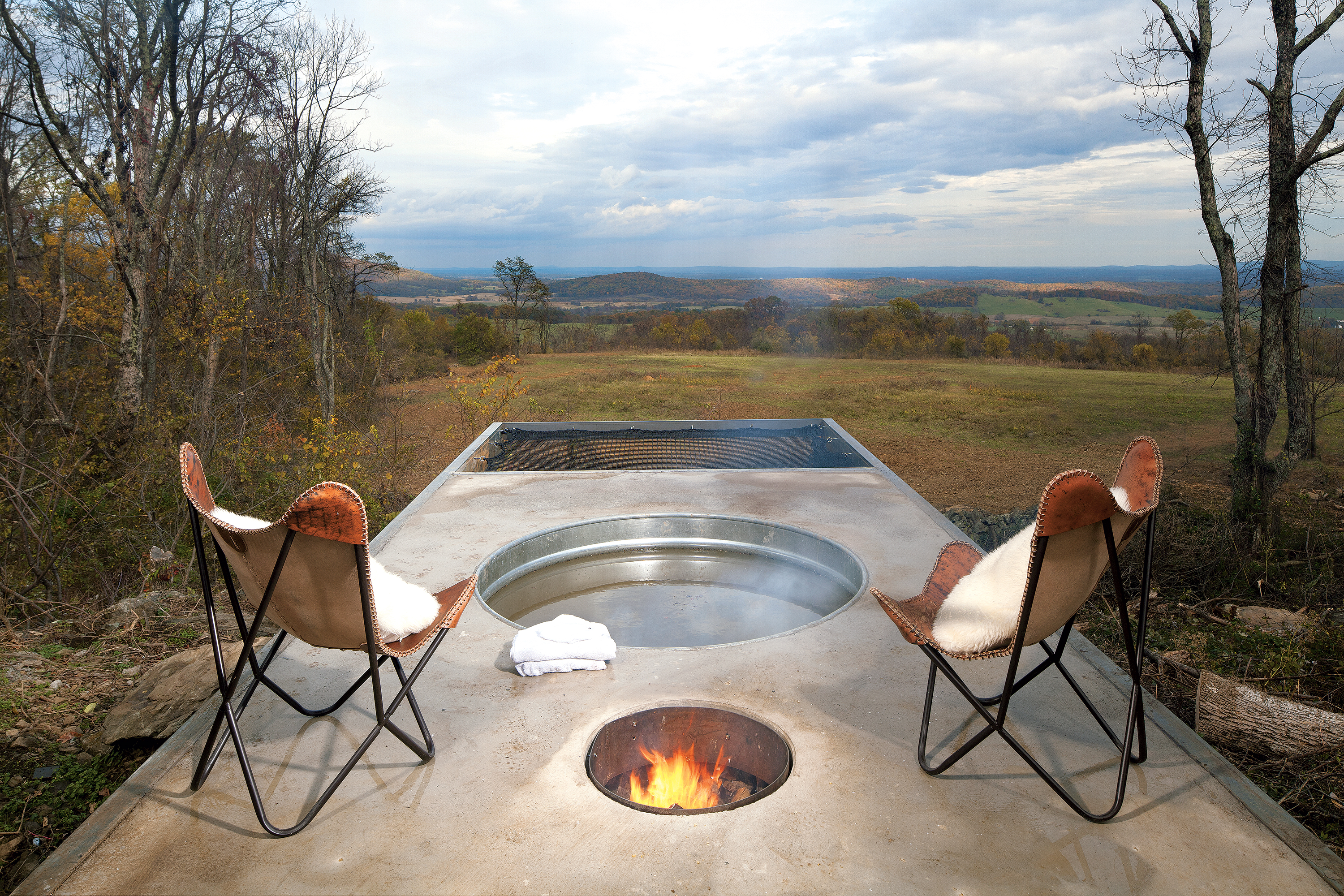 This 200-square-foot concrete cabin—part of a members-only retreat in Delaplane, Virginia, called the Lost Whiskey Club—is off the grid and maintenance-free. "It seems that people are really craving simplicity and nature. Something that can de-fry their brain," says Mark Turner, the owner of GreenSpur and a founder of Lost Whiskey.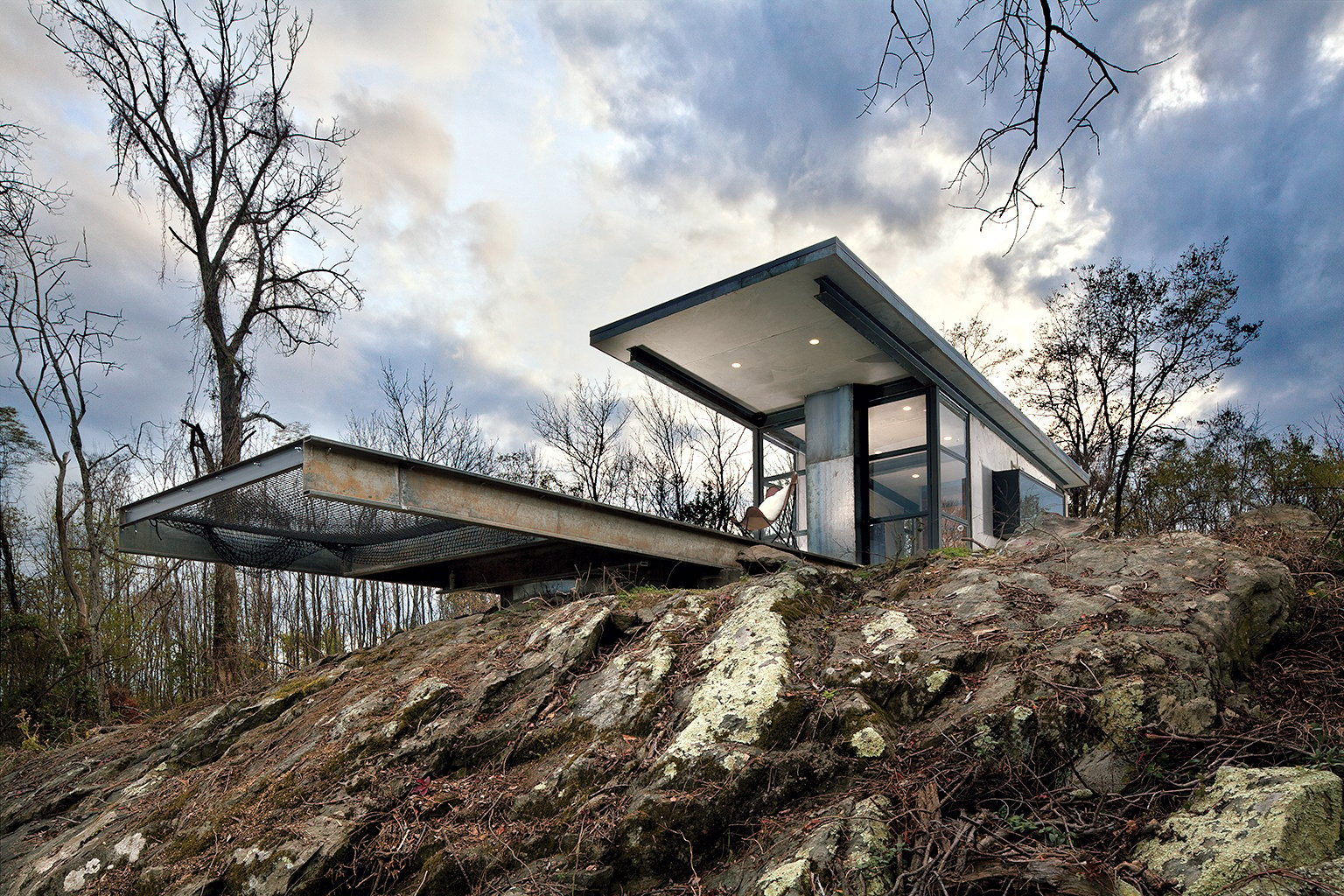 Zach Gasper, GreenSpur's design director, conceptualized the cabin. A solar-powered 12-volt battery supplies electricity, while a cistern captures water from the roof. The Dutch tub on the deck heats up by fire. The hope, says Turner, is that the space will inspire visitors to turn off their phones and focus on the scenery and one another.
This article appears in the August 2018 issue of Washingtonian.