Elana Hinton and her husband, Marc, who both work in the IT sector, purchased their two-bedroom Brookland home in January, but didn't move in until May. Why? It needed a lot of work.
The Maryland natives were able to pull off a renovation that was both stylish and in their budget thanks to Elana's HGTV and Pinterest obsessions (she calls it "the only rabbit hole that you will not regret falling down"). After completely gutting the kitchen and plenty of Etsy and Craigslist hunting, they're now settled in Brookland, which they love for its homey feel and metro proximity.
Elana's wisdom for renovating a home? Don't sweat the small stuff. They had originally picked out a shade of white for the kitchen and living room walls, but came home after work to find the contractor had painted the walls gray. Although she hated the color at first, Elana grew to love it, a reminder to trust the process. "Renovating can be stressful and costly," she says, "but always keep your eyes toward the end goal."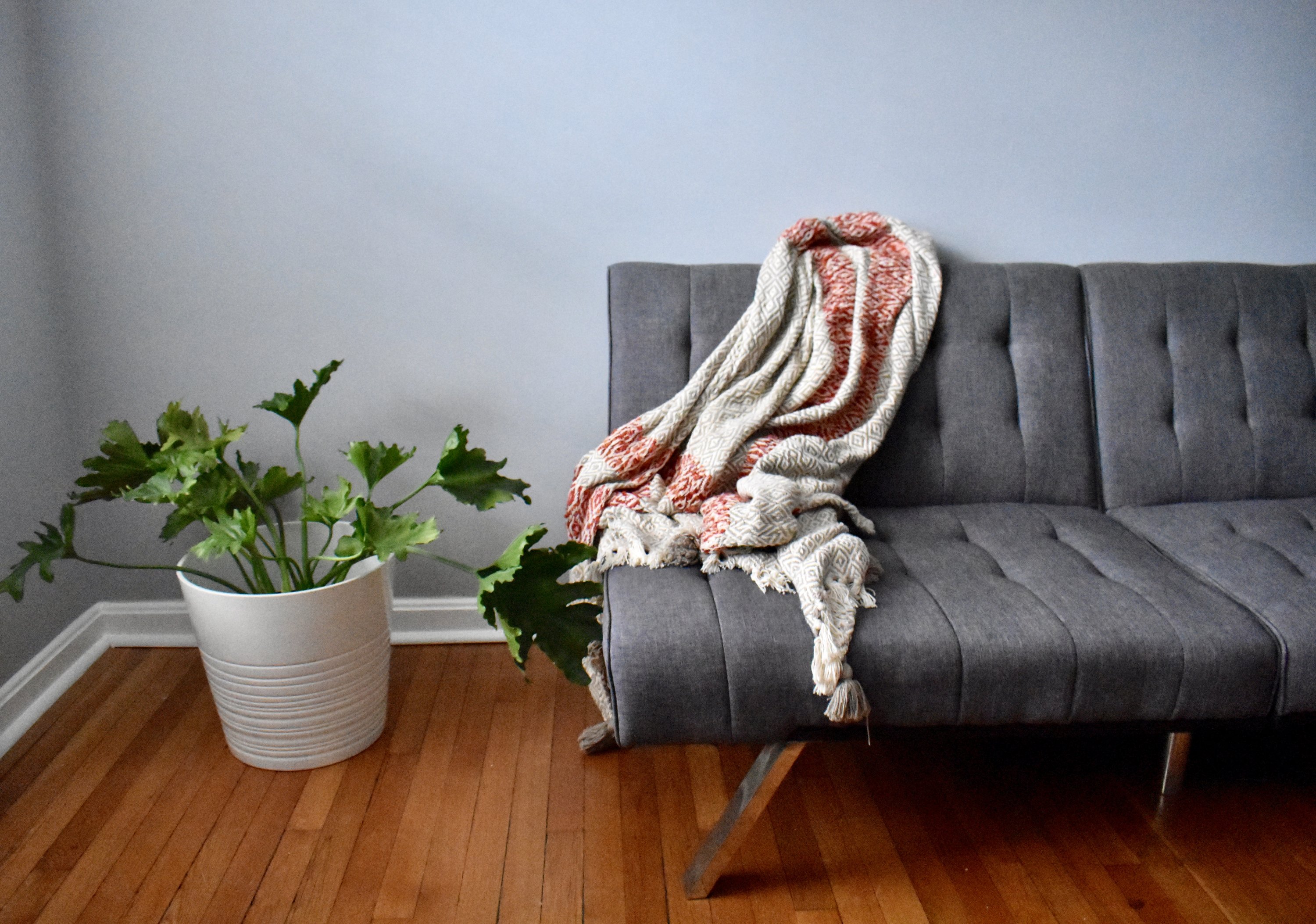 Who lives there: Elana Hinton, husband Marc, and about 10 house plants
How long they've lived there: Five months
Approximate square footage: 956 square feet
Number of beds: Two
Number of bathrooms: One
Favorite piece of furniture: The Eddy sofa from West Elm. Originally, Elana wanted a sectional, but it didn't make sense with their layout. They ended up with a three-seater, but now she loves it.
Favorite home interior store: She likes West Elm and CB2 for big-ticket items. She heads to Target for little decorative items, and hits up the Home Goods in Alexandria all the time. For unique vases and African mud cloth pillows, she turns to Etsy (two of her favorite shops are Hudson + Oak and Joom), and she often scores major deals on Rugs USA.
Favorite DIY: Although she says she's not really a DIY person, they totally gutted their outdated kitchen, cutting the wall in half and painting it a statement navy blue.
Splurge: The kitchen, which Elana says originally was "just hideous." While contractors quoted over $20,000 for a renovation, with the help of Ikea, they were able to get it done for under $10,000 (oh, and she loves her dishwasher, too).
Steal: The West Elm Eddy sofa, which they got for under $500. Her secret? A West Elm outlet in Lancaster, PA. "It's worth the drive."
Design advice: Don't overwhelm yourself by trying to get everything done at once, always double check to see if another spot is selling an item for a cheaper price (she swears by the Instagram account Copycatchic for this), and keep your bigger pieces simple. "It's cheap to change the color of a wall, but not so cheap to change out all of your living room furniture," she says.