Even if you haven't heard of koji, you've probably consumed it in soy sauce, miso, or sake. The edible Japanese mold—similar to those found in blue cheese or on cured meats—is packed with umami, making it a chef's secret weapon.
"It concentrates the natural flavors of an ingredient, bringing out the fullest possible flavor," says chef Matt Baker of the Ivy City dining room Gravitas, the downtown DC restaurant Michele's, and the boutique cafes Baker's Daughter. He uses koji to cure short ribs and chuck for a smash burger that's one of the most popular dishes at Michele's.
Baker sources the probiotic-heavy flavor booster locally from McLean's Cabrales Koji, recently founded by 41-year-old Robert Cabrales, a Culinary Institute of America–trained chef who was corporate executive chef at the Paladar Latin Kitchen & Rum Bar chain. He's currently selling his products directly through Instagram (@cabraleskoji) and at Rice Market in Logan Circle.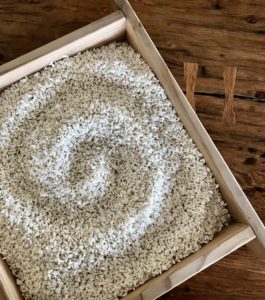 Cabrales uses a traditional method to make koji. Rice is steamed, cooled, inoculated with koji spores, wrapped in linen, and placed in cedar boxes handcrafted with dovetail joints, so there are no nails or glue to interfere with the flavor. The rice ferments for roughly two days before salt and water are added to create a thick slurry. It lasts up to six months when refrigerated, and its uses are myriad. "I tell chefs, 'Koji is only limited by your imagination,' " Cabrales says.
Ryan Ratino, chef at the 14th Street tasting room Jônt, is testing koji's boundaries. He estimates that 60 to 70 percent of the dishes at his luxe restaurant are amped up by the mold. Using a mother spore he brought back from a 2019 trip to Kyoto, Ratino makes seven different strains. A recent project: dry-aging Spanish mackerel for ten days, brushing it with liquid koji, and lightly grilling it. The fish is served with a sweet-onion purée thickened with koji-inoculated rice.
Cabrales has his own experiments. Recently, he collaborated with Rice Market to make a line of koji-laced simple syrups starring Asian citrus such as yuzu and makrut lime. You can pick one up to add zesty sweetness to cocktails and nonalcoholic drinks, or buy some koji yourself. Cover vegetables like cucumber and carrots with it in a freezer bag and you'll have slightly sweet, umami-rich pickles in just a few hours.
This article appears in the January 2023 issue of Washingtonian.