Dupont Circle is one of DC's best neighborhoods for breakfast and brunch—local bakeries and coffee shops mingle with quick-grab places, leisurely cafes, and great restaurants. On Sundays, the Dupont Circle FreshFarm Market—the largest in DC—sprawls out near the circle with local stalls offering Zeke's Coffee, Call Your Mother bagels, breakfast sandwiches, egg tacos, and more.
Bakeries, Bagelries, and Coffee Shops
Bagels Etc.
2122 P St., NW
Regulars swear this mom-and-pop bagel shop makes some of the best, unfussy bagel sandwiches in DC—and there's often a line to prove it. Bring cash and prepare to take your bacon-egg-and-cheese home (or to a nearby park); there are only a few seats outside.
Dawson's Market
2001 S St., NW
This locally minded market, tucked away on a North Dupont side street, serves tasty biscuit sandwiches (grab-and-go on weekdays). There are also made-to-order brunch sandwiches on weekends, pizzas, a coffee bar (that also serves beer/wine), and a dog-friendly patio with picnic tables.
Dolcezza Gelato & Coffee
1704 Connecticut Ave., NW
Gelato for breakfast? No one's judging, but this local chain also brews tasty espresso drinks, nitro cold brews, and teas alongside sweet and savory pastries from NoMa-based Bluebird Bakery.
Tatte Bakery & Cafe
1301 Connecticut Ave., NW; 1200 New Hampshire Ave., NW
The Mediterranean bakery/cafe chain out of Boston is taking over DC—and there are lines to prove it. Go for croissants, the smoked-salmon/avocado tartine, feta-stuffed bou­reka (a savory pastry), and more. Dupont's location has a small seating area inside as well as a patio.
Toastique
1899 N St., NW
The homegrown fancy toast and cold-pressed juice bar is an Insta-worthy stop. Pretty breads come loaded with combinations like smashed avocado, marinated tomatoes, and microgreens, or pastrami smoked salmon with herbed cream cheese and vegetables. Also on tap: fruit and acai bowls, and colorful smoothies.
Un Je Ne Sais Quoi…
1361 Connecticut Ave, NW
It's easy to feel transported to Paris at this small cafe and patisserie below Dupont Circle. Cafe au lait, pain au chocolate, pistachio croissants, and brioche breads are fit for morning—though no one's judging if you order one of the signature merveilleux desserts.
Cafes and Inexpensive Restaurants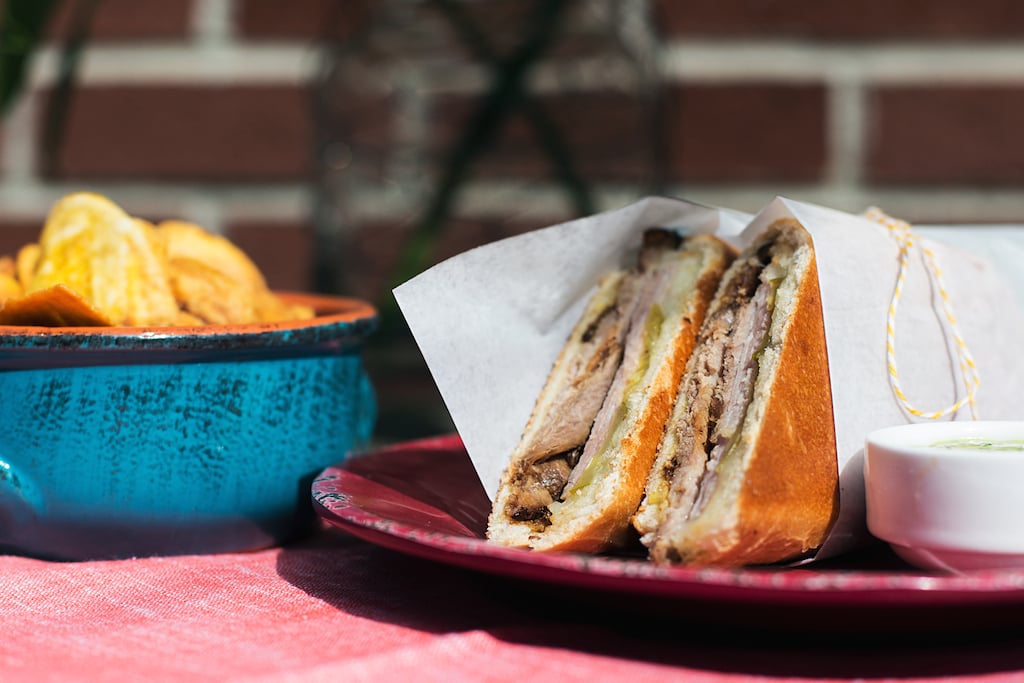 Chiko
2029 P St.. NW
Dim sum—but make it fast-casual. The Chinese/Korean spot dishes up bites like cumin-lamb dumplings, spicy dan dan noodles, and kimchi pancakes on Saturdays and Sundays in addition to the regular menu (available for takeout as well as limited dine-in).
Colada Shop Dupont Circle 
1900 N St., NW
The local Cuban cafe recently opened its fifth DC-area location, below Dupont Circle. Expect a familiar lineup of Cuban sandwiches, calderos (sofrito-based egg skillets), homemade pastries and empanadas, coffee and espresso drinks, and tasty mojitos. 
Emissary and Emissary Coffee House
2032 P St., NW; 1726 20th St., NW
Two chic, independent cafes pour Counter Culture coffee drinks—alongside beer, wine, and cocktails—morning through night. The P Street location is larger and serves all-day breakfast and brunch, including lox bagels, avocado toast, and green smoothies— plus plenty of vegetarian and vegan options.
Keren
1780 Florida Ave., NW
At night, you may find a crowd at this snug Eritrean restaurant on the Dupont/Adams Morgan border. But mornings, starting at 10 AM, are relatively peaceful for snagging a window table and comforting bowl of ful (mashed fava beans) topped with chopped tomato, jalapeno, yogurt, and scrambled eggs. We also like eggs silsi—scrambled with spicy Eritrean tomato sauce—and strong coffee. Good news: breakfast is served all day.
La Bicicletta
2029 P St., NW Suite 100
This sunny, European-style neighborhood cafe and bar from the Emissary team just made its all-day debut. Brioche egg sandwiches start at 8 AM with strong coffee—or try a stronger combo deal with a pint of beer—alongside salads and lunchtime sandwiches/paninis.
Mikko
1636 R St., NW
The cozy Nordic cafe is a charming place for quiches, pastries, and Danish-style open-faced sandwiches. A lengthy weekend brunch (9 AM to 4 PM) includes dishes like Swedish pancakes, lingonberry bread pudding, sausage and egg platters, and wallet-friendly ($6) mimosas. A patio and streetery double the snug cafe's size in nice weather.
Sincerely Breakfast
1506 19th St., NW
Early risers can snag a satisfying breakfast starting at 8:30 AM from this ghost kitchen—part of Dupont Circle's Underground Food Court (there is limited patio seating, unlike most takeout/delivery concepts). Dishes are amped-up versions of morning classics—harissa chicken-and-egg burritos, fried chicken biscuits with bacon and spicy honey, or strawberry-cheesecake French toast.
Teaism
2009 R St., NW
Whether you need a quick pick-me-up or are looking to linger, this longtime pan-Asian cafe and tea house is a welcome respite. The all-day breakfast offerings include egg sandwiches with Asian slaw, okonomiyaki pancakes, and egg scrambles. Teas come in every strength and flavor, plus boba.
Moderately Priced Restaurants
All Day by Kramers
1517 Connecticut Ave., NW
Dupont Circle's revamped Kramerbooks & Afterwards Cafe is a great weekend stop for books and all-day breakfast. Brunch runs long—from 8 AM to 4 PM—with a varied menu: egg dishes, lunch salads, vegan options, barbecue sandwiches, and more.
Annie's Paramount Steakhouse
1609 17th St., NW
A haven for DC's LGBTQ+ community for more than 70 years, Annie's is part diner, part late night/early morning stop, and all about a welcoming atmosphere. Go for hearty omelets, Benedicts, brunch platters, and a variety of steak-and-egg options—plus extra-boozy bloodies and mimosas.
Bistro du Coin
1738 Connecticut Ave., NW
For over 20 years, Yannis Felix and Michel Verdon have run this jovial French dining room—a north Dupont staple. Brunch is an upbeat affair with omelets, Benedicts, and French specialties like oeufs brouillés (scrambled eggs) in puff pastry with vegetables.
Duke's Grocery (temporarily closed for rennovations)
1513 17th St., NW
Where can you get a proper English breakfast—both meaty and veggie? Duke's gastropub, which opens for brunch on the early-ish side (10 AM) on weekends. Bottomless drinks (mimosas, bloodies, beers) are $26.
Floriana
1602 17th St., NW
Take a cue from Madam Vice President and stop by this 40-plus year-old Italian restaurant, outfitted with crimson-hued rooms and a front streetery. Time-tested signatures like hearty lasagna join a brunch menu of wallet-friendly (for a white-tablecloth spot) dishes like New York strip and eggs ($17) or a smoked salmon Benedict. Go bottomless for $17.
Lauriol Plaza
835 18th St., NW
There are flashier Mexican restaurants in Dupont (Mi Casa), and boozier ones (Mission and its bottomless margaritas). But we always come back to this longtime Tex-Mex spot for frozen swirl margaritas, crispy (free!) chips, and some of the best sizzling fajitas in town. Another plus: the place isn't phased by large-party reservations or walk-ins—kids and strollers included—though patio party sizes are more limited.
Pizzeria Paradiso
2003 P St., NW
Long before the DC pizza boom, Ruth Gresser opened her smash hit wood-fired pizzeria in Dupont. Its moved and expanded since the early '90s, but the quality and homemade ingredients—from the sauces to the sausage—hasn't changed. Though there's not a "brunch" offering, per se, we still love dropping by on weekends for an egg-topped bottarga pie, brick-oven wings, or tangy escarole salad.
Vagabond
1836 18th St., NW
This coastal newcomer near the intersection of Dupont and Adams Morgan dishes up beach-y vibes, tropical drinks, and surf-inspired eats like chilaquiles, Portuguese baked eggs, and healthy poke or Acai bowls. Diners can opt for a bottomless drink deal that includes a choice of entree ($40). There's also outdoor and rooftop seating on nice days. 
Zorba's Cafe
1612 20th St., NW
This family-run, counter-order Greek place is a neighborhood favorite for over 35 years. Diners pack the small patio in nice weather for homestyle plates (always check the specials board), gyros, and Greek salads served with homemade olive rolls.
Moderate to Expensive Spots
Anju
1805 18th St., NW
Dupont's hit Korean restaurant is as vibrant at brunch as it is at dinner. Book a table—inside or on the patio—or belly up to the bar for grilled galbi steak-and-eggs, hangover-curing soups and stews (seafood ramyun, braised short rib rice porridge), and towering milk bread-French toast platters. Fun day drinks include fresh juices like strawberry-lychee lemonade that can be spiked with booze. 
Boqueria Dupont
1837 M St., NW
Looking for a free-flowing brunch that isn't always packed (or loud)? This Spanish restaurant—a Manhattan export with more than a decade under its belt—is a great choice, especially in patio weather. A lengthy a la carte tapas menu is accompanied by brunch specials like egg-topped paella or Spanish tortilla platters—all with the option of bottomless sangria and mimosas ($29) or an upgrade that adds Estrella beers, bloodies, and cava to the mix ($45 per person).
Hank's Oyster Bar
1624 Q St., NW
Channel summers in Maine on Hank's tree-shaded patio, where you can order oysters a myriad of ways, plus a delicious lobster roll and cold beer (or bottomless mimosas for $25). You'll also find a rare San Francisco specialty:the hangtown fry (bacon, oysters, and eggs). If fish doesn't catch your eye, a brunch menu offers specials like a breakfast burger.
Iron Gate
1734 N St., NW
We often find ourselves recommending this Mediterranean charmer for brunch, with its lovely wisteria-lined patio and wood-burning grill. Chef Anthony Chittum's menu isn't super-fancy—think olive oil-fried eggs, oak-roasted shrimp saganaki, and bread pudding French toast—but it feels refined, especially when matched with chilled Greek wines.
 Lyle
1731 New Hampshire Ave., NW
Party brunches are back—and those looking to dip their toes without going full-La Boum can check out this weekend DJ brunch at the Lyle hotel. Music and bottomless bevvies ($28) make it upbeat, while the swank surroundings keep things relatively tame. The food is good, too—think honey-ham Benedicts on homemade cornbread or short rib hash over grits.
The Pembroke
1500 New Hampshire Ave., NW
You'll pay hotel breakfast (and brunch) prices at the Doyle's restaurant on Dupont Circle—but you'll also get an airy-chic setting, lovely patio, and a traveler-friendly lineup that runs the gamut from lobster Benedicts to superfood salads and pork-belly steam buns. The public—and their furry friends—can also stop by the Doyle & Co. coffee bar and pastry shop which sells artisanal dog treats like Corgi cannolis and Samoyed s'mores ($1.50 to $3.50 per cookie).
Rakuya
1900 Q St., NW
Sure, you can splurge on an omakase or sashimi platter—but don't sleep on Rakuya's lunch and brunch deals, offered indoors and on a big patio. Teishoku sets are a delicious, filling steal ($16 to $22) that all come with shrimp and vegetable tempura, soup, rice, a bunch of small treats  (salads, chawanmushi egg custard, fresh fruit) and your choice of a main like sashimi or fried chicken kara-age.  There are also lesser-seen dishes like omu hayashi rice, crowd-pleasers like bubble waffles, and $15 bottomless mimosas.
Residents Cafe & Bar
1306 18th St., NW
The trendy Dupont Circle hangout is known for its fun patio decor—beachy in summer, lodge-like in winter—Insta-ready cocktails, and a flavorful Mediterranean menu. Brunch brings share plates like French toast bites, Turkish eggs on grilled pita, and fancy toasts/tartines. Cocktails come in group-friendly bottles with sangria, caffeinated espresso martinis, or zero-proof options.