This page describes the contents of an issue of Washingtonian magazine. Subscribers get exclusive early access through our print and digital editions. Most of our feature stories are later published online and linked below.
Buy a Single Issue
Subscribe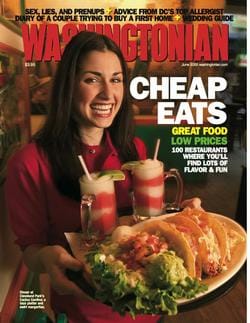 Capital Comment If Arnold can be governor, how about Cal? . . . The Washingtonienne names her scandal spots . . . Bob Schieffer's favorites . . . Coach John Thompson's nice new home . . . Who is Washington's top poker player?
Where & When Irving Penn's platinum prints at NGA . . . The Lion King at Baltimore's Hippodrome . . . Hiroshige and his legacy at the Phillips . . . Bob Dylan and Willie Nelson at Bowie ballpark . . . Documentary film festival at AFI.
Advice From DC's Top Allergist Why Washingtonians sneeze so much and what you can do to reduce allergies–plus, medical breakthroughs on the horizon. Interview by Ken Adelman.
Books for the Beach Good novels, political books, mysteries, biographies, sports stories, and other summer suggestions from Washingtonians who love to read. By William O'Sullivan.
Spirits and Stones Among those who built the World War II Memorial were the sons of the Greatest Generation. They did extraordinary work–and left behind moving tributes. By Bob Cullen.
"No, the Pandas Aren't Having Sex Today" A wide-eyed look at Washington's top tourist attractions. By Joe Bob Briggs.
Live From Silver Spring! A kid comedy troupe delivers laughs–and chaos. By Cindy Rich.
Sex, Lies, and Prenups Love is all you need–unless the marriage ends in divorce. Then a prenuptial agreement is the best defense, and the time to bring in the lawyers is long before the wedding. By Kim Isaac Eisler.
Aren't You on TV? Meet the hot young stars in local television news–reporters and anchors with the smarts and talent to reach the big time. By Cindy Rich.
Wheel Power She's been in a wheelchair since she was nine, but that hasn't stopped her from being a Rhodes scholar, an athlete, and an advocate for the disabled. By Denise Kersten Wills.
Down by the River With a baseball stadium, lively new neighborhoods, and lots of attractions in the works, Washington's waterfront may become the area's most interesting place to be. By Eugene L. Meyer.
Speaking Spanglish To reach our growing Hispanic population, you need to know more than the language. By Brooke Lea Foster.
Cheap Eats bargain restaurants where you'll find lots of flavor and fun–plus, where to eat inexpensively on small plates. By Thomas Head, David Dorsen, and Cynthia Hacinli.
Nice With Spice What wines go well with Indian food? How about Thai, Korean, and Jamaican? When it comes to pairing wines with ethnic food, here are good choices. By Paul Lukacs.
Best Bites Hot spots in Logan Circle . . . Food at Folklife Festival . . . Chesapeake flavors . . . New neighborhood places.
Great Finds Get a shoe fix in Georgetown . . . Ties fit to be tied . . . Embellished bikinis . . . More haute couture on Wisconsin.
Wedding Guide Great proposals, where to spend a romantic wedding night, and does the father of the bride get a say? Plus, seven rules for going to a wedding without a date. Edited by Cindy Rich.
Benefits Heroes and chili and other good times for good causes. By Maggie Wimsatt.
Golden Goose The Washington Post Company's biggest moneymaker has nothing to do with the newspaper or Washington. It's a high-flying Manhattan conglomerate that's turning education into big profits. By Alvin P. Sanoff.
Diary of a Couple Trying to Buy a First Home Newly married, they spent 438 days in house-hunting hell. Here's how they beat the odds to find the perfect home–without killing each other. By Sara Clements.
Great Spaces Judges of this year's Washingtonian Residential Architecture Awards say home design is hipper here than elsewhere. Judge for yourself when you see the first round of winners. By Ellen Ryan.
Luxury Homes Developer and Capitals co-owner Mark Lerner sells for $5.2 million in Potomac. Ex-Bush aide Peter Teeley buys for $3.5 million in Bethesda. By Mary Clare Fleury.
The Bride Ate Chocolate When my mother got married, all she wanted was a chocolate cake. Her mother refused. When it was time for my wedding, I knew what would mean the most to Mom–and it wasn't white. By Joanne Kenen.