This page describes the contents of an issue of Washingtonian magazine. Subscribers get exclusive early access through our print and digital editions. Most of our feature stories are later published online and linked below.
Buy a Single Issue
Subscribe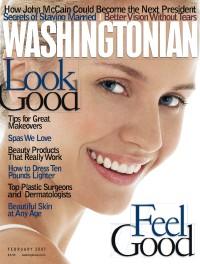 Capital Comment T. McAuliffe vs. P. Diddy . . . Spoilers for 2008? . . . Local stars of reality TV . . . Is the Post's Style section dead?
Where & When Jasper Johns at NGA . . . Ailey at KenCen . . . Justin Timberlake at Verizon . . . Kubrick at AFI . . . Romance.
Dancing on the Edge A choreographer keeps audiences on their toes. By Katherine Volin.
Coming Home Dad is a peacock, Mom's a flower. One family's mural history. By Sherri Dalphonse.
What's the Forecast? Why weather is getting easier to predict, and who loses as the earth gets warmer. Interview By Ken Adelman.
Out of the Shadows Thrillers about spies, cops, lawyers, and more—plus new Washington books. By Patrick Anderson.
Don't Drink the Mao-Tai Close calls, panda diplomacy, and other moments from a turning point in history. By Margaret MacMillan.
The Making of the President: John McCain Two years before Inauguration Day, here's how the senator could become our 44th president. By Roger Simon.
Road Warriors Bicycle couriers have a different view of life. Photographs By Matthew Girard; text by Cory Ohlendorf.
Second Coming Ex-AOL mogul Steve Case was a billionaire out of work. Now he's on the go again. By Kim Isaac Eisler.
Faithful Friends Three boys grew up together. One became famous. Two others bridge big divides. By Alison Buckholtz.
Secrets of Staying Married You need patience and have to give each other space. Holding hands helps, too. By Cindy Rich.
Zen and the Art of Rowing They strive for "swing," but sometimes these oarsmen are just trying to stay alive. By John E. Mulligan.
Look Good, Feel Good Secrets of Washingtonians who look and feel great for their ages, top dermatologists and plastic surgeons, spas we love, the latest beauty treatments and products, facelifts without surgery, smart makeovers, and much more.
"You've Got to Stop" Intervention can be the first step toward recovery from alcohol and drug abuse. By Nancy Doyle Palmer.
Benefits Love, rock 'n' roll, and other good times for good causes. By Maggie Wimsatt.
Better Vision Without Tears The latest in eyewear, where to buy frames, lasik and beyond, what's new in contacts, and more.
Dining Out At Farrah Olivia in Old Town, chef Morou Ouattara takes diners on an often thrilling ride. By Todd Kliman.Peter Smith embarks on culinary adventures at his new PS7's in DC. By Cynthia Hacinli.
Best Bites Sensuous chocolates, an alehouse in Gaithersburg, tasty macaroons, retro sandwiches, late-night eats.
Good Food, Good Wine Great cellars, value, and service—here are restaurants with the area's best wine offerings. By Don Rockwell.
Lending a Hand Young people who volunteer discover emotional rewards and memorable experiences. By Lauren Sloat.
Luxury Homes Freddie Mac exec buys for $3.6 million in Great Falls. By Mary Clare Fleury.
Westward Ho Lake-filled mountains of western Maryland are not too far away for a vacation home. By Eugene L. Meyer.
Washingtonian Crossword Around Town. By Matt Gaffney.
Bend It Like Ayub How one woman brought soccer—and hope—to girls in Afghanistan. By Jen A. Miller.
Mr. Lincoln and Me Chaperoning 66 kids to Washington is hard. By Drew Bratcher.