This page describes the contents of an issue of Washingtonian magazine. Subscribers get exclusive early access through our print and digital editions. Most of our feature stories are later published online and linked below.
Buy a Single Issue
Subscribe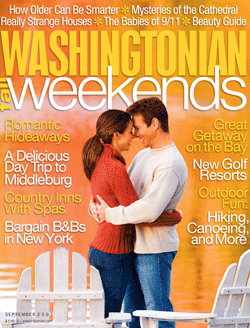 Subscribe to The Washingtonian today!
September 2007 (Volume 42, Number 12)
Capital Comment Top junketeers . . . Predicting the Redskins season . . . Good new books . . . Lawyer for jocks in a jam . . . VIP speakers . . . Will Condi replace Arnold?
Where & When Ansel Adams at the Corcoran . . . Genesis at Verizon . . . National Book Festival . . . Stephen Sondheim at Signature . . . Lively local festivals.
Unburied Treasures Deborah Wince-Smith likes digging through the past—and living with it. By Mary Clare Fleury.
How Older Can Be Smarter The truth about senior moments, the benefits of creativity, and ways aging can make you stronger. Interview by Leslie Milk.
Songs of Washington Stories told by poets include lawyers with cigars and the bird that woke J. Edgar Hoover. By Drew Bratcher.
I Can't Believe He Said That The candidates may spend millions and talk about big issues. But in the end, the race for president can turn on a gaffe. By Jack W. Germond.
Can She Do It? Six chiefs have tried to fix DC's schools in ten years—and failed. Now comes 37-year-old Michelle Rhee with no experience running a school. By Harry Jaffe.
Wait Till Next Year The Nationals are nearly done building a sparkling new stadium. They hope to build a winning team around these players. Photographs by Matthew Girard.
The Rockets Next Door Wallops Island on Virginia's Eastern Shore is now launching very big rockets and very big dreams. By William Thompson.
The Babies of 9/11 Amid the tragedies of September 11, 2001, came hope—in the faces of children born that day. Six years later, six families look back. By Cindy Rich.
Mysteries of the Cathedral Adorned with beautiful works of art and filled with music and light, the Washington National Cathedral turns 100 this month. By Graham Meyer.
Really Strange Houses Among Washington's classic Colonials are homes that defy convention—and upset the neighbors. By Gretchen Cook.
Fall Weekends Fall is a good time in the region, whether enjoyed from a lakefront inn or a mountain resort, on a scenic hike or a delicious day trip. Here are 24 pages of great ways to enjoy the season. Edited by Sherri Dalphonse.
Dining Out Forget cooking light—at Brasserie Beck, Robert Wiedmaier emphasizes his Belgian roots. By Todd Kliman. Plus, high-rolling at Il Mulino. By Cynthia Hacinli.
Ripe, Robust, Long Finish Marvin Stirman owned Calvert Liquors and didn't like retirement. So now he runs a winery out of Leisure World. By Dave McIntyre.
Best Bites First look at Hook . . . Chefs' homemade condiments . . . Sushi myths . . . Tasty Annapolis pastry . . . Dining pretheater, great burgers, good Cuban.
Benefits Tea time, tee time, and other good times for good causes. By Maggie Wimsatt.
In Dad's Shadow He was Yale's greatest player and captain of the US Davis Cup team. No wonder she had mixed feelings about picking up a racquet. By Alexandra Dell.
Classic Beauty From red lips to Veronica Lake waves, looks for fall pay homage to the past. Here's the latest in hair and makeup, taking off inches, and much more.
Cheap but Stylish Designer shoes, dresses, and more at bargain prices. By Sara Levine.
My Fair Lady Fashion this fall has an old-Hollywood feel. By McLean Robbins.
From Bunker to Bungalow How to turn an eyesore into a classic Arts and Crafts–style home. By Michael Tardif.
Luxury Homes Laura Ingraham and Fred Fielding cut deals. By Mary Clare Fleury.
Healing Touch Acupuncture isn't just for people—it helps animals, too. By Karen Kullgren.
Washingtonian Crossword Go with the flow. By Matt Gaffney.
Remembering a Friend The killing of Daniel Pearl spurred Asra Nomani to become a better journalist. By Graham Meyer.
McPaper Grows Up When USA Today started 25 years ago, even the President poked fun at it—and it deserved some of the ribbing. By David Colton.