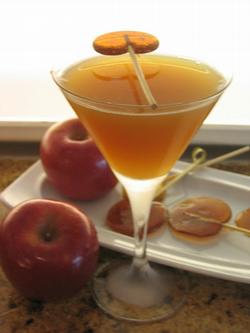 The spot: Central Michel Richard, 1001 Pennsylvania Ave., NW; 202-626-0015.
The drink: Apple-cider martini spiked with cardamom, Jim Beam rye, and applejack
The price: $11.
First impression: Like drinking an apple orchard in one gulp. There's alcohol in here? Really?
Last impression: Still shockingly smooth on the very last sip, yet the alcohol content mirrors "two cocktails potency-wise," admits Central mixologist Justin Guthrie. Blindfolded, you might assume it's another glass of pressed cider; then the three ounces of hard stuff kicks in. The flavor isn't too boozy, appley, or tangy. It's like the grown-up version of apple picking and hayrides. Plus, who can resist the homemade apple cinnamon lollipop garnish?
Grade: A.