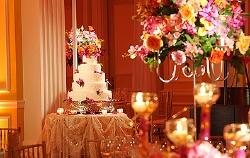 Thursday marks the final round of wedding planners doling out free advice on this blog—so make the most of it. This week Bridal Party will welcome Jodi Moraru, an event planner who has been in the business almost 18 years. She started her current company, Jodi Moraru & Associates, ten years ago and is going strong, personally doing about ten events a year.
Jodi and her colleagues have planned destination weddings, ecofriendly weddings, commitment ceremonies, and more. She sees her job as more than just a client/planner business relationship: "I'm your new best friend," she says. And what are friends for if not to answer your questions? Submit them here or during the chat (Thursday 11 AM to noon). Coming up in February: a smorgasbord of new chatters, who may or may not include a local florist and the owner of a popular wedding salon. As always, details to come.
What topics would you like to see featured in future Bridal Party chats? Let us know in the comments section.
To read the latest Bridal Party blog posts, click here.