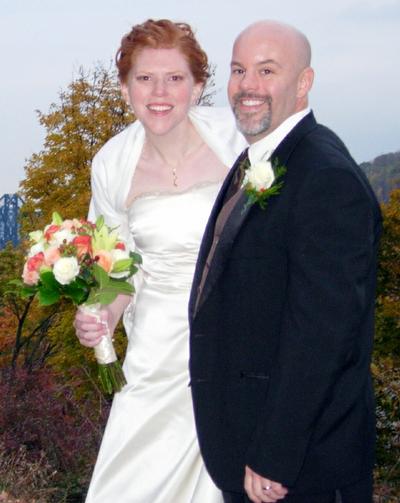 Two Christmases ago, Jennifer Muns had her boyfriend's plan to propose all figured out. Scott was going to ask her to become Mrs. Jennifer Basinger on May 6, 2007, and she couldn't wait.
"We had been at his company's Christmas party, and on my name card he had written the numbers 151617," Jenn says. "Then he wrote, 'I love you. Scott.' He was like, 'You're going to figure out later what it's all about.' "
Jenn decoded the digits as 5/6/7, or May 6 of the following year. The couple had already talked about getting engaged, so—aha!—that must be the date he's going to ask, she thought. She didn't tell Scott her guess but kept thinking about how wonderful May 6 would be.
A month later, when the couple decided to do dinner in downtown DC, Jenn—who had been to the Mall only in the daytime—told Scott they should visit the monuments after sundown. It was, of course, "like five below that night," says Jenn. "And I was wearing a really thin sweater underneath my jacket and I didn't have my gloves with me."
Halfway there, she stopped walking.
"Honey?" she said to Scott. "I know you're only doing this because I want to do it, and I want to go back. It's too cold."
Scott gave Jenn his gloves and wrapped her up in his scarf. "You've been wanting to do this," he said. "Let's just go."
They went a little farther. Jenn stopped again.
"We were only a couple hundred yards away, and she was about to turn around," says Scott. "I was like, 'Come on, honey, we're almost there, and then we'll get a cab from here to the restaurant. Let's do it.' "
When they arrived at the Washington Monument, the sun was setting. Scott led Jenn to the Potomac side. The two had first met when they, each on a whim, signed up to play NAKID kickball and were both put on the orange team. They flirted over postgame flip cup matches and fell in love over pregame dinner dates. And now there they were, standing in front of the kickball field where their romance had started.
Jenn, of course, wasn't thinking proposal—that wasn't coming until May. So when Scott started asking her, "Is this it? Are we going to be together?" while fingering inside his left overcoat pocket, she still didn't see it coming.
Then he pulled out the ring.
She gasped. He grinned. And—no surprises here—they went to dinner as a newly engaged couple.
They got married in early November, almost one year after Scott had written those mysterious six digits on Jenn's name card. At the time, he had no idea how much that would throw her off the scent of his real proposal plan. But what did 151617 really mean?
"That's easy," says Scott. "It's the serial number of the diamond."
Engaged or married–and have a Love Story just dying to be told? E-mail me at mconrad@washingtonian.com.
To read more Love Stories, click here.
To read the latest Bridal Party blog posts, click here.