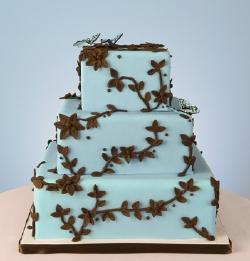 I pretty much can't live without the Food Network, so when I found out that this Thursday's wedding-chat guest, Leslie Goldman-Poyourow of Fancy Cakes by Leslie, was featured on Ace of Cakes twice last year . . . well, let's just say if I were thinking about my wedding cake right now, I probably would have submitted 15 questions in the last 15 minutes alone.
Leslie, who studied business at the University of Maryland before starting Fancy Cakes by Leslie 12 years ago, has a slew of impressive titles under her apron, including winner of the Today show's wedding-cake contest in 2005. She designs a one-of-a-kind cake for every occasion—anything from the traditional (tiers and flowers) to the quirky, such as a Redskins-beer-cooler replica. But no matter what dessert you're dreaming of for your wedding (big cake, small cake, no cake), she's happy to answer your questions about it. Submit them now or during the chat this Thursday, February 7 from 11 AM to noon.
Up next week: The owners of Hitched bridal salon in Georgetown will answer questions about wedding fashion. As always, details to come.
Speaking of cake . . . If you didn't have one at your wedding (maybe you had cupcakes, maybe you did a sundae bar, maybe you just skipped the sweet stuff altogether), Bridal Party wants to hear from you. E-mail mconrad@washingtonian.com.
To read the latest Bridal Party blog posts, click here.