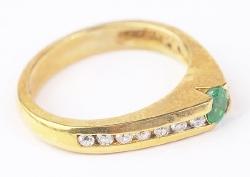 I never liked Matthew McConaughey's "frost yourself" slogan in How to Lose a Guy in 10 Days, but I back the idea behind it: Every outfit needs a little sparkle. So what necklace (or bracelet or wedding band) is right for your wedding day? I couldn't book Matthew to help, but I snagged someone even better: Irene Barbieri, who owns Mia Gemma jewelry store in DC's Penn Quarter.
Jewelry has always been Irene's thing, but she spent 20 years in the corporate world before she decided to take the plunge and start Mia Gemma, which opened in Alexandria about three years ago and moved to its new (and very cute) F Street digs last month. All the store's merchandise is artist-created and one-of-a-kind or limited edition. "I'm somebody who looks for the unique," Irene says.
If you're a bride who thinks the same, Irene is the woman to talk to—which you can do right now by submitting your jewelry questions to the live chat she will be hosting this Thursday, February 21, from 11 to noon. Check back tomorrow morning to follow the chat live (and ask more questions), or read the transcript during your afternoon coffee break. Guys: If you're stumped about engagement rings, Irene wants to answer your questions, too. Fire away.
To read transcripts of Bridal Party's previous live chats, click here.
To read the latest Bridal Party blog posts, click here.