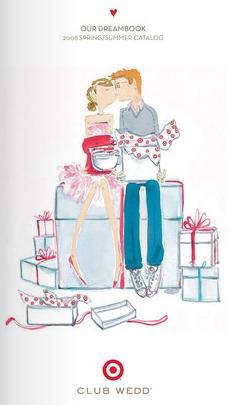 One of the rhetorical questions of our generation: "What did they do before the Internet?" I mean, really, how did our parents manage?
I asked myself that when Drew and I sat down to register for our wedding.
Type "Target" into Google, click on the link, click another time on Club Wedd, fill in your contact details plus a memorable password, and you're good to go. Target even offers a brief survey, which you can take to find out just what kind of consumer couple you are. It suggests different products based on that type. We took the survey but decided Target's characterization was too binding. We wanted the freedom to be eclectic in our choices.
Our choices. . . . So we're sitting at the computer eating PB&Js after church on Sunday ticking off mundane items like spatulas and spoons, then our eyes get a little wider and we graduate to more luxurious things, like pretty wine glasses and a down comforter, then for grins I tick off the shiny KitchenAid food processor that rings in at around 300 big ones.
"Do you want this, honey?"
"What about this?"
And we stop and look at each other and say, "What are we doing?"
Are we being too greedy? Is that too expensive to even put on the registry?
This whole thing is so weird! In registering, Drew and I are choosing the items that we want our friends and family to buy us as wedding gifts. It feels a little like we're this awful king and queen forcing the peasants (our much-loved friends and family) to pay alms (buy us all these presents). Yuck.
But it's good, too. Guests typically bring gifts to weddings. And as a woman with a few weddings to attend this summer, it's wonderful to have the registry to know what will be most helpful for the newly married couple. Plus it helps avoid doubles or triples of the same gift. And you have the confidence in knowing that your gift will be something the couple uses, likes, or at least needs.
As for the appropriate price, I'm not really sure what the right answer is. When one of my London flat-mates got married last summer, instead of all buying smaller items, the six of us pitched in and bought one big present. I think it's probably good to have a range of prices and a lot of choices. And it's probably always going to feel strange because the biggest present, really, is having the presence of our wedding guests.
Where have you registered? What do you think about registering? I'd love to know if people are feeling the same way!
Emily, a Washington bride-to-be, writes every Friday about planning her wedding, which will be in Nashville this fall. To follow her adventures from the beginning, click here.
Couples: Read a piece on alternatives to the traditional registry.
To read the latest Bridal Party blog posts, click here.