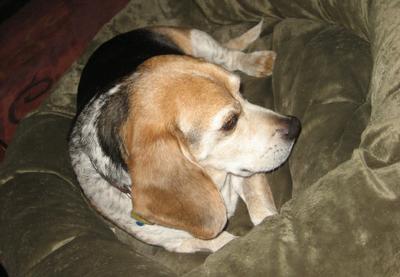 Last week, bride-to-be Emily shared her outlook on registering. This week, Bridal Party's groomzilla gives a different perspective.
The best part about getting married (other than the whole finding-the-love-of-your-life thing) is that you get lots of presents. Apparently, there are engagement presents, shower presents, and wedding presents. I can understand why Carrie from Sex and the City got so upset about single people never getting to register. Just a few weeks after getting engaged, my fiancée and I started thinking about it. We hadn't picked a place or a date, but we knew what we wanted in housewares!
Despite my repeated pleas, I was told that registering at Scuba.com simply was not happening. Instead, we decided to register at Bloomingdale's, Williams-Sonoma, and Bed Bath & Beyond. A comment in last week's blog asked what drove our registry decisions. Basically, we tried to register at places that had things we wanted but also offered our guests a good range of prices. We didn't want anyone to feel we were forcing them to spend more on a present than they were comfortable with. And no, despite his whining and long puppy-dog looks, Milo is not getting any love on the registry!
I love to cook, probably more than my fiancée does, so Williams-Sonoma is like a grownup toy store to me. I'm used to fighting for control of the remote and where to go for brunch on a Sunday, but I never anticipated such a battle over who got to use the scanner to choose kitchenware. That scanner gun is just plain fun. You press a button, red laser beams shoot out, and the item you hit gets added to your list. Now, one of the reasons I love my fiancée is that she still surprises me. One of those surprises was she loves red laser beams as much as I do! Eventually we decided we would each get one side of the store.
Then came Bloomingdale's and china patterns. After this, I felt like I wanted the laser beams to drill a hole in my skull. There are parts of the wedding I'm into and parts I'm not, and china patterns are one of the nots. As if to torture me, we had a set all picked out, and then while walking out to the floor to look for one piece, we found a set we liked even more, so we had to go through it all over again. At least I managed to convince her to get the flatware set I liked.
Bed Bath & Beyond was simply beyond my patience level. I got a little "scan happy" and later that night had to remove from the registry the margarita mix set in a pail.
Do you have good stories about registering? Feel free to share them in the comments section.
Josh, Bridal Party's guest-blogging groomzilla, writes every Wednesday about the groom's perspective on wedding planning and everything that comes with it. To follow his story from the beginning, click here.
Josh may be into the traditional registry, but couples who aren't can check out these alternatives.
To read the latest Bridal Party blog posts, click here.