This page describes the contents of an issue of Washingtonian magazine. Subscribers get exclusive early access through our print and digital editions. Most of our feature stories are later published online and linked below.
Buy a Single Issue
Subscribe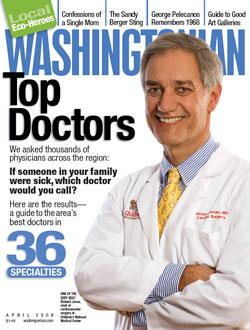 Volume 43, Number 7
Cover Story
Top Doctors

We asked physicians to name the doctors they would send a family member to. Here are the results: 1,700 of the area's best doctors in 36 specialties.
Features
A Different Way of Seeing
A photographer uses high-tech tools to create striking views of the city—including a special foldout panorama. Photographs by Sam Kittner
Thirty people who are helping the environment—cleaning up the air and the Chesapeake Bay, saving everything from oysters to rainforests. By Brooke Lea Foster.
Women often ask the author whether they should become single mothers. Now that her baby is a teenager, she has an answer. By Susan Kellam
Crissy Perham's trip through Olympic waters left her with three medals, some heartache, and life lessons for the kids she trains. By Drew Lindsay