Okay, the Running of the Brides sale at Filene's Basement (8027 Leesburg Pike, Vienna; 703-893-1040)—designer dresses, super cheap, lots of women—is pretty much the best way I've ever spent a Friday morning. Maybe it's because I'm not a bride dealing with the stress of actually finding a dress, but come on. You've got people camping out overnight! A line that took two-and-a-half minutes of video footage to pan! Groups in matching shirts and crazy hats! Wedding vendors handing out donut holes! A you-really-might-get-trampled stampede at the door! (Seriously, I didn't even have to move my legs; I was just propelled along.) I could go on forever—but the pictures and video may tell the story better.
Watch our video of the Running of the Brides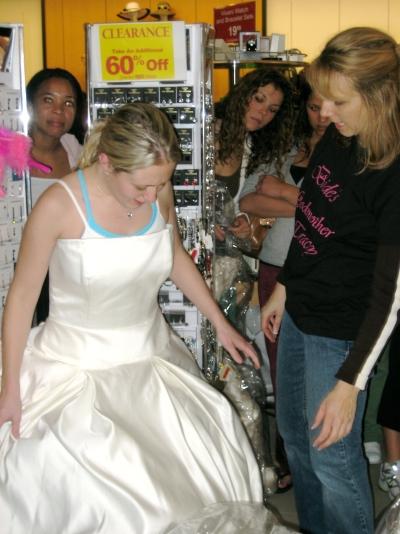 Tiffany Shipley, bride
"I would like a Vera Wang dress," Shipley said as she hopped up and down outside Filene's at 7:30 AM. She and her friends, mom, sister, and fiancé's mom, who came in from Florida, got to the store at 8:30 Thursday night—yes, in the rain—to be first in line. They had their T-shirts custom-made three weeks ago. "We mapped it out last night," she continued. "Everyone has assigned racks." Minutes after the doors opened, her posse had managed to snag close to 90 dresses for Shipley (who's getting married in June 2009) to try on.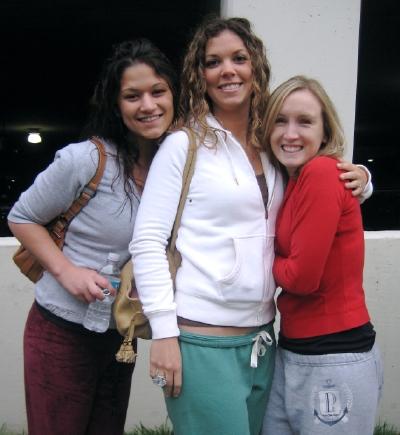 Tara Roat, bride
On the flip side, Roat and her two friends, Courtney Robertson and Kayti Wingfield, were dead last in line at 7:45, 15 minutes before the doors opened. Would they get the best dresses? No. Did they care? Nope. "All right, let's get our running shoes on," Roat joked. "If you want to tell Filene's they should serve Champagne next year—that'd be good."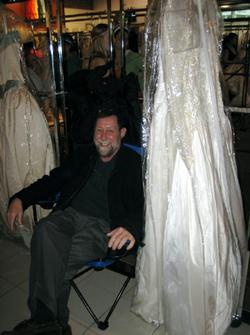 Bob Winchell, not a bride
"You're a brave man," a passerby said to Winchell, who positioned himself near the front of the store as a dress "guard," watching over a few while his wife's daughter tried on others in the back. If my dad came to this, I'm sure that's exactly what he'd be doing, I told him. "That's what we're good at," Winchell acknowledged. "I took 30 steps in that direction"—he points to the mass of brides—"and decided it would be smarter to turn around." About his blue nylon folding chair: "My wife and her daughter insisted I bring it."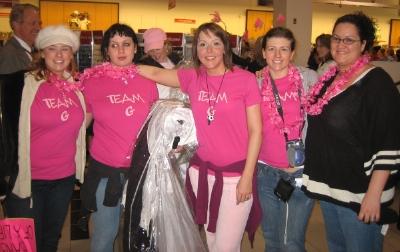 Gina Cabrera, bride
I found Cabrera and her friends essentially dressless—the racks were stripped by the time they got through the crowd, and all they got were a few not-so-stylish stragglers. "We're still hopeful," she said. "We're going to stick around and see how this goes." She's not getting married until June 2009, so it wasn't "panic time," she said. "This is really just for fun."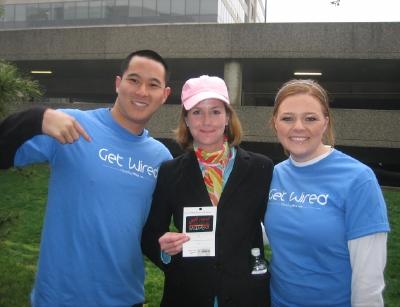 Caryn Morse, bride
Morse, easy to spot as the bride screaming and jumping even though she was near the back of the line, won a contest sponsored by bridal Web site WeddingWire.com. By guessing the right number between 1 and 1,000 (333!), she won a $249 gift card to Filene's. And with a May 10 wedding, she was banking on finding a dress today. "I'm not leaving myself much time," she admitted. "But we just got engaged a few months ago." Her dream dress: strapless with an empire waist.
Want to see more photos from Washington events and parties? Click here for Washingtonian.com's photo slideshow page.

Can't get enough of this? Read about last August's Running of the Brides.
To read the latest Bridal Party blog posts, click here.