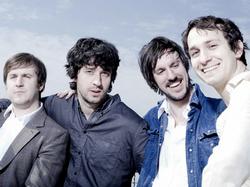 On Wednesday, April 23, Nick Stumpf of the band French Kicks will join us for an online chat. The band plays at the Rock and Roll Hotel April 24, and the show is a homecoming of sorts for Stumpf and his brother and bassist Lawrence, who are originally from the area. Responsible for vocals, keyboards and drums, Stumpf is somewhat of a de facto spokesman for the French Kicks, and he'll answer any questions you have about the band, its unique experimental pop sound, its latest album, and more.
Since moving to New York City, the band has become a fixture of the music scene there and has picked up serious buzz, which has steadily increased with the release of every new record. Its latest, Swimming, is already a favorite among bloggers and Internet radio stations. Guitarist/vocalist Josh Wise describes the record as "bolder, and at the same time more intimate, than anything we've done." Speaking of Wise, he might be stopping by and joining Stumpf for the chat, so stay tuned!
Submit your questions here.