This page describes the contents of an issue of Washingtonian magazine. Subscribers get exclusive early access through our print and digital editions. Most of our feature stories are later published online and linked below.
Buy a Single Issue
Subscribe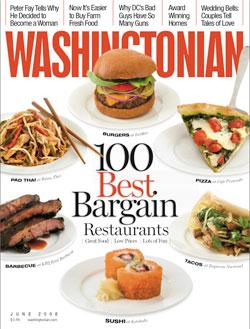 Volume 43, Number 9
Cover Story
100 best bargain restaurants

Great food, low prices, lots of fun in DC, Maryland, and Virginia.
Features
Five veterans—each from a different war—stepped onto the battlefield to serve their country and were forever changed. By Drew Bratcher
Chris Van Hollen has become one of the barons of Capitol Hill—sharp, steely, ambitious . . . but Tom DeLay or Rahm Emanuel he's not. By Barbara Matusow
More farmers are making a good living selling fresh fruits and vegetables at the area's weekend markets. By Brooke Lea Foster
Peter Fay always thought he was a woman trapped in the body of a man. At age 63, after a long career on television and radio, he's become what he feels he was meant to be. By Larry Van Dyne