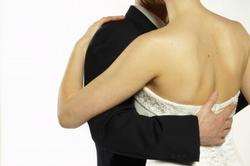 I think I may have mentioned that the reason I'm writing this blog is because our wedding planner passed my name along to the folks at The Washingtonian. Well, here is my problem . . .
The best comedy comes from pain and suffering. Before you disagree, think of how many of our great comedians come from a tragic background. Many more live their own lives in a tragic way and often meet tragic ends (think Belushi, Farley, Jeni, and Hedberg). In fact, comedy is often the way we can deal with the unpleasant things in our lives, because placing it in a comedic "wrapper" allows us to laugh while we process things we know are bad. Reality TV shows use this to great effect. The best ratings are when the "characters" are undergoing huge drama, not when everyone is happy and smiling!
So why am I upset at our wedding planner? She's making this whole wedding process way too easy. There's no tragedy. There's no drama. I figured I would get at least two posts out of picking a band. I mean, I was ready to go to town on cheesy wedding singers and broken-down garage-band heroes eking out a living playing weddings and bar mitzvahs. She brought us three amazing bands, and the only difficult part was picking who we liked best. Picking a photographer? Painless! I guess we did agonize over who we felt we clicked with better from a personality standpoint, but everyone she brought did amazing work!
So here I am trying to write a funny blog post because our wedding planner got me into it, and I have nothing funny to say because she's making it so easy! We met with her the other day to review what's left on the to-do list, and it's just rolling along. At this point, all we're really left with is small decisions, and although there are lots of them, she has it all well in hand. I'm sure this is the lull before the storm, but in the meantime I plan to enjoy the summer and the outdoors while I can and while our weekends are our own!
By the way, I won't post next week because I'll be out of the country attending a family wedding. I'll have lots of stories when I get back.
Josh, Bridal Party's guest-blogging groomzilla, writes every Wednesday about the groom's perspective on wedding planning and everything that comes with it. To follow his story from the beginning, click here.
More>> Bridal Party Blog | Wedding Guide | Wedding Vendor Search