This page describes the contents of an issue of Washingtonian magazine. Subscribers get exclusive early access through our print and digital editions. Most of our feature stories are later published online and linked below.
Buy a Single Issue
Subscribe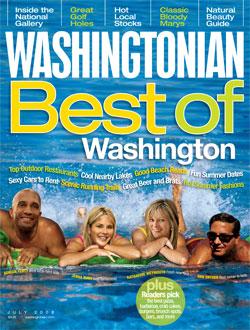 Volume 43, Number 10
Cover Story
best of washington

Summer's top treats: from rooftop restaurants and great beer to beach books and cool lakes. Plus—readers' picks of dining, celebrities, nightlife, and more.
Features
Jack Evans's triplets are still very close, but they're less and less three of a kind. By Harry Jaffe
Exhibits in the West Building are magnificent. Those in the East Building often are not. Where does it go from here? By Tyler Green
She was a grande dame of Georgetown, but my mother's drinking caused a lot of pain—and eventually uncovered surprising family secrets. By Bill Patten
Power Shots

Winning pictures of this year's contenders, rising stars, legends, and losers.
A straight-A senior at Georgetown went to a Bible-study group. But the promise of heaven wound up turning her life into hell. By Drew Bratcher