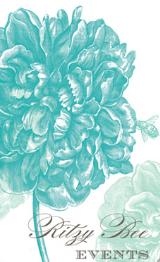 Maria Cooke is not only a wedding planner; she's also a blogger. Who better to answer your wedding questions on our Bridal Party blog? Maria, the creator of Ritzy Bee Events who also happens to write the Ritzy Bee blog, says her passion for planning started early. As a girl growing up in Front Royal, she picked up on every small planning detail, from the color of the icing on her birthday cakes to the font on the invitations her parents got in the mail. Maria has been planning events since 1999 and launched Ritzy Bee, a boutique event-planning company specializing in weddings, in 2007. The DC native came to The Washingtonian's offices this morning to tackle your wedding questions. In the chat transcript, you'll find insider tips on everything from budget-friendly Virginia venues to unique wedding favors to themed weddings.
Already excited for the next chat? David Dahan, owner of Dahan Caterers, will be swinging by next week. He'll answer all of your yummy food questions next Thursday from 11 am to noon, but start submitting your questions now.
Want more Washingtonian.com online chats? Check out past Q&As with everyone from bartenders to other wedding pros, and submit questions to upcoming chats.
More>> Bridal Party Blog | Wedding Guide | Wedding Vendor Search