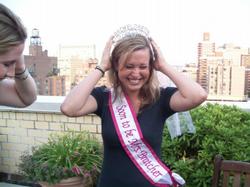 Each day, the idea of our wedding becomes less and less of this far-off fantasy and more and more of an immediate reality. Having my bachelorette party this past weekend was a huge indicator of the wedding's nearness.
And, oh, what a night!
When Jen, my lovely maid of honor (and a bachelorette-party planner extraordinaire), started asking me what I wanted as far as a bachelorette party and bridal shower go, I had a couple of strong recommendations: no strippers and none of the typical male-body-part adornments and/or regalia. I think both are gross! I also wanted to have the shower and the party on the same date to make it easier for friends to make it to both and for Jen to plan it. And if possible, I thought it would be awesome to have it New York City.
So with those few thoughts, Jen—with the help of other good friends—organized my bachelorette party/lingerie shower (ooh la la!) this past Saturday in New York.
Jen (MOH) took the train up with Kat (BM), who had flown in from Kansas City the day before. Katie (BM) and my roommate, Karin, took the $25 bus up from DC to meet up with Natalie (BM) and another great friend, Maggie, who both live in the city. We all met on Saturday afternoon and enjoyed tasty thin-crust pies at a nearby pizzeria and then hopped onto the subway to catch the Met's fashion-and-superheroes exhibit, after which we rested at Natalie's Murray Hill apartment, dressed, and readied ourselves for the night ahead.
We then took the elevator up to the 17th floor and walked a few remaining stairs to the rooftop of Natalie's apartment, which affords a sweeping view of Manhattan and a close-up of the Empire State Building. On the roof, we enjoyed chips, salsa, crackers, and cheese, which the New Yorkers, Nat and Mags, so sweetly provided. Others brought the wine, and there I was bestowed with a crown, veil, and sash that read in pink embroidery: "Soon to be Mrs. Bratcher."
And then the lingerie came out. Before I opened the prettily wrapped gifts, I had to guess who each was from. All the girls had decorated their presents with clues specific to our friendship. So for instance, Kat wrapped the Victoria's Secret box in a map, which highlighted her home city, Joplin, and our college town, Columbia, in the great state of Missouri. I won't divulge the contents of each box and bag, though I think it's enough to say that Drew will be thanking them!
And there's even more. Jen had asked each girl at the party (and other friends there in spirit) to create a scrapbook page with photos, quotes, and personal messages. She gathered all the pages together and placed them in a red scrapbook that I will seriously cherish forever.
After that, we cabbed it to Candle 79, the vegan sister restaurant of Candle Cafe, one of my all-time favorite restaurants. And then to a trendy wine bar called Wined Up, where we ordered delicious wines, such as sparkling Blanc de Blanc and rosé with hints of watermelon, and decadent desserts, such as strawberry bread pudding.
We walked the ten blocks and a couple avenues home, chatting and laughing and, for some, earning a couple of heel-induced blisters. I walked back to Nat's apartment in awe of my beautiful friends and how much they had blessed me with such a wonderful night, in excitement for my upcoming wedding to the man of my dreams and en amour with this crazy, amazing life I've been given.
Shout out to Jen, Nat, Mags, KitKat, Karin, Kat, and the others there in spirit. I love you and thank you so, so much.
Emily, a Washington bride-to-be, writes every Friday about planning her wedding, which will be in Nashville this fall. To follow her adventures from the beginning, click here.
As much as we've loved having Emily writing about her engagement experiences with us, her wedding is fast approaching—so we're looking for a replacement blogger. Are you engaged and planning a wedding? Do you want to share your lessons learned, your trials and tribulations, and lots more with Washingtonians? If you're interested, send an email with why you think you'd make a great wedding blogger to Lynne Shallcross at lshallcross@washingtonian.com.
To read the latest Bridal Party blog posts, click here.