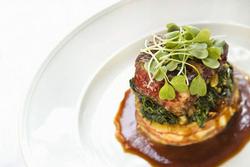 David Dahan was born into a family of 11 in Morocco. That's one big, hungry family! So it's no surprise that David's passion for food started at a young age. He watched his mother make everything from scratch, right down to the bread. He ate his first meal in a restaurant when he was 24 and living in France, where he went to culinary school and became a chef.
When David opened Rockville-based Dahan Caterers in 1998, his goal was to improve the reputation of kosher food. He succeeded. A top-rated caterer in The Washingtonian's wedding guide, Dahan Caterers has become an area staple for gourmet kosher. In addition to weddings, David has also catered a dinner at the White House and a lunch at the U.S. Supreme Court.
Dahan's menus include everything from North African meatballs to vegetable ratatouille to chocolate fondant served with pastry cream and chocolate sauce. Is your mouth watering yet? Ours are. David will be here to offer his most delicious catering tips on Thursday from 11 AM to noon. Start submitting your questions now.
More>> Bridal Party Blog | Wedding Guide | Wedding Vendor Search