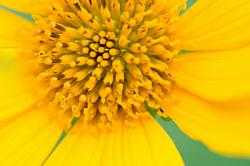 Now we understand why Georgetown's Ultra Violet Flowers (1218 31st St., NW; 202-333-3002) is a favorite with Washington brides. Who wouldn't love chief designer Rance Goff? When he arrived at the office for yesterday's chat, he made us feel as though planning a wedding can be the easiest, most tranquil and beautiful experience. Rance says working with brides is the best thing about being a florist. He starts each meeting by asking the bride and groom how they met. From there, he creates a unique design based on the personality of the couple and their expectations for the event.
And while Rance makes it look so easy, there are a lot of questions when it comes to flowers. What purple blooms are in season in late March? What questions should a couple make sure to ask the florist? What's ecofriendly when it comes to flowers? Rance came through with answers to these questions and more. If you missed the chat, catch up here.
Next week we'll have Pat Richitt from the Entertainment Exchange. Start submitting your music questions now, and Pat will answer them on Thursday from 11 AM to noon.
Want more Washingtonian.com online chats? Check out past Q&As with everyone from bartenders to other wedding pros, and submit questions to upcoming chats.
More>> Bridal Party Blog | Wedding Guide | Wedding Vendor Search