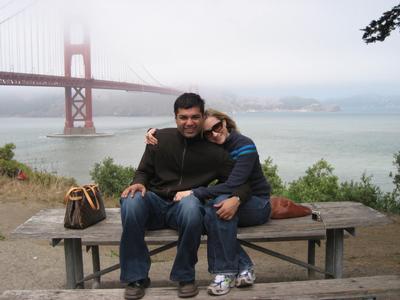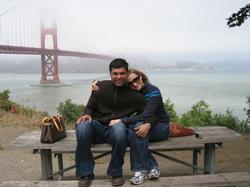 Everyone says you don't get a second chance to make a good first impression, but Heidi Hotopp, 29, and RJ Narang, 31, might beg to differ. Three years ago, Heidi, a marketing manager, and RJ, a government contractor, were invited to the same happy hour through a mutual friend. Heidi, who had recently moved to DC from Wichita, was trying to branch out and meet new people. But on the night of the happy hour, she was stuck working late and didn't arrive until 9:30.
Heidi was tired and a little cranky; RJ had been at the happy hour for a few hours and was a little tipsy. Their first introduction wasn't all that smooth. "He made some goofy jokes," Heidi says, "and I thought, 'This guy is a little annoying.' "But the hours passed, and before they knew it the rest of their friends had left and Heidi and RJ found themselves at a table alone. "After talking for a bit, I realized he was a pretty nice guy, actually," Heidi says. "He was persistent and asked me out twice, so I accepted a date with him."
The two met for a Sunday-evening date at Maggiano's in Chevy Chase. "I went in unsure of what to expect," Heidi says. "But it ended up the best date I had been on. We sat there and talked for hours, and before we knew it they were closing down and we were the last table in the restaurant." Thank goodness for second impressions.
When: Saturday, September 13.
Where: The Ritz-Carlton, Washington, DC.
The ceremony: There will be a Hindu ceremony in the morning, followed by brunch. The Christian ceremony will be in the evening, followed by the reception.
Food: A mix of traditional Indian food and American dishes. After the cake cutting, there will be a station of pastries, homemade ice cream, fruit, and traditional Indian desserts.
Music: A DJ and Indian singers will perform Indian music, and a 12-piece band will perform the American music.
First dance: "Just the Way You Are" by Billy Joel.
Honeymoon: Ten days in Hawaii.
How he proposed: RJ popped the question at a restaurant in Orlando while the two sat on a patio overlooking a lake and the fireworks at Disney World.
Most romantic gesture: Soon after they started dating, RJ surprised Heidi with a day at the spa. "I had been really stressed at work for weeks, and he told me he made plans for us on Saturday and to leave my day open," Heidi says. "He then dropped me off at the Four Seasons spa for a whole day of pampering. It was a complete surprise."
Silliest fight: Heidi and RJ had multiple Redskins tickets but couldn't agree on which friends to invite. So they ended up not inviting anyone—and sitting next to multiple empty seats.
When he knew they were meant to be: "After we closed down the restaurant on both our first and second dates."
When she knew they were meant to be: "I knew probably that first week. It was all so easy, I guess. He was comfortable to be around, and there was nothing fake about him. He was also the most courteous guy I had gone out with—always opening doors and moving me from the outside of the sidewalk if we were walking down the street. I guess that spoiled me very quickly, but it hasn't stopped."
Favorite date spot: Carrabba's Italian Grill in Reston and a movie.
One thing others would be surprised to know about Heidi: "She likes country music," RJ says.
What food they'll be sure to take a bite of at the wedding: For RJ, sea bass. For Heidi, cake and ice cream.
We'll be running new Save the Date columns every Tuesday that showcase fun local couples that are getting married. Are you getting married—or know someone who is? We'd love to hear from you. E-mail lshallcross@washingtonian.com with a love story you think is worth telling.
Want more Save the Dates? Read them here.
To read the latest Bridal Party blog posts, click here.