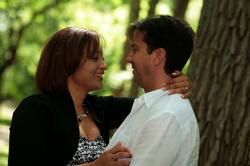 Like most people, Joe Cominsky knows the phrase "Things that seem too good to be true usually are." But while browsing the Yahoo! personal ads last July, he took a chance that Patricia Charlier might actually be that good. And now, just weeks before the couple's wedding, Joe couldn't be happier he took a leap of faith.
Soon after making a move from Southern California to Fairfax, Joe, 45, put an ad up on Yahoo! looking for a friend to explore his new home base with. "I'm a single, never-married guy who would like to meet someone who can show me what the life I'm currently not living can be," Joe's ad read. "Someone who doesn't mind getting their hair messed up in the wind . . . someone like you?" Patricia, 39, had just started a trial period with Yahoo! personals when she came across Joe's ad. "I shot him a quick 'Your profile seems intriguing to me' intro note but was too chicken to write him an actual e-mail," says Patricia, a director for a clinical-research company.
When Joe got Patricia's message and looked at her profile, he took his time getting back to her. "I thought her profile was one of those fake ones that seem to be all over those personal sites," says Joe, a regional director for Gordon Biersch Brewery Restaurant Group. "No way did I think that such an attractive woman would be using a personals service—and even if she was, what could she possibly see in me?" Joe was convinced it was a bait-and-switch deal. "You know, the person who shows up for the date is either 20 years older than the posted profile pictures or worse—way worse." Well lucky for Joe, that wasn't the case. What seemed too good to be true was actually true. "When we finally did meet up for our first date, the pictures did not do her justice," Joe says. "She was even more beautiful in person."
When: Sunday, August 31.
Where: Indianapolis, where Patricia's family lives.
Colors: Celadon green with coral accents.
Food: The theme will be "international flavors" to accommodate Patricia's Latin American heritage and Joe's American background.
Music: A salsa band will not only perform but also teach inexperienced dancers how to salsa so they can all join the fun.
First Dance: "And I Love You So" by Don McLean.
Honeymoon: San Jose del Cabo, Mexico.
First date: "Due to a bout of temporary insanity, I decided that salsa dancing would be a great idea for a first date even though I had never done this before," Joe says. "We had a great meal at Café Atlántico, and I actually had to finish her drink at dinner because she's pretty much a nondrinker and was starting to get a little buzzed. This benefited me since my rhythm comes in a bottle, and I needed all the help I could get for what was ahead—Duke's City on U Street, Orquestra Ashe, and a roomful of dancers who knew exactly what they were doing. I faked it as best I could and tried to not break her toes."
Says Patricia: "Never once did we run out of things to say. It was love at first sight and the best date I've ever had."
First impression: "Just as handsome as his picture, thank God!" Patricia says.
"Wow!" Joe says.
The proposal: "Joe called my parents that morning to ask for their blessing. He proposed on my mother's birthday, which in a weird way meant a lot to me and especially to my mom. Mom and Joe bonded right away, and she immediately felt like he was one of her sons. She even has a nickname for him—Little Joe—which is kind of funny for a six-foot-two, 190-pound guy! Joe brought me a beautiful bouquet of a dozen red roses and a bottle of Champagne and presented me with a beautiful cushion-cut solitaire that sparkled so much it seemed to jump out of the box. He simply said, 'Will you spend the rest of your life with me?' and I said, 'Yes, I will.' My bouquet of roses stayed fresh and beautiful for over two weeks, and we dubbed them the 'miracle roses.' "
When she knew they were meant to be: About a month after their first date, Joe went away on a weeklong business trip. "I literally missed him so much it ached," Patricia says. "I never had that feeling for anyone in my entire life."
Their spot: The Jefferson Memorial and walking along the Tidal Basin.
One thing others would be surprised to know about Patricia: "That she's fluent in three languages and has actually developed a fourth one that encompasses the other three, but only her immediate family can speak or understand it."
One food Joe will make sure not to miss at the wedding: "I'll have to sneak out at some point and grab a burger, fries, and large chocolate shake from Steak and Shake since they're not around here and we'll be leaving for our honeymoon at the crack of dawn!"
We'll be running new Save the Date columns every Tuesday that showcase fun local couples that are getting married. Are you getting married—or know someone who is? We'd love to hear from you. E-mail lshallcross@washingtonian.com with a love story you think is worth telling.
More>> Bridal Party Blog | Wedding Guide | Wedding Vendor Search