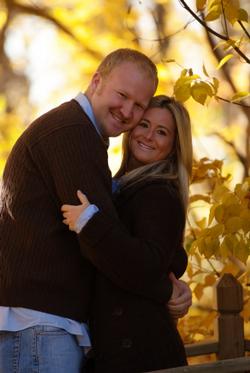 If you imagine meeting the man or woman of your dreams, you probably see yourself looking your absolute best, dressed impeccably, and poised to make a killer first impression. But real life doesn't always play out as smoothly as it does in our dreams, and Stacy West, 30, and Jeremy Warman, 28, will be the first ones to admit that.
Stacy and Jeremy work in the same office and had passed each other in the hallway a number of times. But it wasn't until they both worked weekend duty that they had their first formal introduction. Thinking no one else would be at the office, Stacy showed up in a Clemson University sweatshirt, pajama pants, and flip-flops. "Talk about wanting to kill yourself when you talk to the man that you didn't know would be your future husband," Stacy says. "And not wearing makeup!"
But that didn't bother Jeremy. Through the sweatshirt and pajama pants, Jeremy saw a future with Stacy. They began dating, and love quickly blossomed. "Our love just grew and grew for each other every time we were together," Jeremy says. "Things just seemed too good to be wrong. Every time I hung out with Stacy, I had butterflies in my stomach. And to this day, I still get them."
Fast-forward through a year and a half of dating, and Jeremy was ready to propose. Many of his friends and family knew about his plans, so Jeremy couldn't waste much time or someone might let the cat out of the bag. One Wednesday night, Jeremy took Stacy out to dinner at the Melting Pot in Dupont Circle. "Stacy and I dined on a feast, all the while having normal conversation, while I had the engagement ring in my pocket," Jeremy says. When they paid the bill, Jeremy told Stacy they had one more stop to make.
He took her to her favorite spot in DC, the Jefferson Memorial. As they took in the view from the memorial, Stacy told Jeremy it was such a special place to her. "Stacy, let's make it more special," Jeremy told her. "Will you marry me?" He didn't even have time to make it down on one knee before Stacy jumped up and wrapped her arms around his neck, saying yes, yes, yes!
When: Saturday, October 4.
Where: Willard InterContinental hotel.
Wedding colors: Chocolate and Champagne.
Music: DJ Chris Laich.
Cake flavor: Vanilla cake with raspberry filling.
First dance: "You and I" by Michael Bublé.
Honeymoon: Eight nights in Los Cabos, Mexico.
First impression: "I thought Stacy was a very attractive girl," Jeremy says. "Long blond hair certainly caught my attention, as well as the pink nail polish on her toes and fingers. After getting to know her, I thought she was one of the most intelligent people I had ever met."
Says Stacy: "I thought he was incredibly attractive and he worked in the same place I did, so clearly he was intelligent and had a good job. On our first date, I was impressed with his outgoing personality, and there was just something about his eyes that was extremely genuine and open, which I found very attractive."
First date: A Sunday lunch date at the Cheesecake Factory in Arlington. "We talked about everything and just seemed to click," Stacy says. "I thought we were having a great time when out of nowhere he told me he wasn't sure if he wanted to date someone from work. Neither was I, but I didn't say it out loud! But our date ended with a great kiss."
Most romantic gesture: While they were in the midst of moving, Jeremy made Valentine's Day dinner for Stacy. He used a cooking pot to chill the Champagne and the coffee table in lieu of the dining-room table, which was disassembled for the move. Says Jeremy: "When Stacy walked in, I saw the tears in her eyes, which either meant 'Dammit, you are cleaning this up!' or 'That is so sweet, thank you so much.' " It was option B. Says Stacy: "It was the best Valentine's Day I had ever had."
When Stacy knew they were meant to be: "Truthfully, I don't believe in 'meant to be.' After my dad died the weekend before he was supposed to meet Jeremy, I just stopped believing. But what I can say is that over the past 2½ years, Jeremy has been everything I have wanted and needed in a man I would want to spend the rest of my life with. He's tough on me when I need it, he holds me when I am sad or afraid, laughs with me, and loves me every day. Jeremy is my best friend, and I couldn't imagine not being together."
Favorite date spot: Dinner on their deck in Alexandria with a good bottle of wine.

Sweetest name: "I call him Lovey," Stacy says.
Worst name: Stacy is five-foot-two so Jeremy's nicknames usually refer to her height: Shortcake, Smurfette, Sprout, and Oompa-Loompa. "But the one that she truly hates is when I call her an Angry Elf, from the movie Elf."
One thing others would be surprised to know about Jeremy: "He's a tough guy with big muscles and a competitive streak who is obsessed with pirates and various violent movies," Stacy says. "Yet he has the complete Disney set at home and loves The Little Mermaid. I love that about him. He'll be a great dad."
One thing others would be surprised to know about Stacy: "Stacy's a cross between Legally Blonde and Clueless, in a good way," Jeremy says. "She is incredibly smart, so when she tells people that she went to Officer Candidate School for the Marines before being injured and having to go home, it really makes you wonder. She pulled into the base and asked where the valet was. I don't think the pink nail polish went over too well, either."
Food that Stacy will make sure to get a bite of at the wedding: "I love food and have been concerned from the beginning about making sure we get to eat all the delicious food we chose. I can't even say which thing I want the most. I'm just hoping I don't spill anything on my dress."
We'll be running new Save the Date columns every Tuesday that showcase fun local couples that are getting married. Are you getting married—or know someone who is? We'd love to hear from you. E-mail lshallcross@washingtonian.com with a love story you think is worth telling.
Want more Save the Dates? Read them here.
To read the latest Bridal Party blog posts, click here.