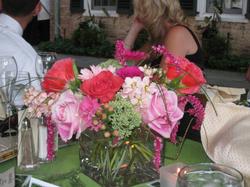 I have a love-hate relationship with Theknot.com. On one hand, it's a constant source of pictures and information on absolutely anything that has to do with weddings and wedding planning. On the other hand, it can be one gigantic advertisement after another, and the photos of "real weddings" sometimes make me cringe.
I hate to say it, but I'm starting to get tired of wedding magazines. When I first got engaged, my girlfriends threw me a wonderful purple-themed engagement party, which consisted of a Ron-and-Eleni slide show, food, martinis, and a ton of wedding magazines. It was so great. I immediately devoured the magazines and have been slowly accumulating more and more ever since. They're piled in a corner in my apartment, and I flip through them once a week. One thing I've learned is that the best part of these magazines is the pictures. I'm always excited when I buy a new magazine, but when I read an article instructing me to not use toothpaste with baking soda in it because it might bloat me for the big day, I start to do a big eye roll. Of course, I'm a sucker for anything wedding-related, so I will keep buying those wedding mags for $6 a pop even if the only worthwhile items are pictures of dresses and the occasional celebrity-wedding profile.
I digress. Let's get back to The Knot. Since I signed up for an account and entered all my wedding information into my online profile, I get monthly updates telling me what I should be doing to prepare for April 25, 2009. Last week, I received an e-mail saying I had 145 "overdue items." OMG. Turns out these overdue items were ridiculous things like "Think about bridesmaid gifts" or "Rip out photos of wedding hairstyles that you would like to try." Cue the eye roll. Then I saw one item that seemed pretty important: "Start looking for a florist."
Of course, my first step was to call my mom and ask her to find a florist. Turns out she had been doing some research already and had found a few florists in the area. We met with two last week, and after it was over I wanted to take a big old nap. Now, don't get me wrong—I love flowers. But there are so many different kinds of flowers and so many different options that it can be fairly daunting. I know I'm not alone because one of my bridesmaids, Jessica, is getting married in October, and she's also overwhelmed by the world of flowers.
The first floral consultation was with Philippa Tarrant in DC. My mom and I have talked quite extensively about the kinds of flowers we like (roses, ranunculus, tulips, stephanotis) and the colors we like (lots of white and maybe some green and purple), but it helped to have someone pull it all together and make suggestions. Did you know that there is a white calla lily with a dark-purple center? It's really pretty.
I hadn't really thought of anything besides the bouquets, though, so there were lots of new questions and lots of new stuff to obsess about. What kind of boutonnieres do I want? Do I want flowers for the ceremony? Do I want flowers for the cocktail hour? Do I want low centerpieces or high centerpieces or both? Do I want fresh flowers on my cake? She was very knowledgeable and helped us talk through what we want. The second meeting was with Petal's Edge in Alexandria. Once we got there, we had a better idea of what we wanted, so that consultation was a little shorter.
Both florists will send us an estimate next week, and then we'll decide what to do from there. My mom seems to have more ideas than I do when it comes to the wedding flowers, so I think I'm going to let her take ownership of this little project. I've got other wedding-related things to obsess about, like the invitations!
Eleni, a local bride-to-be, writes every Wednesday about planning her wedding, which will be in Washington in the spring. To follow her adventures from the beginning, click here.
To read the latest Bridal Party blog posts, click here.