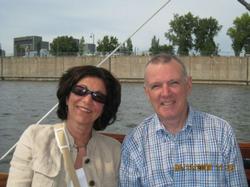 Twenty years ago, Shayna Stillman was flipping through the September issue of The Washingtonian and stopped on page 306. At the bottom of the page were 41 words that would change her life.
"A TALL SLIM HANDSOME BLUE-EYED SWM—with cheerful disposition, honest, charming, athletic, well-off with varied interests ISO unattached woman under 40 who is very attractive, generous, intelligent, successful, caring with sunny personality who wants to turn friendship into romance."
After she separated from her first husband, Shayna—a longtime Washingtonian subscriber—would thumb through the personal ads at the back of the magazine. She'd answered a few, but nothing had panned out, so she took a break. But when September 1988 arrived with the fresh-start feeling of fall, she decided to give it another try, and that's when she found the 41-word ad. "It focused on personal qualities rather than specific likes that generally end up sounding somewhat trite," says Shayna, 58, who would circle the ads she liked and write a letter next to each, grading it from A to F.
This one got a circle and a big "A." So she sat down and wrote a letter to the tall, slim, handsome, blue-eyed SWM. She told him a little about herself, her philosophy on life, and how she liked being active and surrounding herself with positive people. She dropped the letter into the mailbox that same day.
When the handwritten note landed in Dorsey Delavigne Jr.'s PO box, he didn't waste any time—he picked up the phone and called Shayna. The conversation was easy, Shayna says. After talking for a while, they agreed that Dorsey would call her back again. During the second phone call, the pair planned their first date, an after-work drink at the Holiday Crowne Plaza on Rockville Pike. When Shayna arrived, Dorsey was waiting for her. "[I know] he got there early since I was on time, so I immediately had a positive impression."
They got a drink and sat down to talk. "It was easy to talk to Dorsey, almost like talking to one of my girlfriends," Shayna says. "I felt I could be totally honest with him. I liked that very much."
The feeling was mutual. "We were having such a good time that I suggested we have dinner, so we ate there and talked and talked," says Dorsey, 67. "When it was time to go, we both looked under the table. Both of us had removed our shoes and were attempting to get them back on. That was a good laugh for both of us."
As they said goodbye, Dorsey suggested they get together again—this time for a bike ride. Shayna accepted, and their next date was set.
They began spending a lot of time together but took it slowly because neither of them wanted to jump into another relationship too quickly. "I felt like I was really getting to know him," Shayna says. "I realized he was really what I wanted." Dorsey felt the same. Fast-forward a few months to a lazy Sunday afternoon at Shayna's condo in Silver Spring. Dorsey casually asked her if she'd ever consider marrying him. Shayna responded with a resounding yes. "Once he asked me that and I said yes, it was done," she says. "I never had a moment's doubt that it was the right thing to do."
Twenty years later, Shayna, a lecture agent and sales manager, and Dorsey, a contracting officer for the government, live in Alexandria and walk home from work together, holding hands. Friends and family marvel at the romance that still flickers between them. "Our first marriages were such struggles," Shayna says. "And this hasn't been a struggle at all. We just really love being together."
In November, The Washingtonian will stop running personal ads in the back of the magazine. But one ad, circled with an "A" written next to it, won't expire—it sits framed in the home of a couple who, after 20 years, are still going strong.
Wedding date: March 24, 1989.
Where: The ceremony was held at Olney Methodist Church, the reception at Shayna and Dorsey's home.
Food: Heavy hors d'oeuvres including asparagus wrapped in prosciutto, stuffed mushrooms, assorted cheeses, and French bread.
Dessert: In lieu of a traditional wedding cake, they served fruit tarts.
Honeymoon: Seaside, Florida, for one week.
Family: They have two sons from Dorsey's first marriage, Dorsey III and Louis; two grandchildren; and two cats, Antonio and Rudolfo, both named after opera heroes.
20th-anniversary celebration: A one-week trip to France.
When Shayna knew he was the one: "It took about three months for me to have the epiphany that he was the one, and when it happened it was so clear," Shayna says. "I was waiting for a certain feeling of total love and belonging."
When Dorsey knew she was the one: "Right away."
Favorite date spot: If not France, then Bistrot du Coin.
One thing Shayna was surprised to learn about Dorsey over the years: "That he is amazingly consistent. Patient, tolerant, positive, and loving."
One thing Dorsey was surprised to learn about Shayna over the years: "Her passion for doing things the right way and very precisely."
Their silliest fight: "The best way to water shrubs," Shayna says. "He doesn't remember this one." Says Dorsey: "All fights are silly in the end."
Their best memory: "The first time we went to Paris in 1997," Shayna says.
What they're most looking forward to: Living in France, Dorsey says.
Is there such a thing as fate? "No, I believe in luck," Shayna says. "You make your own luck by taking calculated risks."
Advice they would give to others searching Internet dating sites or the personals for love: "Just take it slow," Shayna says. "It's a much more normal way to meet people these days, but I think because you're not coming together through mutual friends, you really need to take the time to feel like you get to know the person and feel comfortable."
Dorsey says: "First, mentally define what you are looking for and create an ad defining that with characteristics—cheerful, attractive, handsome, happy, tall, blue eyes, etc. Accurately describe yourself and who you are looking for. In my case, it was a very attractive person to spend the rest of my life with, although in the ad it was 'someone to turn friendship into romance.' The real reason seemed too heavy, but in line with the stated reason. Then you should evaluate responses like a job applicant. If the response shows the person is unhappy, hates their job, is geographically undesirable, etc., don't waste everyone's time by responding. For the positive responses, set up a very short meeting for a cup of coffee or glass of wine so that things can end easily if the attraction is not there."
Advice they would give to newlyweds: Dorsey says: "Remember that your spouse has been living a very successful life before you and needs your support and approval, not control."
Shayna says: "Think before you open your mouth. Take it slow. Really, you can never take back the things that come out of your mouth, and this is the person you're going to spend the rest of your life with. Before you say something that could be hurtful, just think."
To read more Bridal Party posts, click here.