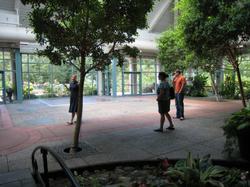 So many great venues, so many great suggestions—but still no venue. I logged onto wedding message boards for one last futile attempt and saw a post for the Atrium at Meadowlark Botanical Gardens. I opened its Web site, and I was in love after viewing only one picture at the bottom of the page.
This venue in Vienna was truly the best combination I could imagine: It has the beauty of an outdoor space with the temperature control and precipitation protection of an indoor room. I knew that this was the place. Then I looked at the rental rate, and my heart sank. The fee was three times what we wanted to spend for a room!
We continued to tour other venues and actually found one that we felt wouldn't be all that bad. But, as the spoiled only child I've always been, I really wanted the best, and I felt that Meadowlark was the best option for our wedding. I spoke about it with my mother and Andrew, and I realized that compromise is a focal point of marriage. Maybe compromising on perfection was the right thing to do in this situation.
On my way to work one morning, I was speaking with my mother on the phone, and she told me to schedule an appointment to go see Meadowlark—my heart was set on it, but I'd only seen a picture. Maybe the reality wouldn't match my mental image. My exact words to her: "You realize that if I go, I'm going to fall in love with it and we're going to have to book it." She told me to go anyway, so that day I headed out on my lunch break to see if the fantasy could live up to reality.
I met with Bernadette, the event coordinator for the Atrium, and we talked about the basic logistics of the venue. When we walked back into the reception room, I was absolutely amazed. The only word to describe the space is "magical."
It's an indoor garden, with real trees, a stream, rocks, and a fountain, all enclosed in a temperature-controlled room. Outside the floor-to-ceiling windows, dozens of acres of botanical gardens pour across the landscape. But even if there's a snowstorm in the middle of July, the room carries itself without the backdrop of the gardens. This place is where you'd expect poets to go for inspiration for their next great sonnet. I was hooked.
Once you have that strong of a reaction to one place, nowhere else is going to compare. As I said to my mother before I toured, "If I fall in love with it, we have to book it," and we did. Andrew came with me to see the site and felt the same way I did: This was the place we needed to spend our first minutes as husband and wife.
Lisa Marie, a local bride-to-be, writes every Friday about planning her wedding, which will be in Washington in July. To follow her adventures from the beginning, click here.

To read the latest Bridal Party blog posts, click here.