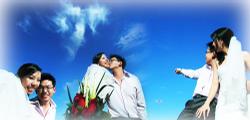 When we heard about the Wedding Lens, a new wedding photo-sharing site, we have to admit we didn't even know what a wedding photo-sharing site was. But we knew that a service that allows friends and family to share wedding photos sounded like something right up our alley. So we caught up with Chuck Templeton, one of the three masterminds behind the service, to find out a little more about it.
If you've considered leaving disposable cameras on reception tables for guests to take pictures of your wedding, the Wedding Lens is something you might want to know more about. The idea was hatched when one of Templeton's business partners was getting married. He and his bride wanted guests to be able to share photos, but they could find only photo-sharing sites that allowed each guest to upload pictures to a different account and then send the links to the albums back and forth. "It made for a disjointed experience," Templeton says. It was also hard for the bride and groom to upload high-resolution copies of the photos that guests had taken.
In 2007, the Wedding Lens was born. On Theweddinglens.com, a bride and groom sign up for a free account, customize their album with their wedding details, and upload the e-mail addresses of their guests. A week before the wedding, the Wedding Lens e-mails the guests, encouraging them to bring a digital camera to the wedding. The day after the wedding, the company e-mails the guests again to remind them to upload all the photos they took at the wedding. Brides rave about being able to see photos of their celebration from the guests' perspective. Another bonus? Not having to wait six weeks to see shots from the professional photographer.
Want to know more? Chuck gave us the details on why this new service is worth a second look.
How much does an online Wedding Lens album cost?
"Creating the online album and uploading photos are free. A $49.95 premium album allows the couple and their guests to download high-res photos from the album. The couple and guests can also order prints, mugs, posters, and more."
Does this take the place of a professional photographer?
"I think you augment a professional photographer with the site. If you want professional-photographer-quality shots, where there is a lot of posing and picture setting, then you probably won't want only the Wedding Lens."
In this tough economy, are some brides using the Wedding Lens in lieu of a photographer to save money?
"Some, maybe. Our intention was not to do it as a replacement for professional photographers; however, some have indeed used this in place of a professional and saved money."

In addition to a photographer, how is the Wedding Lens a good service for couples?
"Remember that there's generally only one professional, sometimes two, but they can't be everywhere at once. I was at a wedding recently, and there were 12 or so people that I saw taking pictures, each from a different perspective. Some of the pictures were pretty bad, but there were enough really cool ones."
How many photos usually get uploaded?
"Our average album gets 500 to 600 photos, and some get as many as 1,200."
Wedding receptions can get a little rowdy. Do the bride and groom have control over editing the album?
"The bride and groom have complete control. If they don't want a particular picture of the bride, they can remove it. Or if is there is a comment about drunk Uncle Joey, the bride and groom can delete it. They can also remove guests so that they can't post any additional photos."
Do albums have photos from only the reception?
"People can upload photos from past events, such as engagement parties, rehearsal dinners, or even the bride and groom on their honeymoon. Then you can capture the entire wedding experience."
More>> Bridal Party Blog | Wedding Guide | Wedding Vendor Search