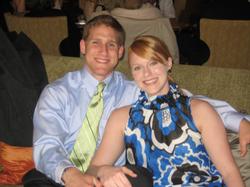 Lindsey Jones and John Gualdoni met as freshman-orientation guides at James Madison University in the beginning of their sophomore year. Lindsey was dating someone else at the time, but John was smitten immediately. "I know it's cliché, but I always tell people that I knew the first time I met Lindsey that we were meant to be together," says John, 26, an account representative for a medical-device company. "After I finally got the courage to talk to her, I had this sixth sense that we would someday end up together. It was like I had known her for years. We were at an ice-cream shop with a group of 20 other orientation guides, and we managed to talk for almost an hour." But no sparks could fly because Lindsey had a boyfriend. The two kept in touch throughout the semester, John says, but as nothing more than friends.
"When I broke up with my boyfriend that winter, I happened to get an e-mail from John about a party he was having, so a couple of my friends and I went," says Lindsey, 25, an account manager for a consulting firm. "As soon as I saw him again, I got butterflies in my stomach." Ironically, John was in a relationship, but it was about to end. "Because of my feelings on the back burner for Lindsey, none of my relationships lasted," John says. After Lindsey heard through a mutual friend that John had broken up with his girlfriend, she ran into him on campus, they had lunch, and he asked her out on a date.
The pair headed to a local restaurant for dinner and then to an a cappella concert on campus. "I was so nervous about what to wear," Lindsey says. "I think I tried on ten outfits. It was so much fun, though—I don't think we stopped talking for two seconds." When they got to the concert, John found out he'd be under the microscope on that very first night. "As if a first date isn't nerve-wracking enough, we actually ended up meeting some of her friends and their parents at the concert as well," he says. "I must have passed that test because she wanted to continue with our date." From the concert, Lindsey and John stopped at 7-Eleven for snacks and Slurpies and then headed to a small town about ten minutes from campus. John took Lindsey to a gazebo, where they sat and talked for hours. "It was so adorable," Lindsey says. "He definitely has a romantic side."
They ended the night watching My Big Fat Greek Wedding at John's apartment. And now, five years later, they've come full circle to planning their own wedding. Was their fate in the cards from the start? John says yes: "I knew from the get-go that we would get married someday."
When: Saturday, October 4, 2008.
Where: Ceremony at St. Mark's Episcopal Church on Capitol Hill, reception at Andrew Mellon Auditorium.
Colors: Eggplant purple, ivory, gold, and magnolia-leaf green.
Music: The band 'Round Midnight.
Cake flavors: Yellow pound cake with raspberry filling and marble pound cake with chocolate-truffle filling.
First dance: "Everything" by Michael Bublé.
Honeymoon: Athens and Santorini.
The proposal: John popped the question in his former hometown, Marquette, Michigan. "John had always wanted to take me there, so we finally planned a trip on the Fourth of July," Lindsey says. "The first night we arrived, John said we had to see an 'Upper Peninsula sunset,' so we grabbed a bottle of wine, cheese, and crackers and found a perfect spot on the water. John proposed that night right as the sun was setting. It was perfect!"
First impression: Says John: "Bubbly and extremely friendly." For Lindsey, "John definitely stuck in my memory because he was cute, funny, laid-back, and outgoing. I was definitely intrigued!"
Favorite date spot: Town Hall in Glover Park, they both agree.
Something others would be surprised to know about Lindsey: She wears her watch on her right hand even though she's right-handed. "The crazy thing is so do I!" John says.

Something others would be surprised to know about John: "He's extremely romantic," Lindsey says, "and very clean for a guy!"
Silliest fight: "When we moved in together," Lindsey says, "there were some things that John wanted to hang in the apartment that I didn't quite think matched our decor." For John, it's parallel parking: "Lindsey thinks she is the queen of parallel parking—she is actually very good—so anytime I parallel park, she has to chime in with how I should do it. It usually ends up annoying me, so we begin to bicker. If I don't get the spot on the first time, you can basically cut the tension in the car with a knife."
The sweetest nickname: "Lovey," they both say.
The most romantic gesture: "Lindsey knows that I am learning to golf and love to play, but I am horrible," John says. "So over the past couple years, she has planned a couple golf getaways for the two of us so if I look awful, at least I'm only looking awful in front of her."
One thing they'll make sure to grab a bite of at the wedding: The hors d'oeuvres. Macaroni and cheese tops Lindsey's list; chorizo and mashed potatoes tops John's.
We'll be running new Save the Date columns every Tuesday that showcase fun, local couples who are getting married. Are you getting married—or know someone who is? We'd love to hear from you. E-mail lshallcross@washingtonian.com with a love story you think is worth telling.
Want more Save the Dates? Read them here.
To read the latest Bridal Party blog posts, click here.