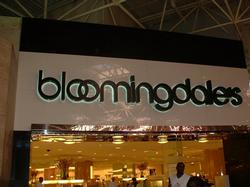 It finally happened: Ron Burgundy and I registered! Remember how I said trying on wedding dresses was the most fun ever? I may have spoken too soon. Registering was so much fun. It's like shopping, except even better because you can choose the things you want and other people will buy them for you!
I wanted to make sure we registered before the save-the-date cards were sent, so Ron and I went to Bloomingdale's last week. We will also register at Crate & Barrel, but we decided to start at Bloomie's. We met with Judy, the registry specialist, who helped us with the paperwork (free wedding magazines and Bloomie's coupons? Yes, please!) and then walked us through the dining, kitchen, bed-and-bath, and home-decor areas.
The first thing we did was choose china. Judy was nice enough to lay out the four settings we liked so we could compare them with different types of crystal and flatware. This is the part where Ron started to get tired and bored.
We chose a china pattern and moved on to serving pieces. Because one of the only things I can cook is salad (please don't judge me), this part really interested me. Judy gave me the scanning gun, and I went crazy. All you have to do is point the gun at the bar code, wait for a little beep, and then "Added to Eleni and Ron's Wedding Registry" shows up. Ron stopped me after about 15 minutes and pointed out that I had registered for five different kinds of large serving bowls. So I cut back a little.
Then Ron wanted to look at pots and pans. This part really bored me, probably because I don't like—or know how—to cook. I told Ron that we didn't need to register for new pots and pans. He then asked me how he thinks I plan to serve anything on all the fancy dinnerware we had just chosen. I told him to stop sassing me. So we registered for some pots and pans.
The other thing I knew I wanted to register for was a KitchenAid mixer. My mom has this amazing recipe for koulouria (Greek butter cookies), and you definitely need a mixer to make them. I helped her make few batches at Christmas last year, and I really want to learn how to make them on my own. So I'm sure that once I have a mixer, I'll be inclined to make the cookies, and I can add them to my list of "things Eleni can cook or bake." Plus, I registered for the mixer in the dark-plum color, so it will look awesome on the kitchen counter even if I don't use it all that often. Ron tried to argue with me about the color, but really, that issue was not up for discussion. I told him he could register for whatever knife set he wanted, so that seemed to appease him.
This whole process took about two hours. By the end, Ron was definitely checked out and even I was getting tired. It was time for lunch at the Cheesecake Factory. We said goodbye to Judy and thanked her for being so helpful. She gave us our online password so we could add items to our registry directly from the Bloomingdale's Web site. You can imagine how many hours I've spent perusing the site and staring at our registry, debating what to add and what to take off. So yes, registering has presented one more thing to obsess about!
Eleni, a local bride-to-be, writes every Wednesday about planning her wedding, which will be in Washington in the spring. To follow her adventures from the beginning, click here.
To read the latest Bridal Party blog posts, click here.