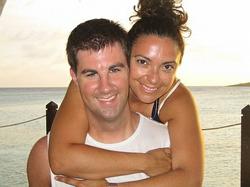 Geraldine Idrizi, 34, met Brent Hayhurst, 31, in 2005 through a friend Geraldine played tennis with. But it wasn't until they both went on a group skiing weekend in 2006 that they spent time together alone.
Out of the group of 28 people on the ski trip to Wisp Resort, Geraldine, a lawyer for Freddie Mac, and Brent, an analyst for Verizon, were the only two interested in hitting the slopes. So they put on their boots, grabbed their skis, and got to know each other. When the weekend was finished and they tallied the totals everyone had spent, Brent owed Geraldine for some food and ski purchases.
"I suggested he just take me to dinner and we would call it even," Geraldine says. And thus the plan for their first date at Capital Grille was hatched. "I ended up spending four times the amount I originally owed," Brent says. "But it was worth every penny."

When: Saturday, October 11.
Where: Ceremony at All Souls Memorial Episcopal Church on Cathedral Avenue in DC, reception at the Omni Shoreham.
Colors: French blue, silver, and black.
First dance: "If I Ain't Got You" by Alicia Keys.
Drinks: On the tentative menu are passed shots of caipirinha cocktails to honor Geraldine's Brazilian heritage.
Cake flavors: Four layers—marble cake with chocolate pudding, carrot cake with cream cheese, vanilla cake with fresh strawberries, vanilla cake with butter cream.
Food Geraldine will make sure not to miss at the wedding: "Is Champagne a food?"
Food Brent will make sure not to miss at the wedding: "I had an unfortunate cold the day of our cake tasting, so I will make sure to have at least one piece of each layer of cake!"
The couple's personal stamp on the wedding: The free-form cocktail-party format of the event. "I've never understood sit-down dinners at weddings, as it should be more about the celebration," Brent says.
Honeymoon: South Africa.
Favorite date spot: The restaurant Proof in DC.
How he proposed: Brent's plan was to take a walk and propose in front of the building where he and Geraldine had their first kiss. But Geraldine had to work late, so Brent went to plan B and cooked dinner. "Never to be repeated," Geraldine says. Employing his best culinary efforts, Brent popped the question over a candlelight dinner and a bottle of Champagne.
First impression: Unpredictable and full of energy, Brent says of Geraldine.
"I thought he was a very attractive and great guy," Geraldine says. "In fact, I thought he was so great that I set him up with a really good friend of mine. At the time, I was interested in someone else and wasn't even thinking about Brent in that way."
When she knew it was meant to be: Geraldine's father passed away a few months after she and Brent started dating, and Brent didn't leave her side. Says Geraldine: "He was brave enough to fly down to the funeral and meet my whole extended family in order to be there for me."
Silliest fight: Brent and Geraldine were out to dinner with friends. Brent's brother had just arrived in town, so he suggested that he and Geraldine forgo the dessert, get the check, and head out to see his brother. "It took forever to get the check," Brent says, "so by the time I had settled up, dessert had come and gone and she was forced to sit there and watch everyone else eat. Anyone who has had dessert at Proof would probably take her side."
One thing others would be surprised to know about Geraldine: "At first impression, some might consider her a bit fancy, as she is very intelligent; a lawyer; has lived in London, New York, and now DC; enjoys good food; and has traveled the world. But many are surprised to find out that she grew up within the Albanian community in a very strict household following male-dominated rules and culture. She was never one to be held back, so she put herself through school, then law school, and made a life around the person she always knew she was and could be, never settling for what she was told she could be."
One thing others would be surprised to know about Brent: "That he is both a type-A and type-B personality. He works in business and finance but is also an artist and even knows how to ballroom-dance."
We'll be running new Save the Date columns every Tuesday that showcase fun local couples that are getting married. Are you getting married—or know someone who is? We'd love to hear from you. E-mail lshallcross@washingtonian.com with a love story you think is worth telling.
Read more Save the Dates here.
More>> Bridal Party Blog | Wedding Guide | Wedding Vendor Search