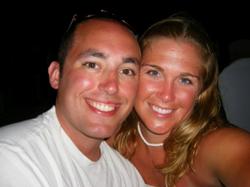 One hot summer weekend in 2005, Justin Garrison drove from Blacksburg, Virginia, to Bethesda to visit his best friend, Ryan, a fraternity brother from Virginia Tech. Ryan introduced Justin to his roommate, Stephanie Arnold, a friend of Ryan's from high school. It didn't take long for Justin and Stephanie to hit it off. After a fun night out in Adams Morgan, both of them felt as though something clicked. But when they got back to the house, Stephanie disappeared for the rest of the night. Justin took that to mean she wasn't as interested in him as he thought. "The next morning we talked a little bit," says Justin, 26. "But I felt like the opportunity wasn't there, so I didn't think that she was interested enough for me to ask her for her phone number."
Big mistake. "The next morning after we all woke up and were hanging out, I just didn't get that 'he's interested' vibe," says Stephanie, 26. "I mean, he was friendly, but then he didn't ask for my phone number. Bummer." So Justin headed back to Blacksburg, ready to start a master's program in the fall at Virginia Tech. He came back a few times throughout the year to visit Ryan, but the romantic timing was never right for Stephanie and Justin. On one visit, Justin says, a friend of Stephanie's was fixing her up with someone else.
Fast-forward a year and a half to December 31, 2006. Justin came up to ring in the new year, and neither he nor Stephanie was dating anyone. Justin had a plan: This time, he would let Stephanie clearly know that he was into her. "The night before, I made sure that I talked to her as much as possible and made it known that I was interested in her," says Justin, an analyst with the Department of Homeland Security.
Stephanie got the message loud and clear. "Everything just clicked," she says. "It took me back to that night in 2005 when we had first met and made it feel like nothing had changed and felt so right." If they needed a vote of confidence to get things going between them, they got it from behind the bar. "One of the bartenders at the party told us we were the cutest couple there," Stephanie says.
They began dating and survived five months of long distance while Justin finished at Virginia Tech. The tragic shootings on the campus that spring made it clear to both of them how much they meant to each other. "I got an e-mail saying, 'I am okay,' " Stephanie says. "What a relief, but I still wanted to hear his voice and see him. It was those feelings that made me realize how much I really did love him and how much he meant to me." Justin felt the same: "The shootings really shook me to the core. Steph was unwavering in her support, which was difficult because at that time we were in a long-distance relationship. Honestly, I don't know how I would have made it through the whole experience without her."
When: April 11, 2009.
Where: The Villa by Uptown Caterers in Calverton.
Wedding colors: Wine, black, and ivory.
Cake flavors: Raspberry-amaretto and Neapolitan.
Honeymoon: Sandals Grande in Antigua for eight days.
First dance: "Home" by Chris Daughtry.
First date: "Steph and I walked around DC—since I was still at Virginia Tech, the touristy side of DC was still pretty novel to me," Justin says. "We ate dinner at Cheesecake Factory and spent the rest of the night getting to know each other better."
The proposal: Justin planned a surprise weekend for Stephanie in February. He recreated their first date by walking around the Mall and popped the question at sunset at the Tidal Basin.
First impression: "I could tell she had a very bright and outgoing personality," Justin says. "As soon as she walked into the room, it seemed to light up around her." Says Stephanie: "I was physically attracted to him, of course, but we also clicked on so many levels in our conversation."
Most romantic gesture: It's hard to pick just one, Justin says: "Steph does a great job of always showing me that she cares, whether it's helping me relax after a long day of work or making sure that on special occasions such as my birthday, she has something planned that's really suited towards my tastes."

When Stephanie knew they were meant to be: On her drive down to Blacksburg to meet Justin's parents: "The entire car ride, I thought about how amazing he was and how much I thought I was falling in love with him. He beat me to it and said 'I love you' first, but it was that weekend. It was a feeling of love I'd never experienced before, and I just knew he was it."
The sweetest nickname: "Beautiful," Justin calls Stephanie. Stephanie calls Justin "my love."
Something others would be surprised to know about Justin: That his elementary school doesn't have bushes in front because of him. "One day he went to school wearing a jacket he didn't like, so when he got out of the car, instead of going into school he hid under a bush," Stephanie says. "It took many people to get him out, and then all the bushes were cut down."
Something others would be surprised to know about Stephanie: That her dream job is to work in the federal prison system, counseling drug addicts and sexual predators. "The thought of that terrifies me a little bit, but it's something that she is passionate about achieving," Justin says.
One food they'll make sure to grab a bite of at the wedding: The hors d'oeuvres, specifically the lobster bisque served in martini glasses. Says Justin: "Once I heard that, I was sold on the place."
We'll be running new Save the Date columns every Tuesday that showcase fun, local couples who are getting married. Are you getting married—or know someone who is? We'd love to hear from you. E-mail lshallcross@washingtonian.com with a love story you think is worth telling.
Want more Save the Dates? Read them here.
To read the latest Bridal Party blog posts, click here.