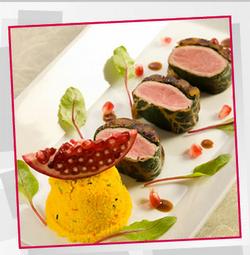 Whether you're planning a laid-back outdoor wedding for 50 or a lavish affair for 200, the food at a wedding reception should be one of the highlights of the evening. For more than 20 years, Windows Catering Company has been providing innovative menus for events all over the Washington area. Last year, the company decided to create a division focusing solely on one of its most important groups: brides and grooms.
From cakes infused with the tropical flavors of a honeymoon destination to a remake of a favorite family recipe to a main dish reminiscent of your first date, Windows aims to make each event exactly what the couple had always imagined. Just this year, it catered 150 weddings, including one for 600 guests at the National Building Museum. And Windows wedding planners don't stop at the food—they also assist couples in lining up everything from venues to entertainment.
On Thursday, Danielle Couick, senior wedding planner at Windows, is swinging by The Washingtonian to answer all your questions, from food to every other element in planning your happy day. What would be on Danielle's wedding menu? Because she's originally from North Carolina, she says fried green tomatoes and shrimp and grits would most definitely be served. What are her recommendations for you? Submit your questions now, and Danielle will answer them from 11 AM to noon on Thursday.
More>> Bridal Party Blog | Wedding Guide | Wedding Vendor Search