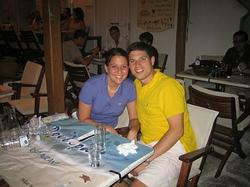 Approximately two weeks after I got engaged, I joined Weight Watchers. If being in a wedding dress and posing for pictures that you'll look at for the rest of your life isn't a big enough incentive to lose ten pounds, then I don't know what is. Ideally, I'd like to lose a few pounds and do something about my arms. I enjoy food way too much to do anything more drastic than that. And Ron Burgundy and I love to go out to eat.
So I joined Weight Watchers in April and was in a constant state of hunger for about six weeks. Okay, I may be exaggerating when I say it was a constant state, but I definitely missed French fries, potato chips, and chocolate. I did lose seven pounds, though.
Then summer started, and chips and salsa and margaritas sounded much more enticing than any Weight Watchers recipe. My mantra started to be "Once I move to Philadelphia, I'll start going to the gym and eating healthy."
Well, now I live in Philadelphia, so it's time to get my act together. I haven't been dieting, but I've started going to the gym more often. It's literally across the street from my apartment, so it really couldn't be any more convenient. I owe the working out to Ron, because he's an avid runner, and I always feel guilty if I'm not exercising when he is.
The good news is that I really do like the way my wedding dress looks on me. Or at least I like the way the one-size-too-small sample size looks on me, with a big clip on the back to hold me in. So I know I'll only love it more if I can lose a few pounds (and keep them off—that's always the hardest part). Thus, I'm giving myself a deadline of December 1 to start the diet again.
My wedding dress should arrive at Hannelore's in January, and the store will contact me to set up my first fitting. My saleswoman, Kim, recommends that the fitting be in late February so that I have plenty of time to "get in shape" (her words). I know I haven't gained any weight since I was measured for my dress, but I hope I'll have lost a few pounds by February and the tailors will have to take the dress in a little bit.
As for my arms, I feel as though they're an important part of getting in shape. My dress isn't strapless, but my arms are still going to be fully visible. I don't want crazy Madonna arms, but I don't want my current slightly flabby arms, either. I'm thinking about getting a personal trainer because I just don't think I have the will power to do it on my own. Sad but true.
My hair and makeup for the wedding are being done at Andre Chreky, right around the corner from the Hay-Adams, which is very convenient. My bridesmaids will also get their hair done there. Back in August, I went to the salon to meet Rodney, the salon's wedding stylist, and to get my hair cut. As we were talking about how I wanted to do my hair (down, not up), Rodney said that he thinks the best brides are the ones who just look like the best version of themselves on their wedding day.
I couldn't agree more. Although I hope that version will weigh a little bit less.
Eleni, a local bride-to-be, writes every Wednesday about planning her wedding, which will be in Washington in the spring. To follow her adventures from the beginning, click here.
If you like reading about Eleni, make sure to check out our other blogging bride-to-be, Lisa Marie, who writes every Friday. Follow her adventures here.
To read the latest Bridal Party blog posts, click here.