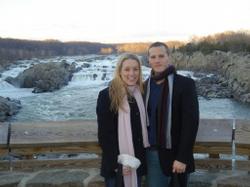 If you think love blooms only in hospitals on Grey's Anatomy, think again. On their first day of medical school at the University of Miami in August 2003, Ross Krasnow and Kristin Sokol spotted each other from across the room. "I thought she was too pretty to be in medical school," says Ross, 28. Kristin thought Ross was cute, too. The pair became good friends, but by February Ross was ready to take it to the next level.
He asked Kristin, 27, out on a Valentine's Day date. They went to an amusement park and then out to a fancy oyster dinner in Miami. "I remember how handsome he looked—it was the first time I saw him truly dressed up," she says. "I also remember how expensive the dinner was! I felt terrible when he looked at the bill. But he was a gentleman and paid without saying a word."
Fast-forward three years to December 2007. Kristin and Ross planned a trip around the holidays to see her family in Bethesda. Little did Kristin know Ross had already called her parents and asked for their permission to propose. He'd also had the ring mailed to Kristin's family's house so she wouldn't find it in his luggage. As they were relaxing at Kristin's house on Christmas Eve, Ross suggested they take a trip to Great Falls because she'd always told him how much he'd like it.
Kristin agreed, and the stage was set for Ross to make his move. But then Kristin grabbed the phone to call her sister, who also loves trips to Great Falls. "My mom almost had a heart attack," Kristin says. "She screamed, 'No! Don't call her!' I knew something was fishy."
So Kristin skipped inviting her sister and hopped into the car with Ross to head to Great Falls. "I didn't think he'd propose," she says. "But he was acting a little anxious on the way over. I thought maybe he'd bought me a special Christmas gift." After arriving, they walked around for a bit, taking in the sights. Then Ross steered them toward a secluded area with a big rock where he and Kristin sat down. "He then got down on one knee and pulled the ring out of his pocket," she says. "I was so surprised and so happy. I said yes! And then asked him how he planned all of this!"
When: May 24, 2009.
Where: The Fairmont hotel in downtown DC.
Colors: Green, yellow, and white.
Food and drinks: Hors d'oeuvres of miniature grilled cheese with a shot of tomato soup, and a Miami-themed drink station with mojitos, caipirinhas, and caiprioskas.
Cake: Cupcakes instead!
Music: The band Urban Guerilla Orchestra.
First dance: "Love Song" by 311.
Honeymoon: Ross and Kristin would both love a sandy, sunny honeymoon—but they're not sure where that will be. They have to wait until March when they find out where they'll be moving for their residency training.
Silliest fight: Says Ross: "We hardly ever fight!" But one time they argued about what shirt Kristin should wear. "He was not being very helpful," she says.
Most romantic gesture: "Sometimes Ross will just come home with a bouquet of flowers," Kristin says. He remembers when she bought him a chef's knife for his birthday: "It was so sweet because she knows I love to cook and watch the Food Network."
Sweetest nickname: Kristin calls Ross "Baby Doll." He calls her "Sugar Face."
One thing others would be surprised to know about Ross: "He's a computer geek at heart," Kristin says. "He built his own computer from scratch."
One thing others would be surprised to know about Kristin: "Despite her skinny physique, you'd be surprised at how cranky she can get when she's hungry."
Personal element of the wedding: Each table will be assigned a specific date, such as Kristin's parents' anniversary or her grandmother's birthday. "When the guests arrive at each table, they will see a small picture frame in the center with an explanation of the date assigned to that table," Kristin says.
When she knew they were meant to be: Spring break of their first year in medical school, Kristin says: "We went on a cruise with some other students. We were at the pool, lying on chairs side by side, holding hands. He looked over at me and said he loved me."
When he knew they were meant to be: It wasn't one particular moment, Ross says: "It was just clear to me that Kristin was the perfect match for me, and I couldn't imagine being with anyone else."
Check back here every Tuesday for Save the Date columns showcasing fun, local couples who are getting married. Are you getting married—or know someone who is? We'd love to hear from you. Email lshallcross@washingtonian.com with a love story you think is worth telling.
Want more Save the Dates? Read them here.
To read the latest bridal party posts, click here.