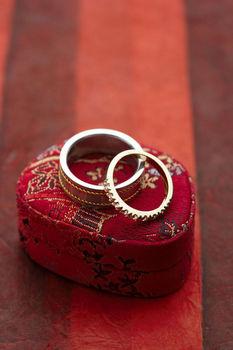 It's not even the end of 2008 yet, but the beginning of 2009 is already looking very busy for Ron and me! Wedding planning has been kind of slow recently but things are definitely going to start picking up after the New Year.
First things first: wedding rings. We've been looking around for a few months now—any excuse to go into a jewelry store, right? At first I thought I was dragging Ron into every jewelry store I saw against his will. Then last week he actually suggested that we visit a jewelry store in Center City that was going out of business. Of course, I happily obliged. We stopped by and even though everything was discounted, the selection was pretty slim so we didn't find exactly what we wanted.
We've decided to make an appointment and go back to the jewelry store in Lancaster, Pennsylvania, where Ron bought my engagement ring. The staff is very helpful and will give us 15 percent off our bands. This also works out nicely because one of Ron's groomsmen lives in Lancaster, so he can pick up our rings and hold on to them for us until the wedding. There's no way I can have my ring at the apartment because I have no self-restraint and would definitely want to prance around with it all the time.
So in January, we're going to take a little trip to Amish country, visit some of Ron's friends from his old news station, and pick out our bands. My engagement ring is a round solitaire and it's set pretty high, so I'd like to have a wedding band that fits nicely up against it. I'd rather not have too much "negative space" (that's the term jewelers use when part of your finger shows between the rings). One of my good friends says that jewelry is like art that you can wear. Isn't that nice?
The next thing on our agenda for 2009 is the food tasting at the hotel in February. We need to decide whether or not we're going to give our guests a choice of entrée. If we do, then the hotel requires us to assign seating so they know who's who. Ron and I are both hesitant to assign seating, because I think people usually like to choose their own seats. My friend actually went to a wedding once where she and her boyfriend were assigned seats that were not next to each other.
The other option is to serve a duo plate—such as filet mignon and crab cake—to everyone. Then we could assign just tables, not seats, but our guests won't be able to choose what they eat. We do have a couple of guests who don't eat red meat, so we could double the fish option for them in that scenario. We have to decide fairly soon, because if we do give an entrée selection, we have to include the choices on the RSVP card.
More decisions!
Eleni, a local bride-to-be, writes every Wednesday about planning her wedding, which will be in Washington in the spring. To follow her adventures from the beginning, click here.
If you like reading about Eleni, make sure to check out our other blogging bride-to-be, Lisa Marie, who writes every Friday. Follow her adventures here.
To read the latest Bridal Party blog posts, click here.