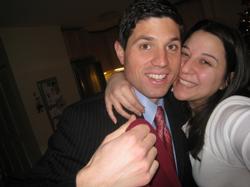 Happy New Year! I hope everyone had a wonderful holiday! The new year is upon us, and that means I'm getting married . . . soon. When you start to plan your wedding 11 months in advance, it seems far away. The time creeps up on you, though (doesn't it always?), and now the wedding festivities are only a few months away.
The 2008 holiday season provided a great opportunity to eat, bake cookies (yes, that's right, I baked), read magazines, visit with the family, and of course, obsess about the wedding.
Among other things, including wedding invitations, entrée decisions, the buzz around the Obama family staying at the Hay-Adams, and the death of my diet due to cookie baking, I thought a lot about videography. It's been in the back of my head since we booked our band through Washington Talent, because the company also books photography and video services. I haven't done much research on videographers in Washington, save for the Bridal Chat: Ask a Videographer with Martin Andrews of Blue Sky Films to get an idea of pricing and film quality.
The wedding-video samples on Andrews's Web site are really nice, and I especially like the videos shot in Super 8 movie film. I guess the bottom line is—is it worth the extra money? Will I ever watch the video again? Or will I just look at the pictures? If we don't get a videographer, will I regret it ten years from now?
I know everyone has a different feeling on the matter. What's important to some people is less important to others. For one friend of mine, the wedding cake is a very important part of her planning. For me, the cake doesn't really matter as long as it's chocolate. It's definitely important to me to have some of the ceremony videotaped, but I don't know if I need an entire video of the wedding to play like a movie. If I had an unlimited budget, à la Platinum Weddings, then sure, I'd throw in a videographer. But at this point, I don't think I want to give up on some of the flowers or the good wine for a professional wedding video.
At the very least, I'll ask my 16-year-old godson to videotape the ceremony, the speeches, and some of the dancing. I already mentioned the idea to him, and he said he'd be up for it. I know it won't be the best quality, but at least it will be something Ron and I can watch years from now.
I actually videotaped a wedding ceremony two summers ago on a beach in North Carolina. Aside from the fact that my friends and I were running incredibly late and we got to the beach just as the bridesmaids started walking down the aisle, the taping went well. I'm sure it's no spectacular videography, but the bride and groom were grateful they had the memories on tape. And I made sure to keep my arm steady.
Another option is to look into hiring a videographer just for the ceremony. I'm not sure if that would be less expensive or if videographers will even do that, though, because the ceremony is only one hour.
Anyone out there have experience with videographers?
Eleni, a local bride-to-be, writes every Wednesday about planning her wedding, which will be in Washington in the spring. To follow her adventures from the beginning, click here.
If you like reading about Eleni, make sure to check out our other blogging bride-to-be, Lisa Marie, who writes every Friday. Follow her adventures here.
To read the latest Bridal Party blog posts, click here.