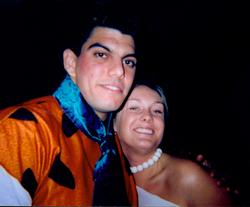 How do you know when you've met your soulmate? (Hint: When he's already your husband in a Halloween costume.)
On Halloween 2002, Courtney MacGregor and Joshua Coder, students at James Madison University, got invitations to the same party. Courtney and her roommate, Sarah, had brainstormed costumes, trying to think of famous best-friend duos to dress up as. Wilma Flintstone and Betty Rubble were the winning choice. "Those costumes were surprisingly easy to put together on a college budget," says Courtney, 26. "I had a real dog bone tied into my ponytail."
When Courtney and Sarah arrived at the party, they spotted a familiar face across the room. There was Josh, dressed as Fred Flintstone. Courtney turned to Sarah and said, "I found my Fred!" The matching costumes were a conversation starter, and the two realized they had some friends in common. They took a photo of themselves that night, not knowing they'd look back on their fateful Flintstone matchup for years to come.
"I was a year older than her, and although I really liked her, I knew she had another year of school left," says Josh, who graduated in 2003 and now works for a staffing firm. "So I kept in touch and would pop by her apartment anytime I went down to college to visit after graduating." After Courtney graduated the following year, Josh called to ask her out to dinner. "Our first date was at Mike's American Grill in Springfield," he says. "Nothing special about it except that I knew the waitress, and I remember her asking if this was my girlfriend I was sitting with. I said, 'Not yet, but I hope so!' "
Four years later, just as the cherry blossoms hit peak bloom, Josh decided it was the perfect time to propose to Courtney. He suggested they head from their home in Vienna to DC for the day, visit some museums, and stay overnight. "Because I love playing around in the city and because staying in hotels is one of Josh's favorite things, nothing seemed out of the ordinary," says Courtney, who works in public relations for a nonprofit.
Nothing out of the ordinary, that is, until they were sitting by the Tidal Basin and Josh told Courtney that he loved her and thought they should be together forever. "I said, 'I know, honey. I love you, too,' " Courtney says. "Then he said, 'Well, I know we had talked about getting engaged this fall, but'—in typical Josh fashion, he couldn't resist tricking me—and then he said, 'I didn't want to wait that long.' " Josh pulled the ring out of his pocket and proposed.
They stayed a little longer to enjoy the moment, then walked along the Mall back to their hotel, where they got massages at the spa followed by dinner at Oyamel. Says Courtney: "I told every single person we passed—the masseuse, the doorman, the cab driver, the waitress—that we had just gotten engaged. How could I not? It was a happy day."
When: June 27, 2008.
Where: Ceremony at Trinity Episcopal Church in Manassas, reception at Regency at Dominion Valley in Haymarket.
Colors: Hot pink, orange, and black. "I thought the vibrant colors would be nice on a hot summer evening," Courtney says.
Cake flavors: "We haven't settled on that yet, but I imagine it will involve chocolate," Courtney says. "I love coconut, but Josh hates it, so there will definitely be some compromise involved."
First dance: It's a surprise, and Josh and Courtney are taking dance lessons specifically for the song.
Honeymoon: Seven nights in Negril, Jamaica, and four nights in Willemstad, Curaçao.
First impression: "Josh is not known for being shy," Courtney says. "If nothing else, he's always the loudest person in the room. But he's also the funniest." Josh thought Courtney was very pretty: "And once we started hanging out more, I realized she was often the only one in the room laughing at my jokes, which meant she must have a great sense of humor!"
Silliest fight: "Definitely over the correct way to load the dishwasher," Courtney says. Or over driving, Josh says: "We have an ongoing debate about whether driving like a maniac on the Beltway really saves a significant amount of time. The maniac—Courtney—insists that it gets her there faster. I insist that it's no more than 45 seconds."
Romance, Josh-style: To celebrate four years of dating, Josh took Courtney on a surprise weekend trip in June to a cabin in West Virginia. He brought wine and the ingredients for s'mores, and they spent the weekend reading, hiking, and sitting in front of the campfire.
Romance, Courtney-style: One Valentine's Day, Josh came home from work to find a candlelit dinner waiting for him: "Courtney had made all my favorite foods, and to top it all off, she wore an 'I Love Josh' T-shirt the whole time!"
When Courtney knew they were meant to be: Last Christmas, Josh and Courtney spent the holiday driving between his and her families' houses. They returned home on Christmas night, sat in front of the fire, and had their own little Christmas. "It was so nice to finally just be with him—warm, laughing, happy—and it was something I could see us doing for years to come."
When Josh knew they were meant to be: "I think that realization happened over time, but I do remember driving to work one day and thinking about her. Maybe it was something I heard on the radio or a conversation we had before I left, but I had a thought basically to the effect of 'I have a lot of fun with Courtney, and there's so many fun things I want to do with her. I want to know her forever.' Shortly after that, I decided to propose."
Worst nickname: Boo Boo Face, Courtney says. "I'm pretty sure he's completely banned that one."
Sweetest nickname: Courtney calls Josh "Honey Bunches"; Josh calls her "C-Baby."
One thing others would be surprised to know about Josh: "He knows the lyrics to every single Gloria Estefan and Melissa Etheridge song. His mom used to listen to them in the car when he was little, and he still remembers all the words."
One thing others would be surprised to know about Courtney: She's a great photographer, Josh says. "We have her pictures framed all over the house, and people always ask where we got them."
Personal touch: Because they went to school, met, and are getting married in Virginia, Courtney and Josh are incorporating the "Virginia Is for Lovers" logo into the reception, although they're not sure how yet. They even got permission from the Virginia Tourism Corporation.
Check back here every Tuesday for new Save the Date columns showcasing fun, local couples who are getting married. Are you getting married—or know someone who is? We'd love to hear from you. E-mail lshallcross@washingtonian.com with a love story you think is worth telling.
Want more Save the Dates? Read them here.
To read the latest Bridal Party blog posts, click here.