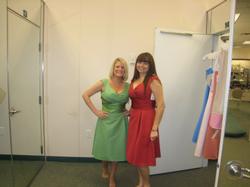 Happy New Year, everyone! My holiday season was filled with lots of wedding updates—when else during the year do you get this much time away from work? The first project on my list was to finally tackle the bridesmaid dresses. From the beginning, I decided that I wanted to choose a dress carried by David's Bridal so that all of my bridesmaids scattered along the East Coast could get their dress with minimal complications. So it was off to David's Bridal to see what would work best for my lovely ladies.
With my mother, my maid of honor, Stefanie, and two bridesmaids, Erin and Jessie, we hit the racks to find the perfect dress. My girls are all different shapes and sizes, so I wanted to choose something that would be universally flattering. That's definitely easier said than done.
Every girl has a different opinion of what's flattering on her body type. Some like cleavage, while some prefer a more modest approach. Some think tea length looks amazing, while others think it's hideous. With a seven-member bridal party, I knew I wasn't going to find a dress that every girl adored, so my goal was to find a dress that everyone liked enough and that suited the style of our wedding.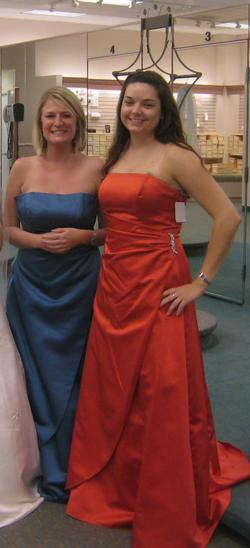 I wouldn't be exaggerating to say that in our first trip, the three ladies tried on at least 80 percent of the bridesmaid dresses carried by David's Bridal. Long, short, formal, casual—I made those girls try on anything I could possibly envision at our wedding. My mom was offering her opinion, and I had my digital camera so I could see how the dresses photographed. But for every time that Jessie came out in a dress that looked amazing, the same dress came out looking silly on Stef or Erin. The next dress would be great on Stef but absurd on the other two. There didn't seem to be a dress that would work for everyone! I left feeling dismayed about the process, hoping that we'd have better luck next time.
So a few days later, with my entourage back in tow, we hit David's for another try. This time, we were blessed with the most helpful sales representative I've ever encountered: Jennifer Tropani at the Springfield location. Jenn not only helped us pick the bridesmaids dresses, but she also helped me with another important decision in the process. I decided to bring my Filene's wedding dress with me so I could try it on with all the lights and mirrors surrounding me. So while my three bridesmaids filed back into the dressing rooms with piles of dresses waiting on the hooks, I stepped back into my dress to see how it felt after a few weeks had passed.
I stepped out of the dressing room and it was like a freeze-frame moment in a movie. This was the dress. Compared with the other dresses I had tried on, none of them suited me quite like this one. It was even more beautiful than I'd remembered. I knew there was no need to visit the other stores again—I already had the perfect match. I didn't think it could get any better than this, but Jenn ran and grabbed a crinoline petticoat and popped it under my dress. It looked even more amazing with that extra poof. Then she grabbed a veil, and all of a sudden my ensemble was complete. With these two small finishing touches, I was finally the bride I had always wanted to be. Success! But now back to the girls.
Jenn evaluated the body types of my three bridesmaids and came back with the most popular style known for making every girl look like a rock star. Earlier, I hadn't had the ladies try on the dress Jenn chose because of a brooch pinned on the side that I truly despised. I told her about my aversion to the brooch, and she explained how with simple alterations it could be removed. My three beautiful bridesmaids went into their dressing rooms and came out looking amazing! They all looked gorgeous and, more important, they all felt amazing! So with the right salesperson, not only had we found the right bridesmaid dress, but I had finally made the decision on my dress.
Talk about a good shopping day!
Lisa Marie, a local bride-to-be, writes every Friday about planning her wedding, which will be in Washington in July. To follow her adventures from the beginning, click here.
If you like reading about Lisa Marie, make sure to check out our other blogging bride-to-be, Eleni, who writes every Wednesday. Follow her adventures here.
To read the latest Bridal Party blog posts, click here.