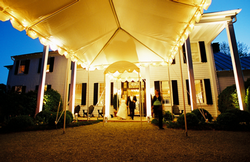 It's no secret that the holidays are a popular time to pop the question. If Santa left you a box under the tree with something sparkly inside, you're probably hot on the trail of wedding planning already. But before you decide on the venue, you might want to take a daytrip to Charlottesville.
If you book your wedding at Clifton (1296 Clifton Inn Dr., Charlottesville; 888-971-1800) by January 31, in addition to helping you plan your big day, the hotel will throw in a five-night honeymoon in a Paris penthouse—for free.
Clifton's sister company, Washington-based Time & Place Homes, is offering a one-bedroom apartment in Paris's Latin Quarter, only three minutes from Notre Dame, with a garden terrace for outdoor dining. Sound like the perfect place to begin your married life? We thought so, too.
So, while there are more deserving Washington venues than we have room to list, an inn that will help you enjoy a fantasy Parisian honeymoon without shelling out any euros is worth a look. To take advantage of Clifton's promotion, book a wedding by the end of the month for at least 100 guests and reserve exclusive use of Clifton. Then invite your family and friends, throw a gorgeous wedding at this picturesque 19th-century inn at the foot of the Blue Ridge Mountains, and hop a flight to Paris to begin your romantic (and did we mention free?) honeymoon. Ooh la la!
More>> Bridal Party Blog | Wedding Guide | Wedding Vendor Search