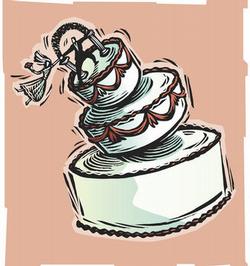 Thursday, January 15: Thread Bridesmaids Trunk Show
Having not found a single suitable bridesmaid gown for her wedding, one bride decided—with the help of her designer best friend—to take matters into her own hands. This duo chose to make its own bridesmaid gowns, and these fun and flattering dresses led to Thread Bridesmaid, whose 2009 collection will be featured tonight at Hitched (1523 Wisconsin Ave., NW; 202-333-6162). Just in time for a spring wedding, these gowns come in flirty silk faille, luxe matte silk, and breezy cotton sateen fabrics. Any complete bridal-party order placed during the show will get 15 percent off (or 10 percent off the rest of the weekend). Appointments required. Free; 5 to 8 PM.
Friday, January 16, and Sunday, January 18: Wedding Save-the-Dates Workshop
Create personalized wedding save-the-dates to mail to friends and family announcing your big day at these hands-on workshops from the Paper Source. There are multiple area workshops this weekend: Friday from 6:30 to 8:30 PM in Reston (11975 Market St.; 703-481-0053), Sunday from 11 to 1 PM in Alexandria (118 King St.; 703-299-9950), and Sunday from 11 to 1 in Annapolis (1915 Town Center Blvd.; 410-224-8300); $35.
Saturday, January 17: Cake Tasting
Offered once a month, the cake tasting events at Cotton's Gourmet Gifts and Creations (7744 Emerson Rd., Hyattsville; 202-607-1055) invite couples to sample cakes, fillings, and buttercreams. Cotton's signature cakes include the Nectar & Bubbly—a fun dessert of white-chocolate cake accented with peach Schnapps, Champagne-soaked peaches, and Champagne buttercream—and the Sweet-Potato Poundcake with cream-cheese buttercream and glazed pecans. RSVP required, and there's a limit of two guests. Free; 11 AM to 1 PM.
Sunday, January 18: Washington Bridal Showcase
Prince's Georges County's largest bridal showcase returns this year at Martin's Crosswinds (7400 Greenway Center Dr., Greenbelt; 301-933-3464) and promises to be a must-see event for any bride and groom. Mingle with some of the area's most popular wedding professionals, from photographers to hairstylists to caterers. Be one of the first 500 brides to attend and receive a one-year subscription to Modern Bride magazine, or register throughout the day for a chance to win other gifts and prizes, including a honeymoon cruise. $8 online, $10 at the door; 11 AM to 5 PM.
To submit a bridal event, email lshallcross@washingtonian.com.
More>> Bridal Party Blog | Wedding Guide | Wedding Vendor Search