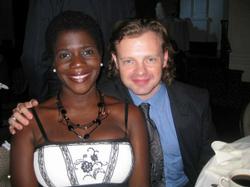 After catching an early-morning Southwest Airlines flight to Tampa, all La Tosha Lewis wanted to do was catch some shut eye. But as she tried to drift back to sleep, her boyfriend, Aleksandr Plavnik, wouldn't let her. "He kept bothering me and waking me up," says La Tosha, 34. So she told Aleksandr, 32, that if he was going to keep her up, he needed to entertain her.
Little did La Tosha know she was in for the show of her life.
While she had dozed off at the beginning of the flight, Aleksandr sneaked out of his seat to tell the flight attendants about the in-flight proposal plan he had hatched. La Tosha, an education lobbyist, and Aleksandr, an architect, were headed to Tampa, her hometown, for a friend's wedding. "I was looking all over the Internet for different places and ways to propose," he says. "Then my mom suggested that I do it at the very beginning of the trip on the plane, and as a bonus, those over-seat lights will make this ring sparkle very nicely. I knew it would set the tone for the whole vacation."
Aleksandr gave the flight attendants his camera so they could be poised and ready for the big moment. As La Tosha told him to give her a reason to stay awake, he pulled out a ring box. "She sat there staring at the ring with her mouth open for several seconds," he says. "She had an expression of genuine surprise on her face—it was beautiful."
La Tosha was shocked. "I'm staring at the ring like an idiot, mouth agape, speechless—the whole nine yards. He asks, 'Will you marry me?' and of course I say yes!"
The flight attendants snapped photos, the pilot made an announcement over the intercom, and the passengers clapped and offered their congratulations. The airline even gave La Tosha and Aleksandr a bottle of Champagne to celebrate.
"I had no idea he was going to propose," La Tosha says. "I was completely surprised. The timing was perfect because it meant one of my dearest friends and my mom got to see. Being engaged rocks!"
When: April 17, 2010.
Where: A winery in Virginia—still to be determined.
Colors: Chocolate and blush.
Food and drinks: "We're doing a winetasting for the cocktail hour, and then we're keeping the wine flowing," La Tosha says. "The main course will be some kind of seafood because I don't eat land meat."
Music: "Alex is leaning toward a jazz trio, and I'm thinking a DJ with his iPod stuck on his '80s playlist," she says.
Cake flavors: Chocolate with buttercream icing. "We both hate fondant!" says La Tosha.
First dance: "What a Difference a Day Makes" by Dinah Washington. The pair is getting married one day before the four-year anniversary of their first meeting. "I think it's the perfect song," La Tosha says.
Honeymoon: Costa Rica or Argentina.
When they met: April 18, 2006.
How they met: On Match.com. "He initially e-mailed me, and I noticed he was a Russian—the name was a dead giveaway. I'm a huge Russophile, so after a few e-mails we agreed to meet."
First date: The Starbucks in Old Town. "We walked to the waterfront and talked," Aleksandr says. "Then we went to get drinks and then dinner. I remember noticing how beautiful her hands were. I also remember thinking that here is someone I actually want to learn about."
First impression: "I thought he was too short and badly dressed," La Tosha says. "I thought to myself, 'Oh, boy, this is so not going to work, but maybe I'll get a free dinner.' " Aleksandr was more impressed: "I was intrigued. I didn't know exactly what to think about her, but I knew right away that she was smart, good-looking, and had nice features."
Most romantic gesture: Aleksandr planned a surprise trip for La Tosha to the Dominican Republic. "He held on to the tickets and made me wear my iPod the whole time so I couldn't hear where we were going," she says. "I didn't find out until a few minutes before we landed." For New Year's 2007, La Tosha surprised Aleksandr with a hotel room she had decorated with rose petals, Champagne, and strawberries. "It was so unexpected and beautiful, I still remember exactly how I felt," he says.
Silliest fight: Most recently, La Tosha says, over whether to allow children at the wedding. "We both got very serious. It was ridiculous because most of our friends either don't have them or wouldn't think to bring them."
Favorite date spot: Virginia wineries. "We'll pick a couple, bring a little picnic, and have lunch," La Tosha says. "It's a nice whole-day date."
Something others would be surprised to know about Aleksandr: That he has an ego the size of Siberia, La Tosha says.
Something others would be surprised to know about La Tosha: That she's sensitive, Aleksandr says.
One food they'll be sure to grab a bite of at the wedding: "I want that cake!" Aleksandr says.
Sweetest nickname: Bunny, they both agree.
When La Tosha knew they were meant to be: June 19, 2006. "I wrote in my diary that I thought he was 'the one.' "
When Aleksandr knew they were meant to be: "Pretty early on, I realized that she's my girl, and three days before I proposed, I thought, 'What am I waiting for?' "
Check back here every Tuesday for new Save the Date columns showcasing fun, local couples who are getting married. Are you getting married—or know someone who is? We'd love to hear from you. E-mail lshallcross@washingtonian.com with a love story you think is worth telling.
Want more Save the Dates? Read them here.
To read the latest Bridal Party blog posts, click here.