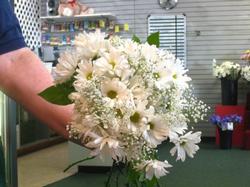 Flowers become one of the most costly elements of a wedding but are surely considered one of the most important elements as well. When Andrew and I were first engaged and choosing between a summer or fall wedding, my insistence on using daisies in my flower scheme was the deciding factor in our July wedding date. I still think it would look rather odd to have daisies in a wedding scheduled for October! Some people mocked me for deciding our wedding date based on a flower, but having daisies in my bouquet was one of the elements I was not going to budge on.
Thankfully, my aunt has a relationship with a local florist, so there wasn't the process of shopping around as there has been with all of my other vendors. We scheduled an appointment with the Flower Den in Springfield, which started out being a trip down memory lane. Unbeknownst to my aunt, this florist had gone to grade school with my mother and went to high school with my maid of honor's parents! So after reminiscing and discussing who else had possibly crossed both of our paths, we got down to business.
Other than incorporating daisies, I hadn't given much thought to what I wanted for the ceremony, the bouquets, or the reception. Because Meadowlark is essentially its own floral arrangement, with an amazing garden setting both indoors and out, I wasn't planning on having much more than bowls with floating candles as our reception-table centerpieces. But at the church. . . well, I needed some help.
As we flipped through photos of what others had done in the past, I started to get some ideas. Luckily, our florist could tell quickly I was going to need to see the creation in person, and she scurried to the back and put together a mock bridal bouquet. When she came out with it in hand, it was absolutely perfect. A simple arrangement of baby's breath and daisies, hand-tied with ribbon. . . it was the ideal complement to my dress and to the formal-garden feel that I had envisioned.
Once we had decided on the elements in my bouquet, we could move on to the other elements: bridesmaid bouquets, parent flowers, groomsmen boutonnieres, and ceremony flowers. All of them focused on daisies but incorporated hydrangeas, baby's breath, and some greenery. And the best part about it: We were under our floral budget!
There have been certain moments throughout this wedding-planning process where it has felt so real to me that this was our wedding—we were actually getting married. Surprisingly, one of those was when our florist handed me my bridal bouquet; I really felt like a bride. It's funny what flowers can do to a girl. . . .
Lisa Marie, a local bride-to-be, writes every Friday about planning her wedding, which will be in Washington in July. To follow her adventures from the beginning, click here.
If you like reading about Lisa Marie, make sure to check out our other blogging bride-to-be, Eleni, who writes every Wednesday. Follow her adventures here.
To read the latest Bridal Party blog posts, click here.