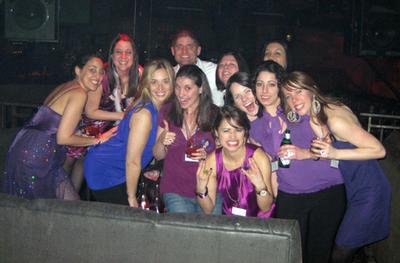 Hello! Happy spring! It doesn't quite feel like it yet up here in Philadelphia, but I'm hoping that it warms up soon. Not only for the wedding day but also just because I'm tired of cold weather.
I have to preface this post by saying that my bachelorette party was the best one in the history of bachelorette parties. You don't have to believe me, but I'm telling you—it was.
The weekend started with five friends coming to Philly on Friday night to surprise me. We had a pizza party, played some games, and drank some beer. Saturday afternoon, we headed down to Atlantic City and met up with the rest of the group (11 of us total).
I had no idea what the plans for the night were. I knew we were staying at Harrah's in Atlantic City, and that was about it. I brought with me all the things that my maid of honor had dictated in the list she'd e-mailed to me a week earlier. Turns out, the list was just meant to distract me. Apparently I'm very gullible, because it worked. I even got the rope. (If you're ever looking for rope, you can buy some at CVS.)
The evening started when we all met in the hotel's party room. The entire room was filled with balloons, pictures of me, and some other things that aren't appropriate to mention on Washingtonian.com. I screamed when I walked in and proceeded to hug everyone.
To top it all off, everyone was wearing a shade of my favorite color: purple. There were some delicious homemade snacks (one of my friends is in culinary school), followed by a Roast of Eleni, which consisted of poems, funny stories, limericks, a top-ten list, and a one-act play.
The biggest surprise, though, was when my friends announced that they had some questions for me to answer about me and Ron. (Examples: When was your first kiss? What one item would each of you bring to a deserted island?) Unbeknownst to me, they had asked Ron the same questions in person a few weeks before and videotaped his answers, so they brought along a laptop and played each of his responses after I gave mine.
Needless to say, it was hilarious, clever, and incredibly thoughtful. They also videotaped all of my answers (and my reaction to his), so Ron and I have plenty of entertaining footage. I told one of my coworkers about it at work the following Monday, and she immediately asked if it'd be okay for her to steal the idea for her sister's bachelorette party this summer.
Before we had even left the hotel, I was having an amazing time. Before we headed over to the Borgata for dinner, everyone got goodie bags. These contained bead necklaces with "assignments" on them (mine was to find someone named Ron and take a picture with him), plastic bracelets, and Ron Burgundy buttons. That's right, buttons with Ron's professional news photos on them. They were definitely conversation pieces throughout the night.
After dinner, we went to Mixx at the Borgata and danced until it was clear that because of daylight-savings time, we needed to go back to the hotel and go to sleep. The next morning, I was so sad that it was over. Not only was it amazing to have so many of my friends together, but I was incredibly touched that they had spent so much time and put so much thought into the night.
To read the latest Bridal Party blog posts, click here.