This page describes the contents of an issue of Washingtonian magazine. Subscribers get exclusive early access through our print and digital editions. Most of our feature stories are later published online and linked below.
Buy a Single Issue
Subscribe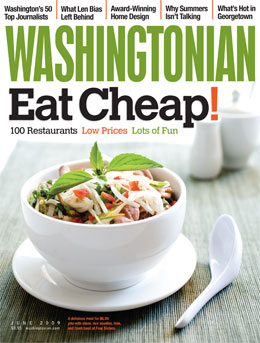 Volume 44, Number 9
Cover Story
100 area restaurants where you'll find great food, low prices, and lots of fun.
Photograph of Barack Obama by Chris/Bauer-Griffin.com.
Features
Local cop Kevin McConnell was being attacked and was beginning to pass out. He had two thoughts: "I think I lost this fight" and "I'm not going to die tonight." He lived, but he may lose his badge. Harry Jaffe.
As the media landscape rapidly changes, here's our quadrennial review of the city's best and most influential journalists. By Garrett M. Graff.
After her daughter was born, the author found out she had a rare disease. Then life got more complicated. By Cindy Rich.
Full of his passion for the bay, Tom Wisner's verses and stories have become enduring parts of the region's lore. By Tom Horton
After dark, bouncers have front-row seats to local nightlife. They watch for trouble—and sometimes find it. By Brendan L. Smith.
Capital Comment Check out where the Obamas are eating . . . Stars and pols mix at the year's biggest party . . . Scalia's secrets revealed! . . . Where did Tony Kornheiser go?
Where & When Folklife Festival on the Mall . . . Silverdocs at AFI . . . Stacy Keach in King Lear . . . Ellington Jazz Festival . . . Bolshoi at the KenCen . . . Artomatic.
Angel Baby When her grandson was born, the author didn't just gain a new child in her life. She got the chance to create a fresh start with his mother.
Why Larry Summers Isn't Talking Ben Bernanke's term as Fed chairman ends in January. Insiders say Larry Summers wants the job, so he's lying low.
What Len Bias Left Behind A filmmaker revisits the basketball legend's drug overdose and finds a more complex story than first believed.
Game On A coach about to have twins, a naked biker, a priest in the outfield, and more photographs of Washington at play.
Let Franken Be Franken! Washington doesn't need any more hard-working pols. We need some laughs.
Great Finds Men's suits for summer.
What's Hot in Georgetown One of Washington's most historic neighborhoods, Georgetown has memorable restaurants, one-of-a-kind shops, and loads of charm.
These Are My People Capitol Hill is more than Congress. A Hill reporter talks about his ancestors—newsboys, fruit sellers, cleaning ladies—who lived there.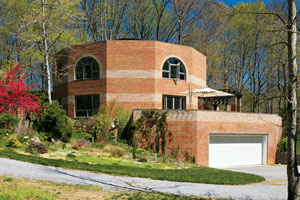 House With 12 Sides A uniquely shaped home in a garden paradise.
Getting Grounded Even power players are putting down their BlackBerrys for an hour on the yoga mat.
To Your Health Medical tests and checkups you need in your 40s.
Award-Winning Homes A rustic farmhouse, green innovations, a clever multifamily dwelling, and other winners of our residential design awards.
Luxury Homes Obama VIPs settle in Chevy Chase, Bethesda, Georgetown.
Pets Pilots give pets in overcrowded shelters a second chance.
Sweet Music Dalton Potter makes violins—and gives some away.
What's next, Coach? One person can get me into a cold pool at 5 AM.