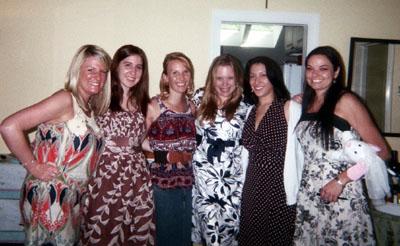 One of the greatest perks of having wedding guests from all over the country is that I was lucky enough to have two bridal showers. So this past weekend, I was happily welcomed into my maid of honor's mother's home for an amazing bridal shower with a doggy twist.
As I've mentioned before, the concept of bridal showers has always struck me as a bit bizarre, so I politely asked Stef, my maid of honor, to host a charity bridal shower. Instead of having folks bring me presents from my registry, she included on the invitation that people should bring donations (financial or tangible) to the celebration. My charity of choice is the Lost Dog and Cat Rescue Foundation, which introduced me to the world of animal rescue four years ago and is now a major part of my everyday life. I figured that in this small way, I could still celebrate my upcoming nuptials with the people I love but also do something small for an organization I respect.
Walking into Stef's mother's house, I was welcomed with dog decorations and smiling faces. In contrast to my Rhode Island shower, this one was full of people I knew well: coworkers new and old, friends, and family members were scattered throughout the living room and dining room. Amazing vegetarian snacks were displayed with a Champagne bar to match, and the casual atmosphere made me instantly comfortable.
We played silly games, including an intense game of Wedding Pictionary, and I talked about the wedding-planning process and about my tie to the charity. Most of the people in attendance have been dragged into something related to the animals already, but it was still fun to share the quirky rescue stories with the attentive audience. After cutting the amazing cake and thanking everyone for their donations, we went onto the deck for our special activity. Stef and bridesmaid Jessie had arranged for all of us make our own bottles of perfume. With different scents to mix, it was such a unique and entertaining activity to offer guests. We had a blast mixing scents and finding our signature smell, and each guest brought home a souvenir of our doggy day of weddings.
As guests said their goodbyes and were given their dog-bone cookies as a favor, I realized just how lucky I am to have such amazing people in my life and specifically my wedding party. I know it was bizarre to put together a shower with no presents—we all know that opening presents is the main focus of a typical shower. But because they knew how important it was to me to incorporate the charity in to the event, they made it work and put together an incredibly classy afternoon. It motivates me even more to show everyone an amazing time at our wedding, which is just a few weeks away!
Lisa Marie, a local bride-to-be, writes every Friday about planning her wedding. To follow her adventures from the beginning, click here.